Punjab and Sind Bank is one of the most well-known banks in India. The bank gives a lot of banking offers and features to its account holders. Every transaction in your Punjab and Sind Bank account, the account holder will receive SMS alerts on the mobile number that has been registered with the Punjab and Sind Bank.
These SMS alerts, as said earlier, come to the registered mobile number. According to their wish, a person can register their mobile number during the creation of an account or after that.
Punjab And Sind Bank also has a unique feature called the bank mini statement. It includes the SMS alerts that were talked about earlier. This service of the bank allows account holders to check their account balance and mini statement details. This service has reduced the need to visit the bank branch for petty issues like balance inquiry, transaction details, etc.
This feature mostly uses the registered mobile number, though if one is using a net banking service or an ATM card, he or she can also use those services to receive the mini bank statement.
How to Get a Mini Statement in Punjab And Sind Bank
Punjab and Sind Bank offers a large number of options regarding receiving the mini bank statement. Firstly, one needs to know that the mini statement includes withdrawal, deposited amounts, and other similar vital information.
Receiving this vital information can be done in two main ways – missed call or SMS alert. One can also receive this statement through net banking and an ATM.
In this article, we will dwell on the details about alerts through SMS and missed calls.
Punjab And Sind Bank Mini Statement through SMS
To check and receive the Punjab and Sind mini statement, one must send only a simple text to a number.
The text needs to be typed as followed
Type PTXN and This text need to be sent on the number 9773056161 or 8082656161, and the text needs to be sent through the registered mobile number. One will receive the mini statement almost instantly after sending the text.
Important Note: Users need to be subscribed to SMS banking before using this feature.  You can visit or use PSB net banking to activate the SMS banking facility.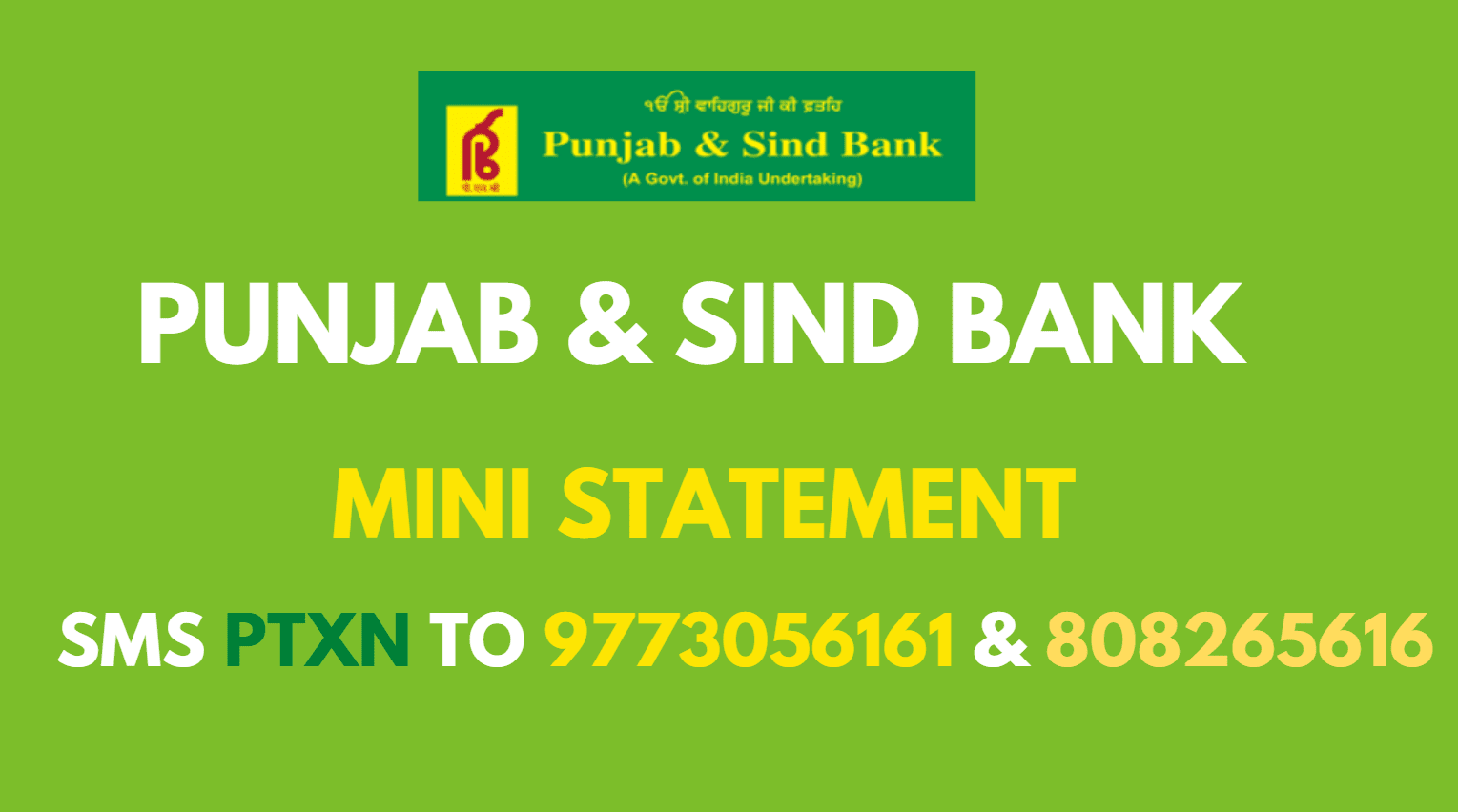 Punjab And Sind Bank Mini Statement through Missed Call
To get the latest withdrawal lists, deposits, and other details included in the mini statement, one just needs to use the Punjab and Sind Bank missed call service that is convenient and free.
To avail of this service, the process is simple. The account holder just needs to give a missed call on 7039035156. This number is toll-free, and after giving the missed call via the registered mobile number, the person will almost instantly receive a call regarding the mini bank statement.
You can also dial all India toll-free number 1800-419-8300 from registered mobile and inquiry about last transactions ( mini statement).
पंजाब एंड सिंध बैंक मिनी स्टेटमेंट जानने के सभी तरीके:
| Services |  Balance Enquiry |
| --- | --- |
| Mini statement  | Send text PTXN to 9773056161 & 8082656161 |
| all India Toll-free Number | 1800-419-8300 |
| Email | [email protected] |
| Balance Enquiry | 7039035156 |
Conclusion:
Punjab and Sind Bank offers a lot of services and benefits to its account holders. One such service is the mini statement that informs the account holder vital information about their account. There are several ways of availing this offer. The best two ways are through missed calls, and the other one is via SMS alert.