State Bank of India also known as SBI, is the largest commercial bank of India. SBI was established in 1955 and has its headquarters in Mumbai. It has more than twenty thousand branches across the nation and more than two hundred branches internationally, serving thirty-one countries globally.
Account Number
A bank account number is a set of digits that a bank provides to its customers to have ownership and access to their respective accounts in the bank. Each bank has its unique code. Generally, an account number is a sixteen-digit numeric code.
SBI account number search by name
Many a time, we tend to forget our account numbers. In such a case, we can easily check our account numbers with the help of our names. These are the two broad methods by which we can check our account numbers, the first offline method, and the second online method.
Offline Method
In this method, you can check your SBI Passbook. With the introductory banking kit, each bank issues a passbook to its account holders. A passbook is a bank book that allows the account holders to record and check their bank balance.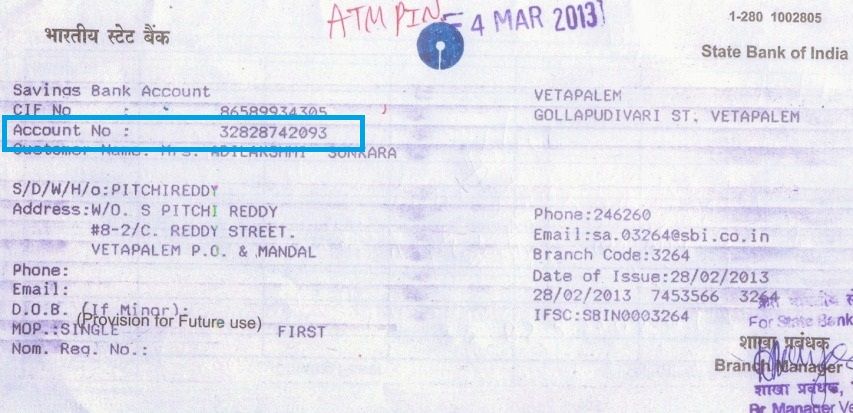 Usually, the account number of the account holder is printed on the passbook along with other details such as name, IFSC code, bank address, branch name, account type, etc. This way, you can easily search your account number of SBI.
Online Method
In case, you have lost your passbook or you are not able to locate your passbook, then you can rely on the online method. This method is also known as Internet Banking. With the help of the following steps, you shall be able to search your SBI account number by your name:
Firstly, visit the official website of the State Bank of India, i.e. www.onlinesbi.com
Then, log in to your account using your details, such as your user ID and password.
As soon as you will log in to your internet banking account, your account number will appear on the interface of your bank account.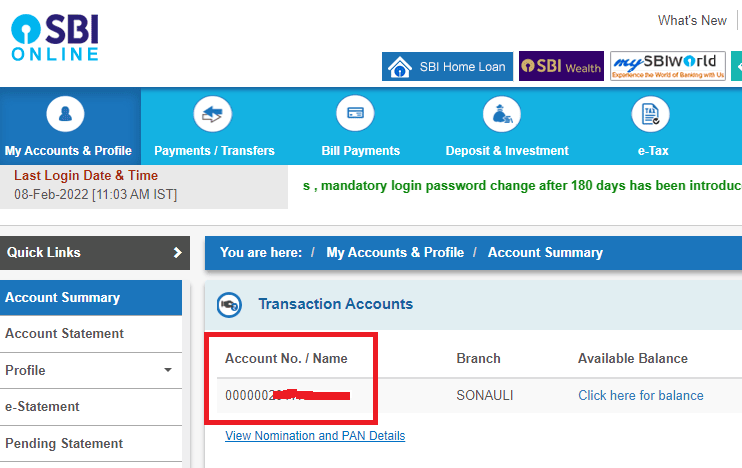 Thus, you will get to know your account number and other details as well through the internet banking method.
Other Methods:
If both of the above mentioned offline and online methods do not prove fruitful to you for any reason, you may also resort to the methods mentioned below:
SBI YONO Application– This is SBI's personalized application for their account holders. You can either, download and install it on your mobile phone through the Google play store or Apple store. Once you will log in to the application, your account number will appear on the main page of your online bank account. It provides the facility of online banking and takes care of all your banking needs.
Bank's Chequebook– A Chequebook is a book containing a specified amount of cheques. It is provided by the banks to their account holders. It acts as a medium to transfer money from one bank account to the other. This allows the account holder to know their account number. Generally, a Chequebook contains the personal details of the account holders. Such as name, account number, IFSC Code, address of the bank, branch name, type of account, etc.
Visiting nearest branch of SBI– Last but not least, if you are not able to access your account number then you can visit your nearest SBI branch. But this option should be put to use only when all the other options fail. At the time of the global pandemic, this is not advisable to follow this particular method.
Conclusion
Thus, in a nutshell, we may say that there are various methods to search your SBI account number through your name. We must always follow the method which is easily and readily available. We must also be cautious to use only the SBI's official website or their YONO application in case of online banking.