Bank of Maharashtra is one of the well-known public sector banks in India. It started its operations on 8th of February 1936 in Pune, Maharashtra, India and now has 1897 branches all over Indian and still counting.
It has over 15 million customers around the world. If you are one of the customers of this public sector bank and want to check Bank of Maharashtra account balance then you have come to the right place.
In this fast growing digital world, almost all the banks offer digital banking to their customers and Bank Of Maharashtra is not an exception. If you want to check Bank of Maharashtra account balance then you find mainly two ways to do so.
Method 1: Bank of Maharashtra balance Enquiry using toll free number
You can call customer care toll free number 1800 233 4526 OR 020-27008600 from any mobile or landline in India. You need to follow IVRS to talk to customer care executive, once your call in contacted you can ask about your account balance or any other information related to your account.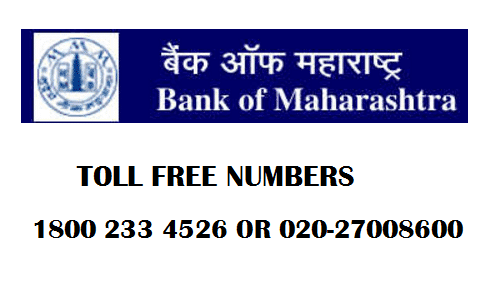 You may need to provide customer ID and pin or debit card number and pin to validate your authentication process.
Method 2: Bank of Maharashtra balance Enquiry using missed call Balance Enquiry Number
You can also give a missed call to 9222281818, which is BOM toll free balance inquiry number. To avail this service you need to register your mobile number with the bank. Once the registration process is done you can give a missed call from that registered mobile number and within seconds you will get a SMS with your BOM account balance
Method 3: Check Bank of Maharashtra balance online

know your account balance online and perform other online transactions, visit the https://www.mahaconnect.in/jsp/index.html. You can log in with your credentials to find all the details of your accounts, send payments online and so on.  You can also shop online using the online Bank of Maharashtra Account.
You can also check your account balance using the Bank of Maharashtra mobile app. You simply need to download this app by following the link – https://play.google.com/store/apps/details?id=com.infrasofttech.MahaBank&hl=en.
Open the pay, provide your credentials and you will be able to securely check your account balance and other details using this mobile app.
Method 4: Know your bom account balance by visiting Branch:
You can visit to your nearest Bank of Maharashtra bank branch, go to the counter and ask your account balance to the bank officer. He will ask your bank account number and tell you're the account balance. Sometimes they ask few questions related to your personal details to confirm that you are the genuine person not the fraud.
You can also update your BOM account passbook at any BOM branch and all the transactions including the balance details will be printed on it. I hope this information solves your query.