Founded 1906, the Corporation bank came into existence with the passion to serve more people. If you have an account in this bank then you are already a part of that legacy.
If you want to perform Corporation bank balance check let me tell you that there are several methods available. In this article, I will tell you how you can quickly and accurately check your bank balance in Corporation bank.
Method 1: Know Corporation bank account balance by Missed call

Alternatively, you can check your account balance in Corporation bank by giving them a missed call using your mobile phone.
The numbers are:
09289792897 and 09268892688
This system is very easy to use. You simply need to send a miss call to you bank using your registered number and soon you will have the bank details flash on your mobile screen.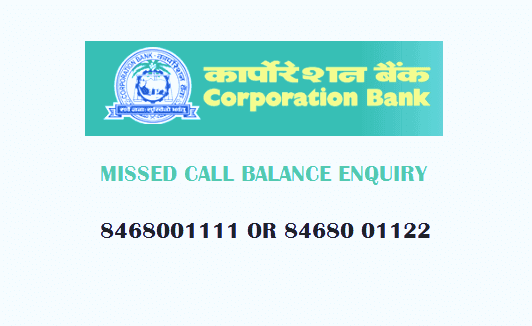 However, always make sure that you send the missed call using the number that you had entered at the time of filling up the form. The messages are available in different languages. It is one of the most convenient systems to know your bank balance because you get all the information right on your mobile phone.
Method 2: Check Corporation bank balance using Mobile banking:
You can use the mobile banking feature to enjoy various services and check account balance without going toe the branch. You can choose the language as per your choice. The mobile number for domestic customers is 092 688 98688.
Method 3: Check account Balance through SMS banking
This is yet another powerful feature that can help you get the account balance details without any troubles. There's an SMS banking number available.
SMS banking is smart feature that is used by almost all the customers of Corporation bank. Send an SMS using your registered mobile number and you will get all the account details displayed right in front of you.
Method 4: Check Corporation bank balance via Mobile app:
Another good way to get your account details quickly is by downloading the mobile app to your smartphone. You simply need to download the mobile app on your smartphone or tablet "Corp Mobile" app and to do this follow the link below.
After you have downloaded the app on your mobile phone, you will be able get full access to the bank information such as account balance, mini statements, etc. You will also be able to initiate transfer of funds and so on.
Traditional method:
Visit a Corporation bank branch close to your home or office. Go to the help desk and inquire about your bank balance. The bank staff will ask a few questions to verify your credentials and then provide your detailed information.
I hope this information helps you with Corporation bank balance check.