State Bank of India is a leading banking institution providing endless facilities to its account holders. However, if you are a regular customer of the SBI and need to resolve the issue of how to fix invalid CIF number SBI problems, we have the right solution for you. First, let us quickly know what a CIF number is and where you can find it.
What is a CIF Number?
When a person opens an account in the SBI bank, he's issued a CIF number by the bank, which is printed in the customer's passbook or on the first page of his chequebook. CIF means the Customer Information File in its shorter form, a unique eleven-digit number assigned by the bank to its account holders. It's a significant term in the banking world because the CIF number defines the complete banking details of an account holder.
Banks keep the Customer Information File or CIF in an electronic file format on their computer system, where all crucial information about account holders is correctly stored. A CIF number helps monitor account holders' account data. It includes their sensitive information and confidential details such as their home address, identification details, photo ID proof, PAN information, account information, customer's loans, Demat accounts information, etc.
At the time of customer verification, the CIF number is used to retrieve the customer's complete information.
How to Fix Invalid CIF number SBI Problem
This problem occurs when you click on forgot username or password without registering for SBI online banking. it will show a message saying of invalid CIF number. To solve this issue you have to register your account for internet banking.
In such a case, follow the simple and quick steps below for a hassle-free banking process.
Step 1: Open the SBI internet banking portal and log in. Click the New User? Register here /Activate > OK.
Step 2: A pop-up window will open stating New User Registration. Select the Next button.
Step 3: A new User Driven Registration – New User window will open before you. Enter your details as required, such as your account number, CIF box number, bank branch code, country name, registered mobile number, and facility required: for example, enter " Full Transaction Details."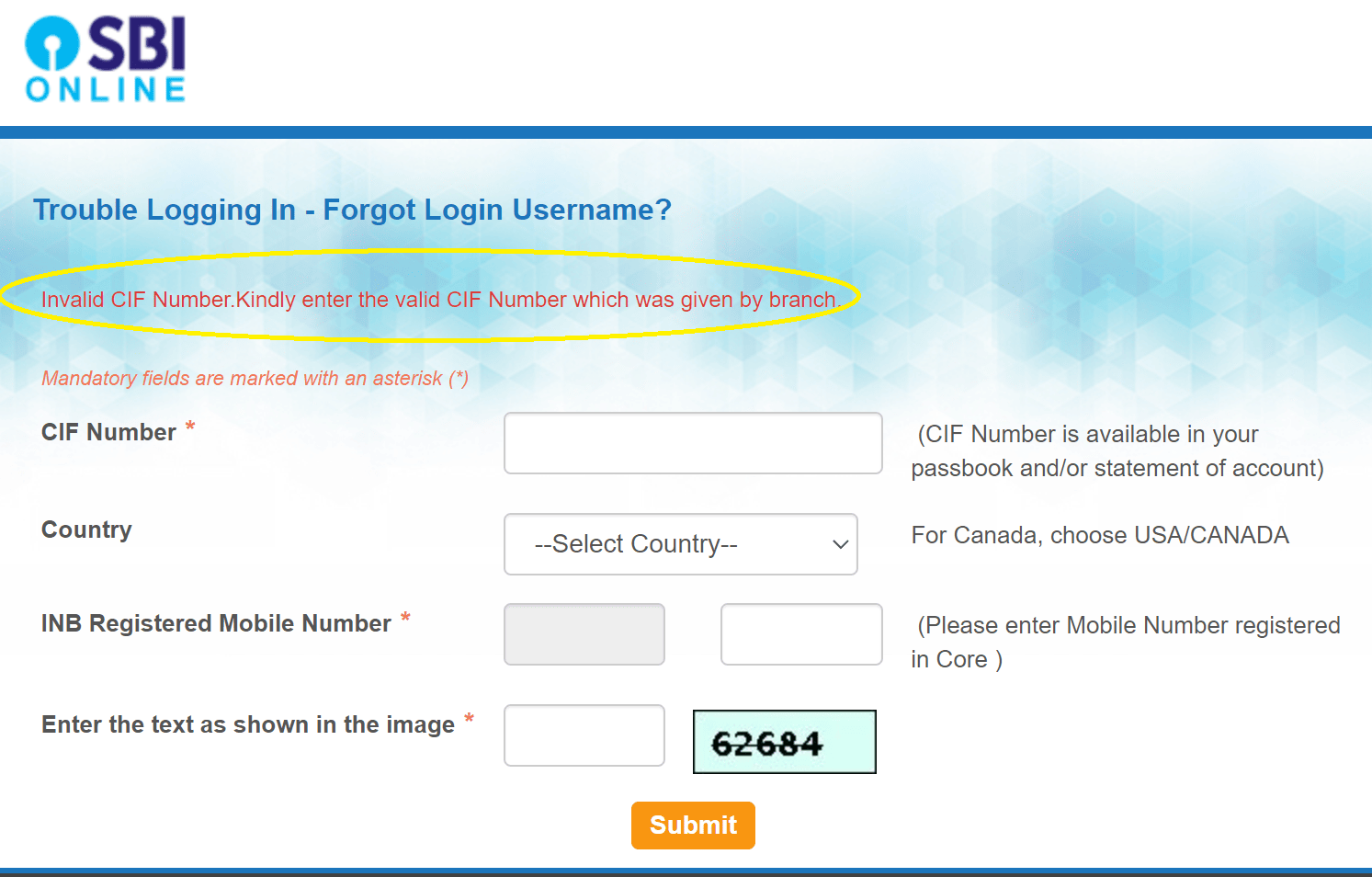 Enter the Captcha in the given box and click the submit button.
Step 3: You will receive a OneTime Password (OTP) on your registered mobile number > enter this OTP in the given box > click on Confirm button.
Step 4: A new window will open before you, showing two options. First, if you don't want to visit the bank branch, you should click on the first option i. e. " I have my ATM Card (Online registration without branch visit.) and click on the Submit button.
This way, you can fix the invalid CIF number SBI problem successfully. If you are still unable to proceed further, you must contact your nearest bank branch immediately. There are only three chances of trying it. First, your net banking facility might block for the day so you may try the other day.
Conclusion
We have already cleared the air around your query on how to fix the invalid CIF number SBI problem. However, if you don't have the CIF number, You cannot receive the CIF number from the bank directly by SMS. Rather you will have to request an account statement from the bank using SMS SMS 'ESTMT <space> <Account Number> <space> <code> to 917208933145. You will receive the e-statement on your registered email, where you can see your CIF number.