After opening a bank account, it has become a must nowadays for all account-holders to remember their registered mobile number. This way, the customers can check their SBI account details, manage their bank accounts, pay utility bills, and securely transact anytime, anywhere, using their registered mobile phone.
The account holders of SBI can also access their account details and various banking services at their leisure via SBI SMS Banking and online banking services. However, to use SBI's net banking or mobile banking services, you must first register or update a mobile number with your savings account. In addition, customers no longer have to visit a bank to update their registered mobile number with SBI's online or net banking facility.
Suppose you are an SBI account holder having more than one mobile number, and in case of confusion, you are eager to know how to know which mobile number is registered in your SBI bank account. So stay tuned as this article discusses and provides all the essential information and facts. So, keep reading this article until the end to know the correct and authentic process.
How to know which mobile number is registered in an SBI bank account
Suppose you need clarification and want to know which of your mobile numbers are registered in your state bank of india account. In that case, with the help of the below-mentioned simple process and essential information, you can receive the correct answer to your query in this regard, such as:
Step 1: First, open your web browser and type State Bank of India or SBI. Now, click on the first link on the primary interface, i.e., SBI's official website, www.onlinesbi.sbi. You can also click this link directly to visit the SBI online portal.
After opening the SBI's official website, its main interface will open before you. Click the blue Login tab at the screen's center. A new window will open up after clicking the Login button. Click on the blue-colored Continue to Login button at the screen's top center.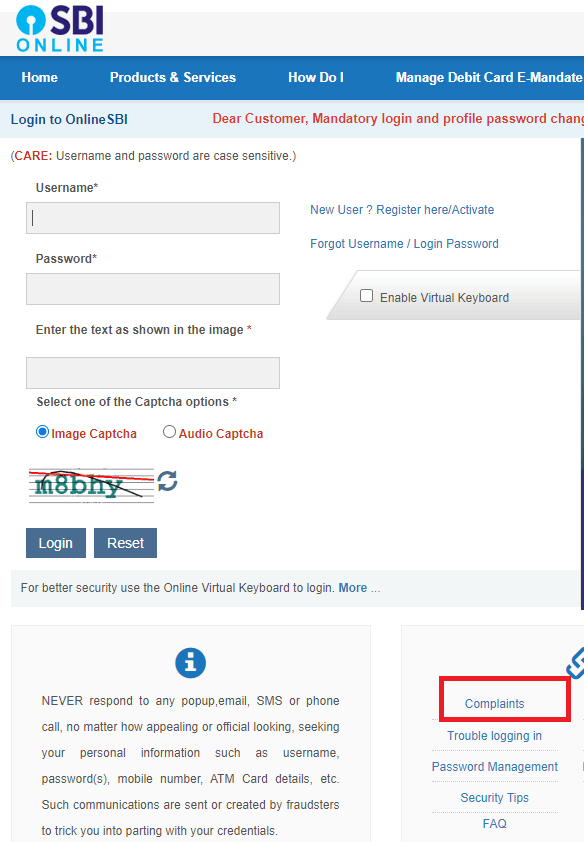 Now, the primary interface for SBI's net banking will open before you. You can log in to the SBI net banking app using your username and password. Since you are here to check which mobile number is linked to your SBI account, simply scroll up the page and reach the bottom of the Complaints tab.
Step 2: After clicking the Complaints tab, a new page will open before you stating STATE BANK OF INDIA – CUSTOMER REQUEST AND COMPLAINT FORM. Click the Select button at the Raise Request / Complaint Types tab and select the Raise Complaint or Request option.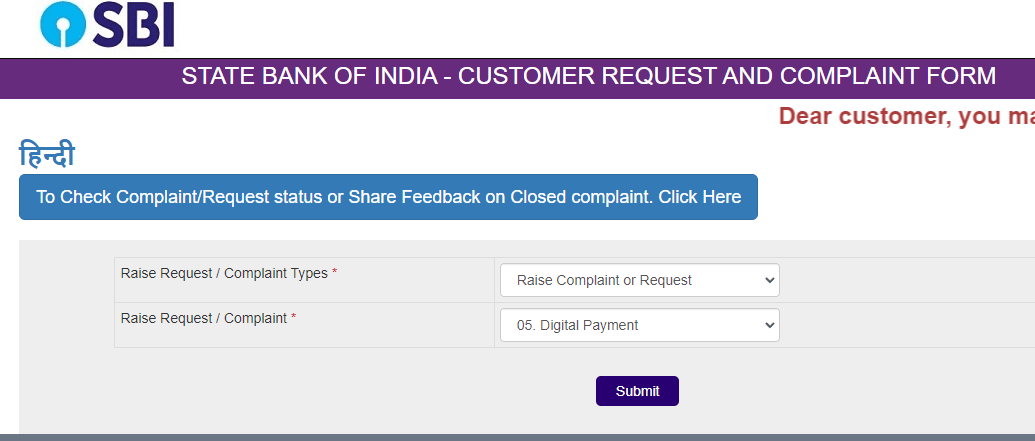 Then click the Select button at the Raise Request / Complaint tab and select the type of complaint, like Digital Payment in this case. After selecting the complaint type options, click the purple-colored Submit button.
Step 3: Now, a new page will appear before you, click the Enter Account Number tab and enter your account number.
Note: Suppose you have many accounts with the State Bank of India. In such a case, enter the account number for which you need to check the linked mobile number.
After entering your account number, enter the captcha code shown in the image. After entering the captcha code successfully, click the green-colored Send OTP button.
Step 4:  Now, a new window will open before you. Once you click the Send OTP tab, an OTP number will automatically be sent to your registered mobile number.
Note: If you do not receive an OTP, you must click the 'Resend OTP' button to regenerate it.

The screen will display the last five digits of your mobile number linked with your SBI account. Suppose your mobile phone number is 9876543210. In such a case, you will see a message as OTP has been sent to your registered mobile number, xxxxx43210.
That's it. Following the steps mentioned above, you can effortlessly get to know the mobile number linked to your State Bank account.
Conclusion
By going through this article, you can easily have a clear idea of how to know which mobile number is registered in your SBI bank account. However, in case of any doubt, you must always visit your nearest SBI branch or its customer executives and refrain from relying on any third person or tool.