Indian Railway Catering and Tourism Corporation (IRCTC) is an undertaking of the Indian public sector. It provides multiple services, including ticketing, catering, and tourism services for the Indian Railways. Its digital access allows you to book your tickets and search for your PNR status in the comfort of your home.
If you have registered on its website but are looking for how to fix IRCTC mobile number already registered problem, you have come to the right site. Stay tuned, and here we will answer your query and much more.
The Process to Fix IRCTC Mobile Number Already Registered Problem
Quite often, it happens that the need to change your already existing IRCTC number occurs. In such a case, we have got you covered. Here we have provided you with the three cases to resolve your issue. So you can simply follow any of the below-given quick steps to fix the IRCTC mobile number already registered problem, depending upon your case:
Case 1: Forgot User Name or Password
Step 1: Firstly, you must log in to the IRCTC app with your credentials. Type your old user ID (the one you made earlier). Since you do not remember it, you must click on 'Forget Account Details.'
Step 2: After clicking on the 'Forget Account Details,' a dialog box window will pop up before you with the name Forget Account Details; it will ask you to enter your registered email, username, or mobile number.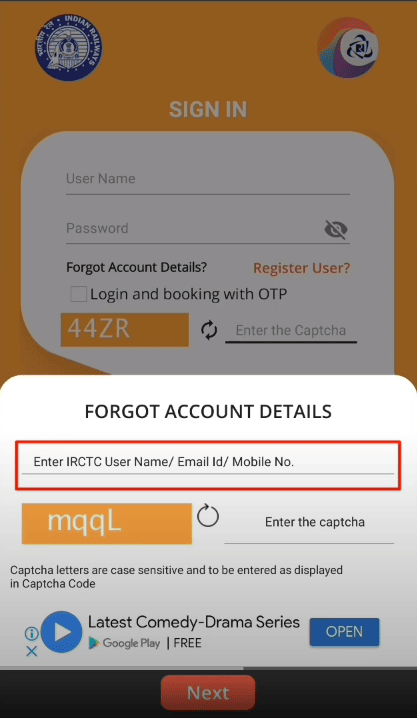 Type in your registered mobile number in the blank space, enter the captcha code, and click the next.
Step 3: Once you submit the information mentioned earlier, you will receive an OTP on your registered mobile number.   Now on the next popup page,  fill up this OTP, new password of your choice, and click the submit button. So, your new password will be created.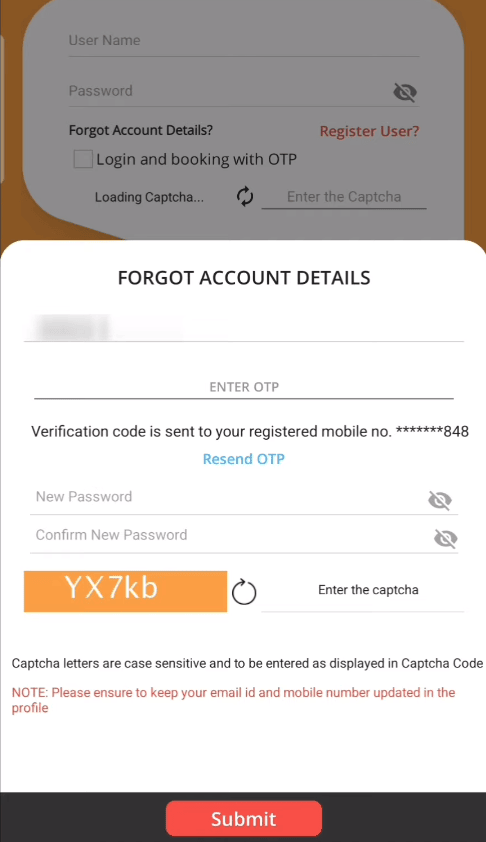 Important Note: The username will be sent with OTP to your registered mobile number. So using this method your password as well as username will be recovered easily.
Note: If you have a new sim that is not more than seven days old and have registered for the IRCTC account from the same, it might not create your account. You can try recreating it after seven days again to register from the same number.
Case 2: Never Created an Account on IRCTC; Still the Problem of 'Number Already Registered' Persists
Suppose you have never made an account on the portal of IRCTC, and still it tells you that your number already exists. It can happen because of two reasons:
Bug issues or you are using a second-hand number, and the previous user already has an account on IRCTC with this number
However, in such a case, you must follow the below-given steps to help yourself:
You must call IRCTC customer care and request them with your new mobile number.
Either the team will give you that number's USER ID and password. Or, they will ask you to create a new USER ID and password at your end.
The team will assist you with the forgotten password process, after which you can access your IRCTC account.
You can quickly fix your IRCTC mobile number already registered problem by following the abovementioned steps. However, you must be mindful to follow precautionary measures to safeguard yourself from fraud and thefts.
Preventive Measures to Be Taken While Accessing the IRCTC Website
IRCTC has been fixing and dealing with easing our lives digitally. But you must be cautious while accessing the IRCTC online. A few measures which can be taken care of while accessing the IRCTC website are as follows:
Do not ever share your OTP with anyone.
Always access your user ID from your mobile or laptop.
Always use the website or app of IRCTC and do not refer to any third-party applications.
Beware of fraudsters and imposters.
In case of any query or confusion, always call the customer care team of IRCTC.
Wrapping Up
To access your train bookings digitally, you must use the Indian Railway Catering and Tourism Corporation (IRCTC) to book your tickets and search for your PNR status. If you were looking for answers on how to fix the IRCTC mobile number already registered problem, we have already shared the process with you.
For more information, you can contact IRCTC's customer care service, or you can also visit the authentic website of IRCTC. You can also connect with their all India toll-free number 1800111139 and 1800111321. You can also take the aid of the customer care service of IRCTC on 14646 or 07556610661 and 07554090600.