You may have seen the expiration date on your ATM or Debit Card. Generally, these cards expire after three or four years from the date of their issue. These dates are essential for many purposes, such as the expiry dates of the cards not only ensuring they are in good condition but also helping you keep up-to-date with the latest offers from the card issuer, providing you with an extra level of fraud protection.
Using your card is a checkpoint, and its expiry date is an additional data point that needs to be verified. After the expiration date, an authenticated and updated new ATM/Debit Card is issued to you.
The card likely has new technology, like an EMV chip or contactless capability. If you keep using your ATM/Debit Card for a long time, its magnetic strip or EMV chip may wear out, which will make it less sensitive or damaged from exposure to the elements. After you get a replacement for your expired Debit Card, you will be able to use it at optimum sensitivity.
If you are holding a bank account with Canara Bank and you are using a Debit Card, then you should know the way To renew an expired Canara Bank debit card online.
How To Renew Expired Canara Bank Debit Card?
When using the Canara Bank Debit Card, suppose you are wondering how to renew an expired Canara Bank debit card. But suppose you need to learn how to replace your expired ATM/Debit Card with a new, authenticated, and duly updated one. In this case, this article will provide you with complete information and correct solutions in this regard. You must simply read the article to learn the necessary process.
1. When your Canara Bank debit card expires, your bank will automatically take care of the new Debit Card issuing process. They will issue you a new card immediately and send it to your registered address through Speed Post.
Additionally, they will send you a message notification on your mobile number (registered) and registered email ID, stating that your new ATM/Debit Card is on the way, and you will receive it within 7 to 15 days.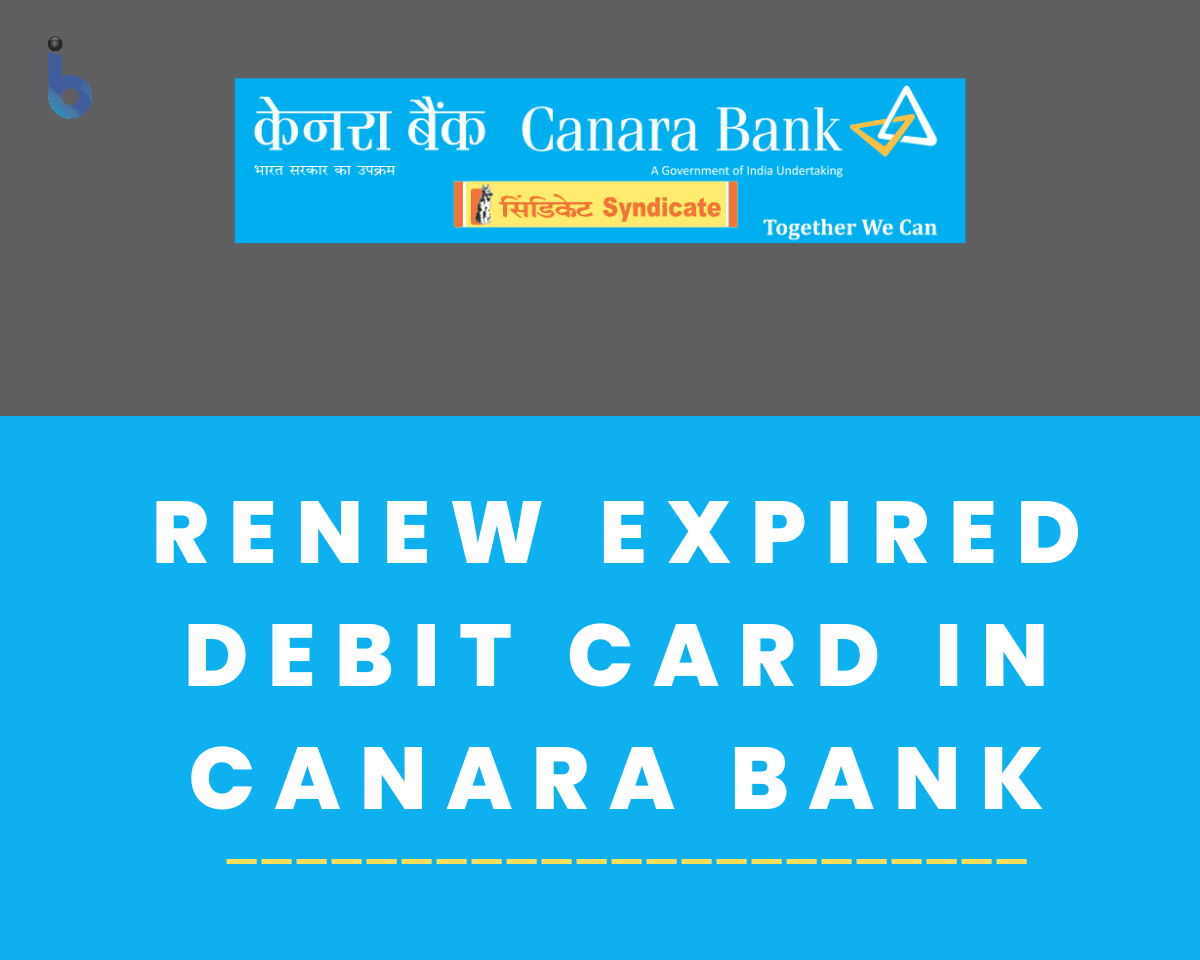 2. Suppose it doesn't arrive within 15 days of receiving that written notification, then you must visit the concerned Canara Bank branch to contact the bank officials. They will inquire about the matter and manage to do the needful in this regard.
Maybe your card has simply been lost in transit, or there is another possibility that it might have been stolen. In that case, they will issue and send you another Debit Card as a security measure.
3. Suppose your Debit Card expires, and you neither receive a notification message on your registered mobile number or your registered email ID, nor your new ATM/Debit Card arrives at your registered address. Then, in this case, 30 days after its expiry date, you should visit your concerned Canara Bank branch and manually submit an application to issue a new card to replace the expired one.
4. If you feel uncomfortable visiting your Canara Bank branch to manually submit an application to issue a new ATM/Debit Card, then you should know that you can search for a process, and by following some simple and easy steps through that process, you can apply online also for this purpose.
So this way, you can quickly learn about renewing expired Canara Bank debit cards.
Services
Contact
Toll-Free Number (Call From India only)
1800 425 0018
1800 103 0018
1800 208 3333
1800 3011 3333
Non-Toll-Free Number (Call from outside India)
+91-80-22064232
Conclusion
So, if you have doubts about how to renew expired Canara Bank ATM cards, we have done our best to clear them.
However, as you can see, the ATM/Debit card expiration date serves various purposes, such as fraud protection and card longevity. But you should also keep in mind that expiration dates apply to the physical card, not your bank account.
For example, your bank account still remains active when your ATM/Debit card is about to expire. So, you need not worry about continuing with your bank account even after your ATM or Debit card goes out of date.