In the recent era of increasingly more and more promotion of the digital India project, banks have started various online services in every sector. These services include a credit card or a loan service.
Punjab National Bank is one of the significant banks in India. The PNB bank provides trouble-free and customer-centric services to its customers, and the credit of being the first Swadeshi bank also goes to the same bank.
When you apply or request for a credit card from the Punjab National Bank (PNB), then you can use the official bank website of PNB so that you will be able to track its application status.
If you have a bank account with the Punjab National Bank and applied for a credit card, then you should know the process to track the PNB credit card application status.
Steps to Check PNB Credit Card Application Status online
Suppose you are an account holder with the PNB bank. You have applied for a credit card to avail of its hassle-free and customer-centric services to help you buy various products online on loan. Still, if you are skeptical about finding out a way to check PNB credit card application status, you should go through this article until the end.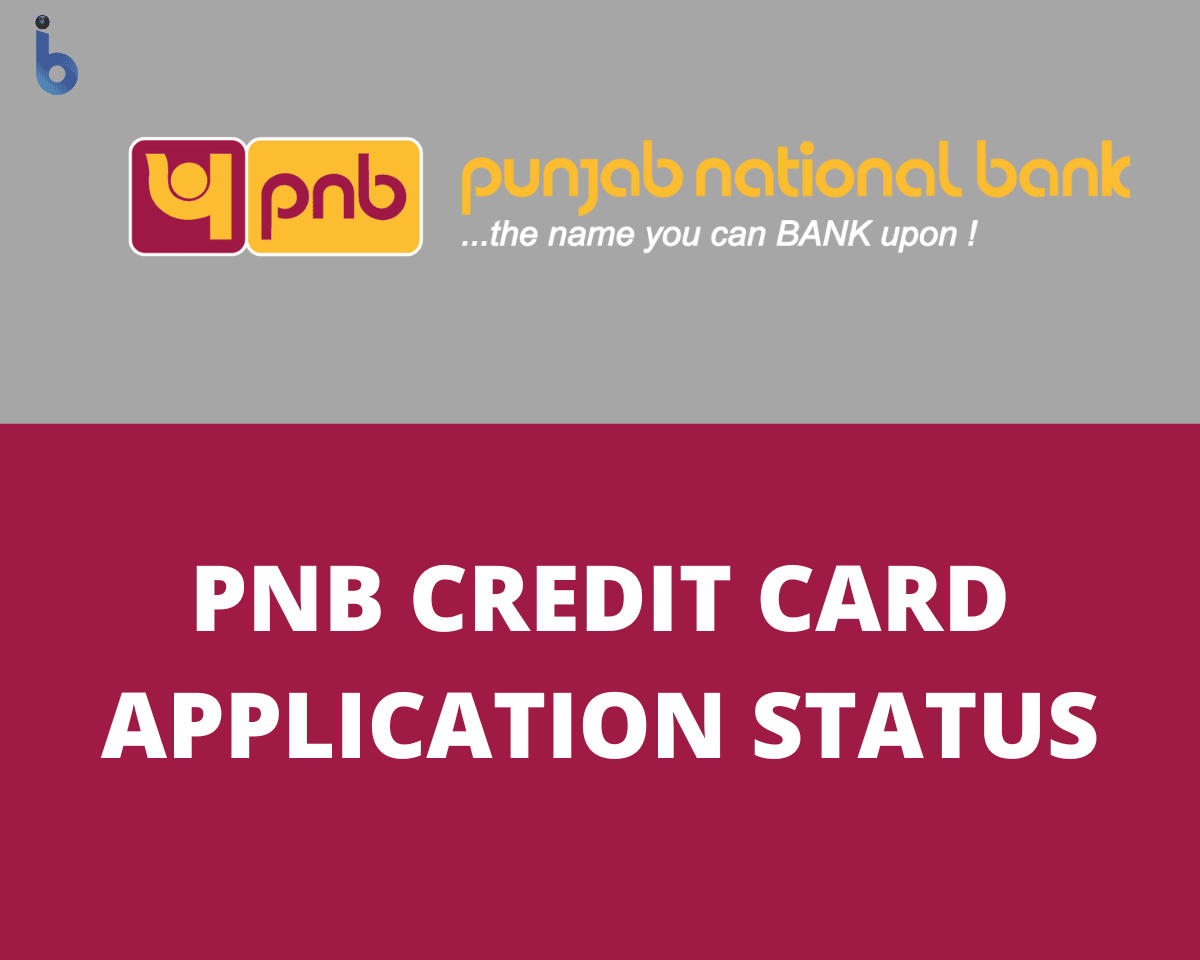 Rest assured that here you will receive complete information and relevant facts to provide you with the correct solution for the elimination of all your doubts to make you able to do the needful in this regard, such as:
Step 1. Visit the Google Play Store app on your Android phone, type PNB Genie in the search bar, Install the app on your mobile phone and open the app.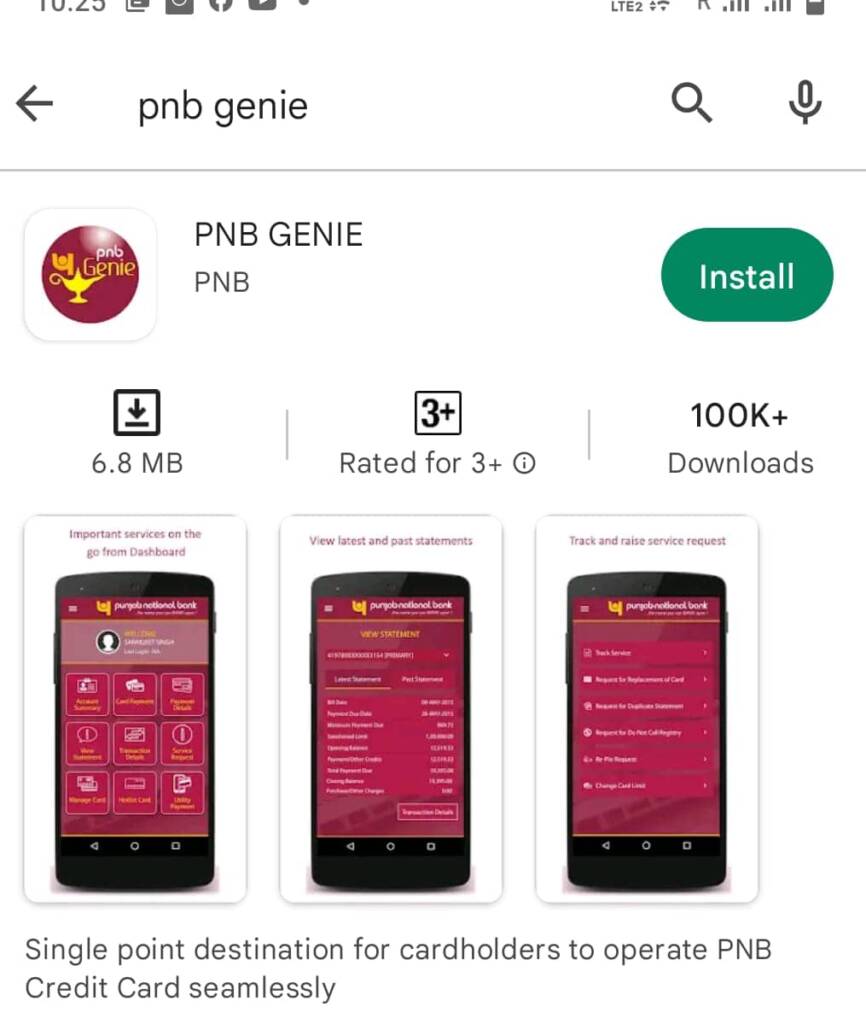 Step 2. After that, you will find multiple options on the app's interface, such as: "LOG IN," "PRIVILEGES," "OFFERS ON CARDS," "FAQ," "TRACK MY APPLICATION," and "REACH US."
Click on the TRACK MY APPLICATION option.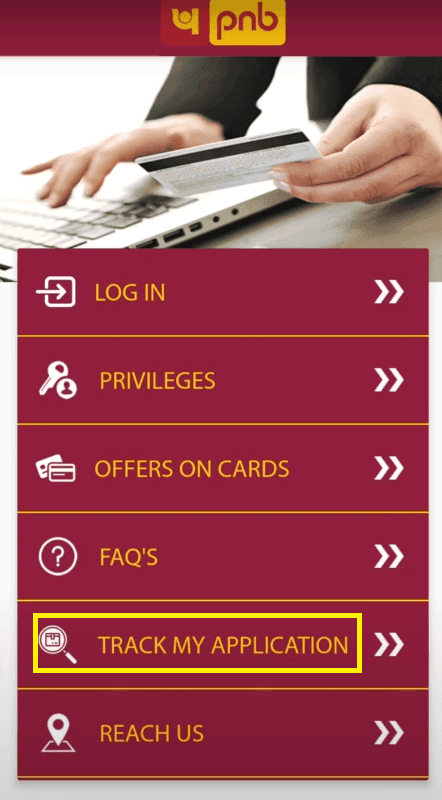 Step 3. Now, you will be asked to enter some details, such as: "Unique Application Reference Number," "Mobile Number," "Pan Card Number," and "Date of Birth."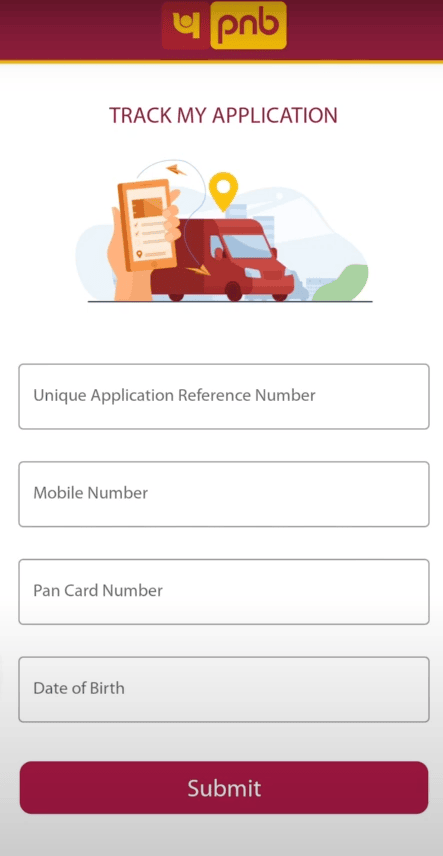 After entering the required details, click on the Submit button.
Step 4. You will now receive a message on your registered mobile number stating, "Enter OTP sent on registered mobile." Enter six digit One Time Password (OTP) as required. Then click on the Submit button.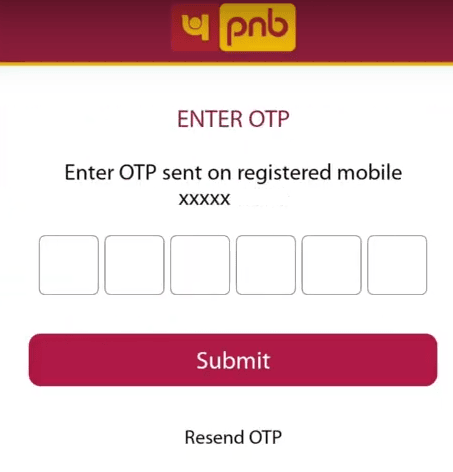 Step 5. After that, a new page will open before you, showing you the "APPLICATION STATUS" title. Also, you will receive a message stating that "Application Submitted," and you will see many options, such as: "Application Status," "Virtual Card Status," and "Physical Card Status."
Click on the Application Status option.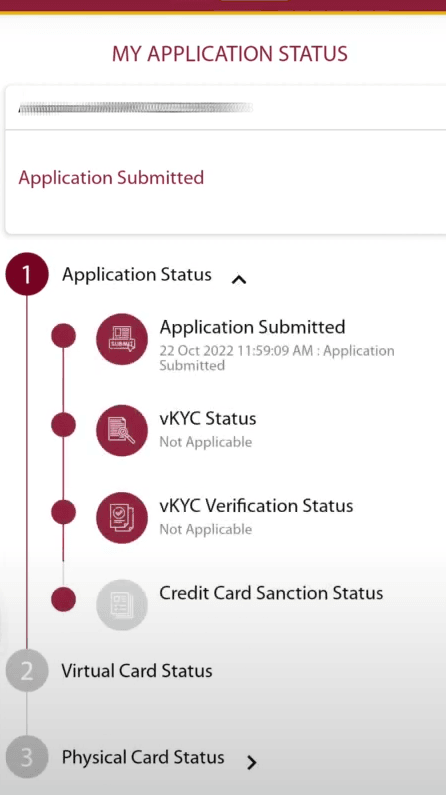 Please note Suppose you submitted your credit card application on 22 October 2022. But, after 45 days have passed, you still have not received the credit card.
After clicking on the Application Status option, a new page will open before you showing you the details of your "Application Status" in this way:
a. Application Submitted
22 October 2022 11:59:09 AM: Application Submitted
b. vKYC Status: Not Applicable
c. vKYC Verification Status: Not Applicable
d. Credit Card Sanction Status : (Not given)
Where vKYC stands for Video KYC.
You should know that you are being informed about why your credit card is not being updated: your application was submitted successfully on 22 October 2022. But, still, your video KYC status is not updated, so your credit card application is kept pending.
After knowing about the shortcomings in the credit card Updation process from your side, you must send the required information through PNB bank's official email ID: [email protected].
Once you complete all the requirements from your side, your credit card application update process will be successfully done, and you will receive a credit card within the due course of time.
So this way, you can quickly learn the process to check Your PNB credit card application status.
Conclusion
In this post, we have provided you with the best way to collect the complete information and the crucial facts to clear your painful doubts and eliminate the state of disappointment regarding checking the PNB credit card application status. Therefore, you would also have learned what to do in this regard.
However, in case of loss of your credit card, theft of the card, fraudulent transaction, or suspicion of having compromised details of the card, you must call PNB Credit Cards' 24-hour customer helpline number, 18001802345. Alternatively, you can also call on 01204616200.
If nothing works, you can send an email to [email protected] and get your credit card blocked or hot-listed.