SBI Card (SBIC) has recently urged its customers to update their KYC information. The SBI Card has now come forward to take the initiative to allow its customers to submit their KYC documents through post or e-mail for their verification and update process.
This move proves to be the most helpful way for all Credit card companies and other financial institutions to trace any money transaction and update their systems. This significant move also allows customers to use mobile apps for money transactions safely.
You should know that updating KYC data is a great digital transformation for SBICard as it allows their customers to avail the goodness of fast data transfer service without visiting the branch. In addition, it saves valuable time and resources for both banks and their customers.
This move was a precautionary measure to avoid movement during the Covid-19 pandemic. The customers using SBI Card gladly welcomed the action as it was easy and fast. The bank customers are required to scan their KYC documents and manage to send them through their registered e-mail IDs as per the official records of SBI Credit card.
So if you have a credit card from SBI bank, then you should know the process of submitting an SBI credit card KYC renewal online.
What Is the SBI Credit Card KYC?
KYC is the abbreviation for "Know Your Customer." It is an essential process adopted by various financial institutions all over the world. It dramatically helps collect comprehensive critical information on every customer.
SBI Card gathers the account holders' identity and other essential details to link them to their bank accounts and other legal documents. Moreover, it allows fast tracing and protects bank information from illegal users. You should provide the KYC details at the time of applying for a credit card or when the bank requests to update your KYC data.
How to Submit SBI Bank Credit Card KYC Renewal Online?
If you are an SBI Credit Card holder, you should submit your KYC documents to the bank for their verification and update process. So that you can safely use mobile apps for money transactions. But if you still don't know the way to submit an SBI bank credit card KYC renewal online, don't worry. Take it easy! You can do the needful by reading this helpful article.
Here you will know the complete information and can follow the below-mentioned simple tips and easy steps in this regard, such as:
Step 1: You should follow the guidelines of the Reserve Bank of India for 'Know Your Customer' (KYC). These guidelines state that you need to update your details as a bank customer periodically, and you should obtain identification documents.
For SBI Credit Card KYC renewal, you have to submit self-attested copies of the required KYC documents (ID Proof & Current residence address proof) along with a recent passport-size photograph.
You can refer to the below-mentioned list of documents to submit one of them for KYC renewal. As per Reserve Bank of India guidelines, these documents are officially valid for submission:
Passport
Voter ID (both sides)
Driving Licence (both sides)
Job Card issued by NREGA
Letter issued by the National Population Register containing details of name and address
Copy of Masked Aadhaar/Virtual ID Card (mask first 8-digits of Aadhaar Number)
Please note that:
All the documents to be submitted should be valid as of the current date.
Each document should be self-attested.
Remember to mention your registered e-mail ID and registered mobile number either in the e-mail body or on the KYC document(s).
Your Driving Licence will not be accepted as address proof of a KYC document if it is issued explicitly in a state where it is mentioned that the document cannot be used as address proof.
While submitting an Aadhaar Card as address proof of KYC document, you must mask/black out the first eight digits of your Aadhaar number and leave only the last four digits to be readable. You can also use the official website: https://www.uidai.gov.in to download the masked Aadhaar.
If you want to use the official website, go to the home page, click on 'download Aadhaar,' enter the required details, and select the right option given as 'Masked Aadhaar.'
Suppose the officially valid document submitted by an NRI customer does not have the address details. In this case, the documents issued by the government departments of foreign jurisdictions and the letter issued by the Foreign Embassy or the Mission in India shall be accepted as the address proof.
Step 2: To submit the KYC renewal documents, log in to your account on the bank's official website at https://www.sbicard.com.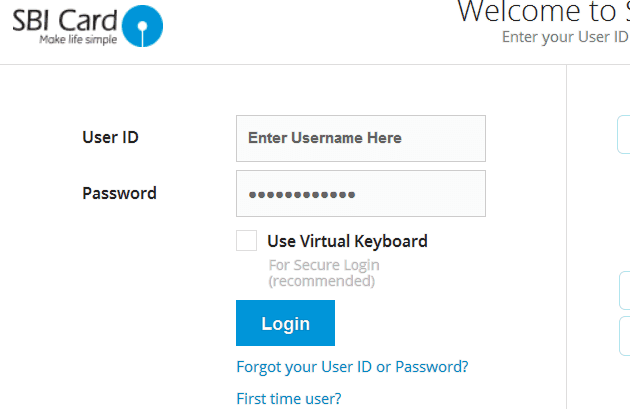 Step 3: Now click the 'Submit KYC documents' under the My Accounts section.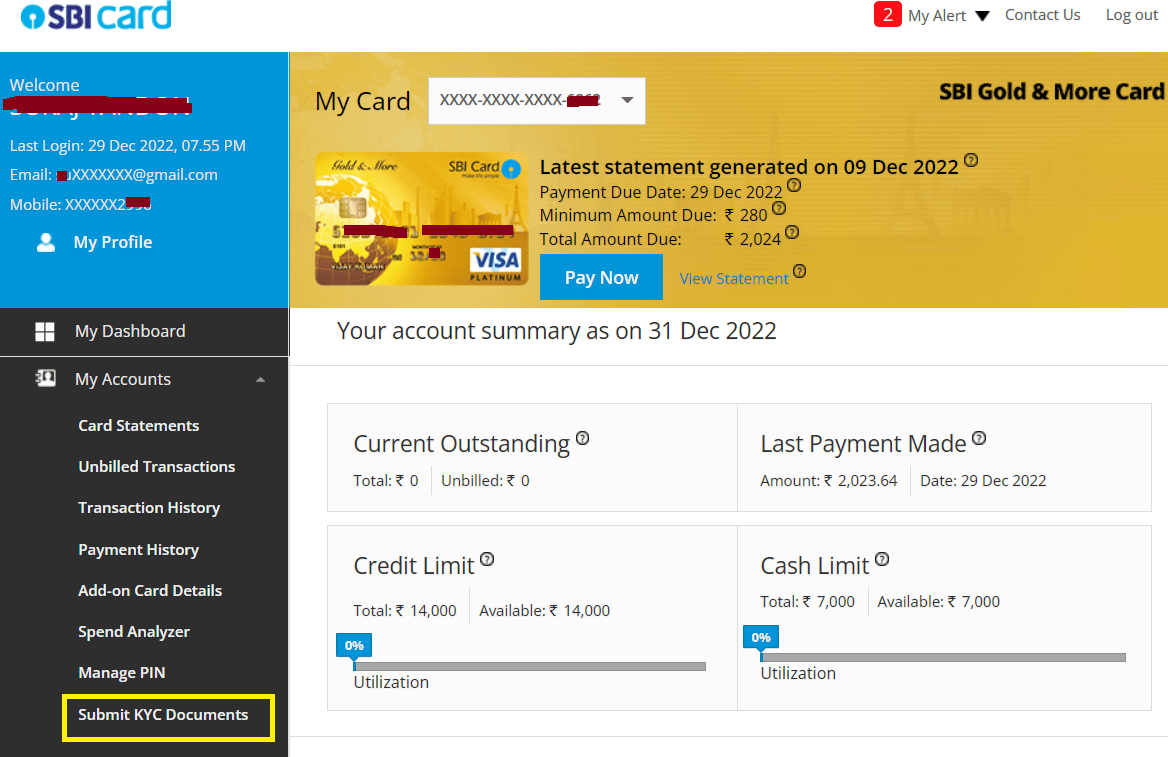 Step 4: Now upload self-attested current address proof, photo ID proof, and passport-size photo. Then, click the Submit button.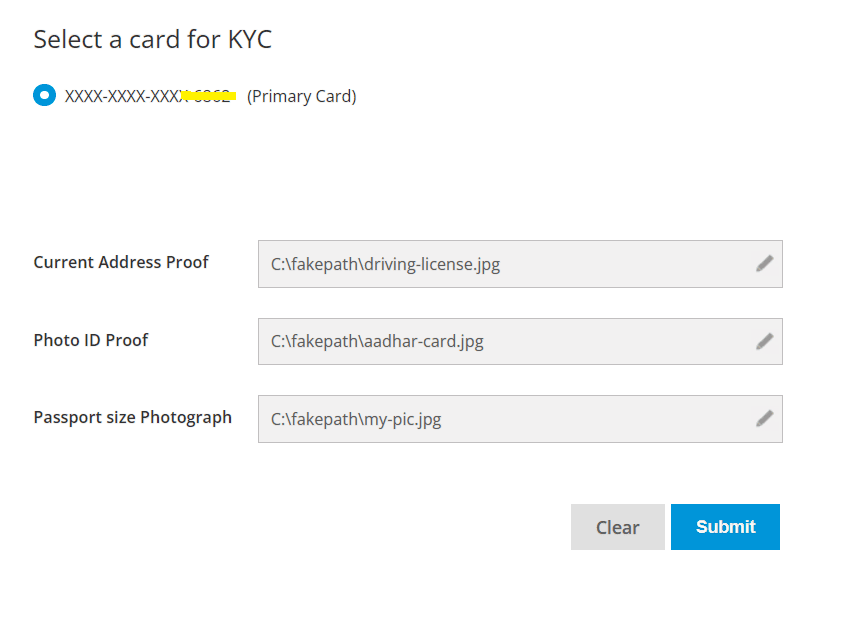 Your documents will be successfully uploaded.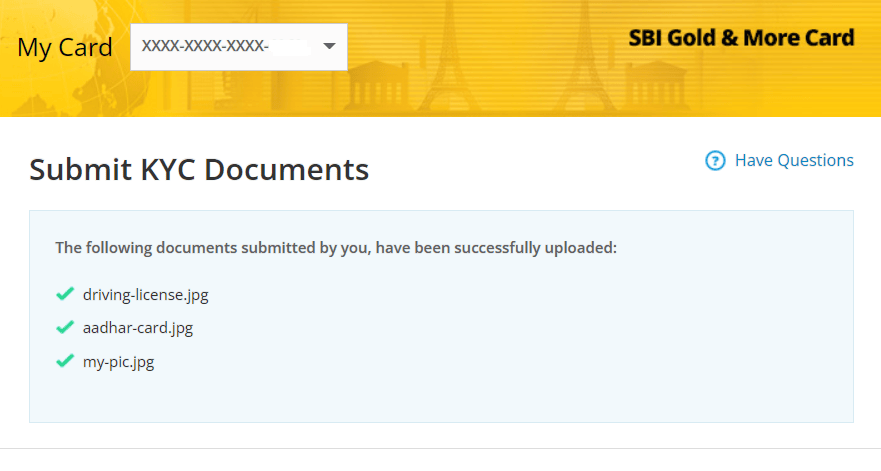 However, in case of any other query, you can contact the SBI customer support team at www.sbicard.com/email.
| Services | Contact |
| --- | --- |
| Toll-free Number | 18001801290 |
| SBI Card KYC renewal Email | [email protected] |
Conclusion
To conclude, we have provided you with complete assistance to help resolve your query in under minutes. However, if you are still doubtful and want to quench your query in regards to how to submit an SBI bank credit card KYC renewal online, then you can Refer to the RBI KYC Master Direction: RBI/DBR/2015-16/18 Master Direction DBR.AML.BC.No.81/14.01.001/2015-16 (as updated from time to time).