Indian Bank is one of the leading public sector banks. The bank is headquartered in Chennai. In this bank, bulk charges are referred to the fees/charges for processing large transactions or for maintaining large accounts.
Usually, such types of charges are levied on businesses, corporations, and other organizations that are required to maintain large amounts of money in their bank accounts or that make high-value and large numbers of transactions.
This type of levy is known as a cash handling charge, an example of a bulk charge, which is levied to meet the total cost of counting and remittance to the Reserve Bank of India (RBI).
As far as Indian Bank is concerned, the bulk charges levied by the Indian bank are essentially deducted from its customers' bank accounts for the services provided to them. These services can range from online banking to the management of massive cash remittances.
If you are an Indian Bank user, then you should know how to avoid bulk charges in Indian Bank.
What are the Bulk Charges in Indian Bank?
You should know that these charges are aggregated as bulk charges in Indian Bank:
1. SMS Text Messages Sending Charges
For users of Indian Bank, their mobile number registration is essentially required, while receiving OTP, internet banking facilities, and account updates are totally free for them. However, if they are excessively using the SMS facilities for their credit/debit transactions, they will be charged some amount per quarter.
2. ATM Uses Charges
Using the Indian Bank's ATM is free for its customers. However, you will be charged a fee if,
You make cash transactions at other banks
You make cash transactions after the permitted limit
3. Payment Gateway Uses Charges
Indian Bank will charge their customers a nominal fee for making payments from their bank accounts to the following:
For Indian Railway Catering and Tourism Corporation (IRCTC) reservations
Tamil Nadu Electrical Board (TNEB)
Usage on the merchant website
4. Debit Card Uses Charges
Indian Bank will charge their customers for the following:
A monthly fee for cash withdrawals using Master Card (International).
The Annual Maintenance Charges (AMC) is complimentary for the first year for any Indian Bank debit card holder. But after that, they will be charged a nominal fee for the same.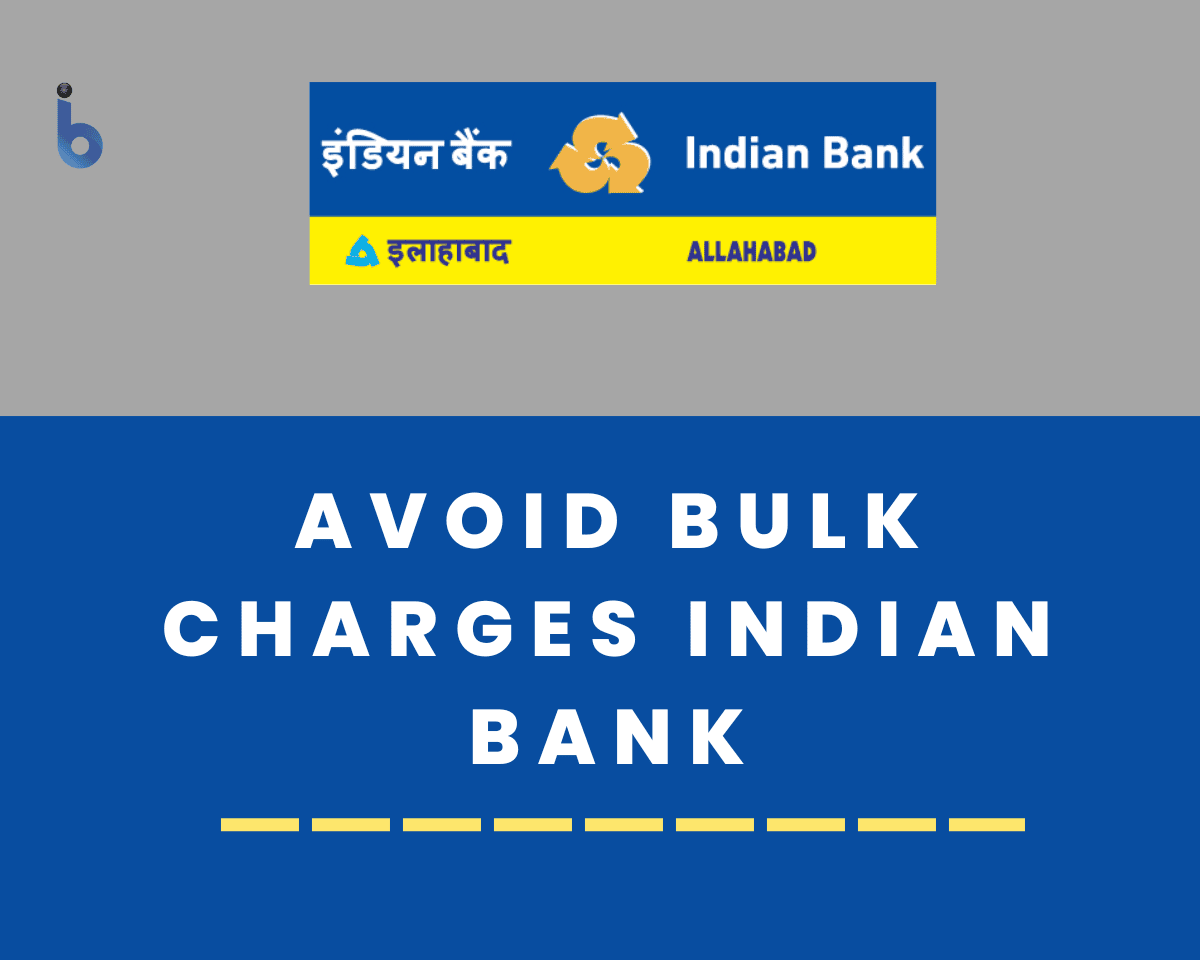 5. Cash handling charges
Indian Bank will charge a fee for approving and processing large cash deposits or withdrawals.
6. Clearing charges
Indian Bank will charge a fee for processing transactions through the clearing system, which is used for settling large numbers of interbank transactions.
7. Account maintenance charges
Indian Bank will charge a fee for maintaining such bank accounts that have a high-yield average monthly balance.
8. RTGS and NEFT charges
Indian Bank will charge a fee for such transactions that are conducted through the National Electronic Funds Transfer (NEFT) and the Real-Time Gross Settlement (RTGS) systems. These systems are used for high-value transactions.
9. Cheque collection charges
Indian Bank will charge a fee for collecting cheques in large numbers. However, you must note that bulk charges are not fixed. These charges can be changed from time to time because they are subject to the necessary amendments from time to time as per the bank's regulations. Also, an additional amount for service tax will be charged as per the tax laws will be applicable.
How to Avoid Bulk Charges in Indian Bank?
Suppose you are a Savings Bank Account and/or a Current Account holder with Indian Bank. You are making transactions through ATMs / Debit cards and want to minimize the bulk charges levied in your bank account. But for some reason, if you still don't know how to avoid bulk charges in Indian Bank, then in such a case, you should follow the below-given simple instructions, such as:
You should avoid making monthly cash withdrawals beyond the permitted number of withdrawals. You can try to make maximum ATM transactions in a metropolitan area.
You must avoid using excessive SMS for transactions and try to utilize Internet banking services instead.
Do not use an International card if most of your purchases are domestic.
If possible, you must avoid remitting a large amount of cash to minimize cash handling fees.
Always maintain an average minimum balance in your Indian bank account.
So this way, you can quickly learn about avoiding bulk charges in Indian Bank.
The After Thoughts
After reading this post, we believe you would have now learned how to avoid bulk charges in Indian Bank.
Also, now you would have realized that charging fees are an integral part of the banking system. However, they can pile up rapidly. So it is vital to be aware of these service charges/fees to avoid them sensibly. You will understand the real purpose of avoiding them whenever you observe a suspect charge levied in your bank account.