State Bank of India Multi Option Deposit Scheme (SBI MODS) is referred to as a Term Deposit account connected to a Savings Bank Account or Current Account with SBI. It is a different type of Term Deposit as compared to the traditional Term Deposits that are required to be fully liquidated if funds are needed.
However, an SBI MODS account enables you to withdraw funds in multiples of Rs. 1000 as per your reimbursement. Moreover, the balance amount in your MOD account will continue to avail of the Term Deposit interest rate that was at the time of your first deposit. If you are having an SBI MODS account, then you should know the method to check your SBI MOD Balance. So let's get started.
What Is SBI MOD Balance?
SBI MODS is an excellent combination of money deposit and Transactional Account. In this scheme, the exceeding amount in the Savings Bank Account gets transferred to the Fixed Deposit Account.
In the same way, if the bank gets a cheque for the MOD account and in case sufficient balance is not available in the account for getting the cheque cleared; the amount will be transferred from the Fixed Deposit Account to the Savings Bank Account.
SBI MOD gets a higher interest rate as compared to traditional Term Deposits. MOD accounts are generally opened for 1 Year term. To start an SBI MODS account, you are required to make an initial deposit of Rs. 10,000. The SBI MOD account has no upper limit. But this account is liable to applicable tax deductions at the source.
Steps to Check SBI MOD Balance by SMS
Suppose you are having an SBI MODS account and want to know your SBI MOD Account Balance. In such a case it would be great if you learned to check SBI MOD Balance by SMS for some reason. For this, you should follow the below-given simple and easy steps, such as:
First, you will have to register for SBI Quick Missed Call Banking through your registered mobile number. To do this, type "REG space your bank Account Number" and send it to +917208933148. After that, you will receive a message showing "Registration Successfully Done."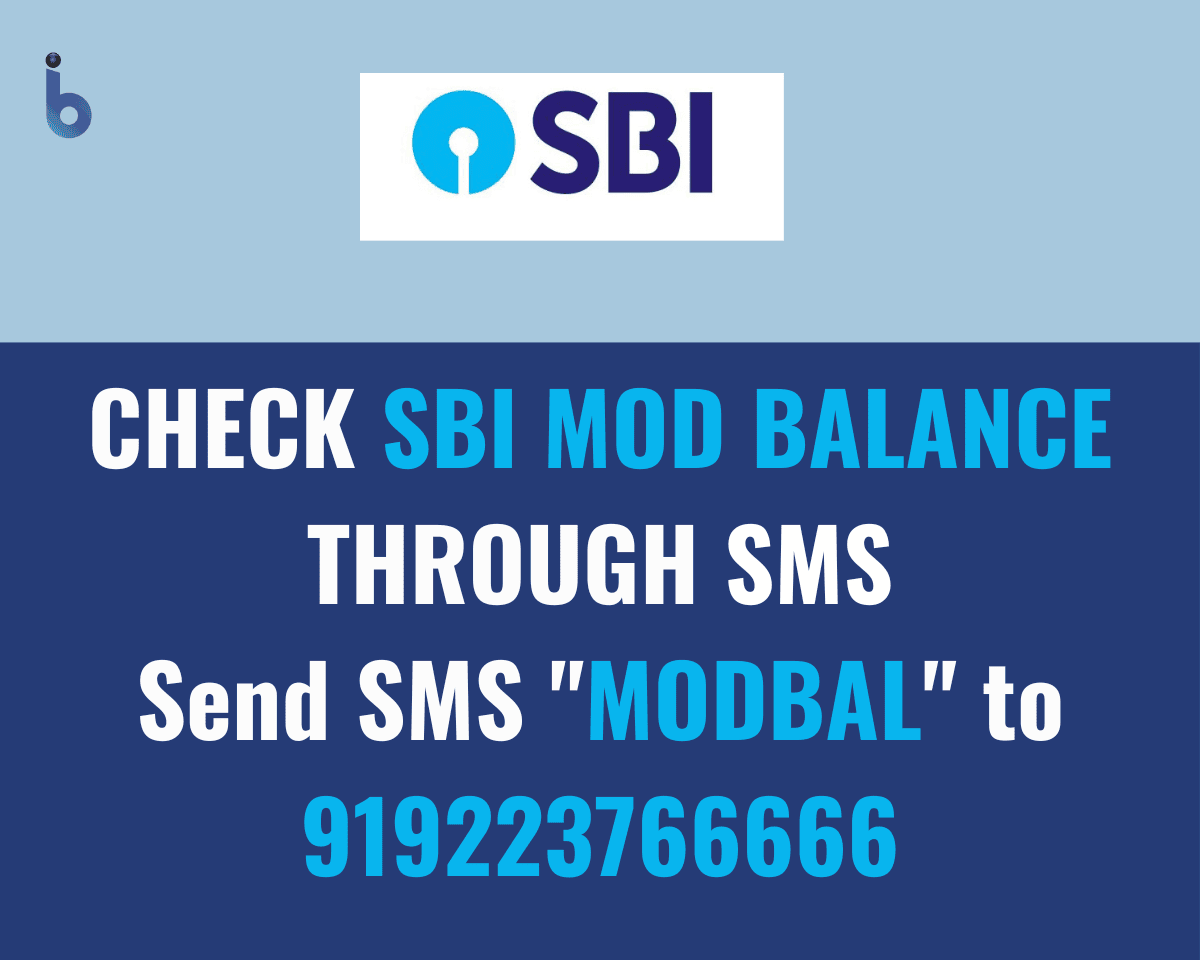 Now, to Check SBI MOD Balance by SMS, Type in capital letters "MODBAL" and send it to 919223766666. After that, you will receive a message. And under that message, you will see your MOD Balance.
| Services | Contact |
| --- | --- |
| SBI Quick Missed Call Banking registration | SMS 'REG Account Number' to 07208933148 |
| SBI Mod Balance Check Through SMS | SMS "MODBAL" to 919223766666 |
| Toll-Free Number | 18001234, 18002100, 1800112211 or 18004253800 |
So this way, you can easily and quickly check SBI MOD Balance by SMS. You can also check your mod account balance through internet banking or by calling a toll-free number.
Thoughts on the Concluding Comments
By following the above-written instructions and some easy steps, hopefully, you will have learned to check your SBI MOD Balance by SMS. However, you should maintain Monthly Average Balance in your SBI Savings Bank Account and/or a Current Account. Otherwise, the system will not withdraw the balance through MOD to do so.
Although you can initiate your MOD account with SBI, you should know that if the MOD interest received on the deposits exceeds Rs 10, 000 in a financial year, your bank will deduct the taxes from your bank account, so that it can deposit it to the Income Tax Department as applicable.
For example, The tax rate can vary from 10%- 20% depending on the depositor and the provided PAN details of the bank customer.
Suppose you are facing any problems regarding receiving your SBI MOD Balance, then you should make a call to the SBI Customer Care Service Toll-free Number: +9118001234, and explain to the bank officials the complete information of your account. They will help you to quench your queries and get complete solutions appropriately.