Nowadays, the Indian government is successfully delivering the Direct Benefit Transfer facility to crores of people under all types of government subsidies, such as the Mahatma Gandhi National Rural Employment Guarantee Scheme (MGNREGS), etc. These subsidies are directly transferred into the beneficiaries' bank accounts through Aadhaar verification, or Aadhaar-based OTP verification. Some other applications also need to be verified through Aadhaar, such as PAN-ITR, Mobile SIM, bank account, property registration, etc.
The Department of Telecommunications (DOT) issued a guideline for Indian people to link their mobile SIM with their Aadhaar, and 31/03/2018 was the deadline set by the Supreme Court of India for linking the Aadhaar with the mobile phone number. So that the Indian government not only identifies the owner of the mobile SIM linked to Aadhaar but also informs them about different types of Aadhaar-linked services and schemes.
Sometimes, you may need to change or update your mobile number linked to your Aadhaar. India Post Payments Bank (or IPPB) offers a new Mobile Banking facility to update your mobile number linked to your Aadhaar through its website: ippbonline.com (known as Doorstep Banking Service Request). The benefits of this facility are available for IPPB customers as well as for IPPB non-customers.
This article provides detailed information on IPPB Aadhaar mobile number update online and the advantages of linking your Mobile Number to the Aadhaar Card. So stay tuned and proceed further with this article without wasting any time.
Advantages of Linking an Aadhaar Card with Your Mobile Number
You can avail some benefits and security by linking your Aadhaar Card with an updated mobile number, such as:
After the mobile number is updated, all the OTPs related to Aadhaar will be sent to this mobile number.
Before delivering the benefits of different Aadhaar services, OTPs are sent to the beneficiaries' registered mobile numbers, which helps to provide extra security to their Aadhaar.
Verification and identification of all mobile numbers linked to Aadhaar are necessary for the security of our country and for individuals also, which will help identify fraudsters and money-launderers who get SIM cards issued in the name of fake and real people as well, without their knowledge. They use them for committing various crimes.
However, Scammers can be easily identified and punished by law if every mobile number is verified and linked with an Aadhaar.
 IPPB online Aadhar Update Process
Suppose you want to change or update your mobile number linked to your Aadhaar Card. Just follow the below-written simple and easy steps and straightforward instructions for this, such as:
Step 1. Move to your web browser and visit the IPPB official website on your mobile phone or computer, i.e., ippbonline.com. Once you launch the website mentioned above, click on the Service Request menu in the top red-colored bar.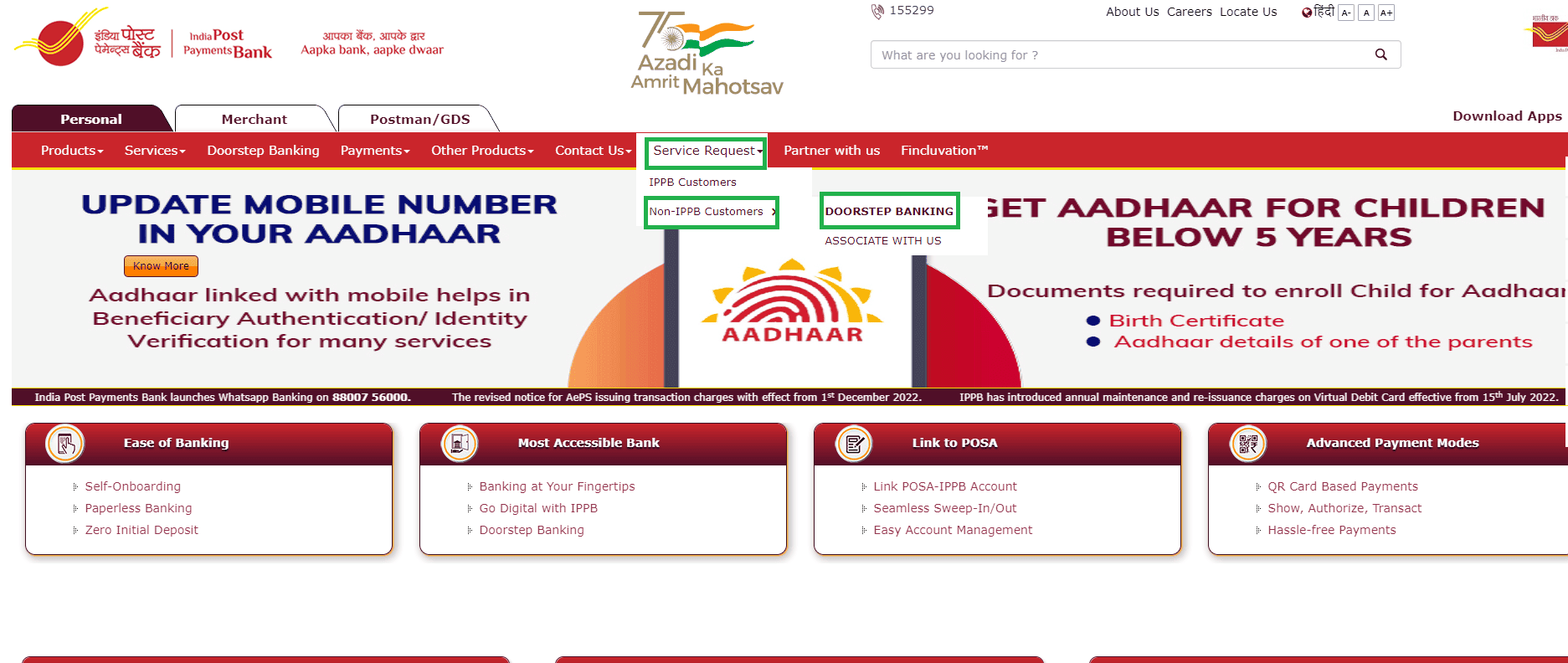 Now, you will see two options: IPPB customers and Non-IPPB customers. If you are an IPPB customer, click on the IPPB customers option; otherwise, click on the Non-IPPB customers option.
Click on the "Doorstep Banking" menu.
Step 2. Now, you will see the "SERVICE REQUEST FORM – DOORSTEP BANKING " title on a fresh interface. Check the "AADHAAR – MOBILE UPDATE" option under the title mentioned above.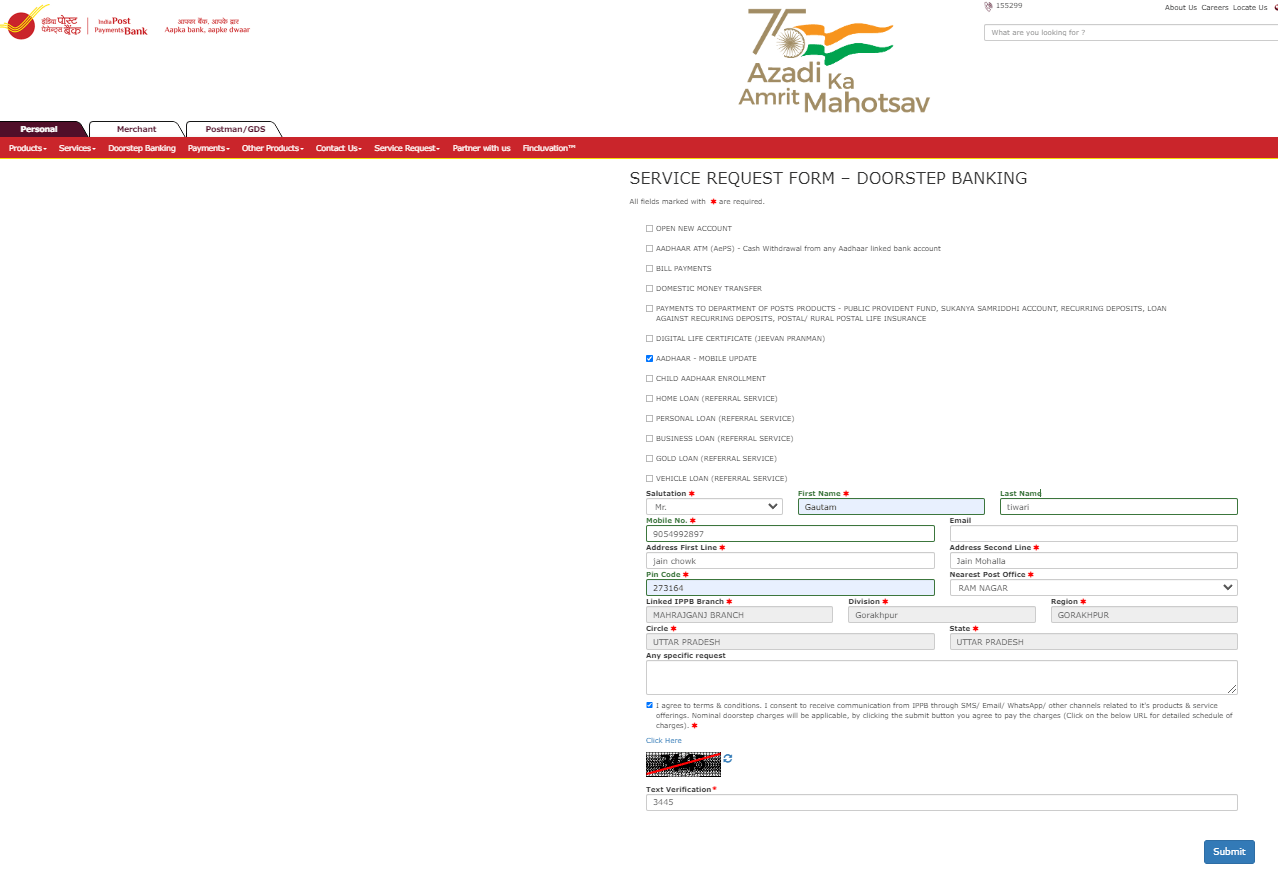 Scroll down to the bottom of your mobile screen, and fill up the required information in the given form. Once you fill up the form, tick the box I agree to terms and conditions… to accept the terms and conditions from IPPB.
Enter the captcha code in the "Text verification" box. Then click on the "Submit" button.
Step 3. Now, you will receive a message saying, "Your submission has been successful."

Please Note: At this point, the first phase of the mobile number update process is completed. And the second and final phase of this process is as follows:
After the first phase is completed, within one or two working days, IPPB will call you to confirm the visiting date and time to update your mobile number linked to your Aadhaar.
Once the visiting date and time are confirmed, the IPPB officials will visit your place/home and manage to do the needful in this regard, such as your fingerprints will be taken for authentication.
Once the authentication is done, your request will be raised for updating the mobile number.
Once your request is raised, you will receive the updation request number on your registered mobile number. And within one or two working days, your request will be approved.
To avail of this service/facility, you must pay a nominal charge/fee.
That's all. You can quickly learn the above-mentioned straightforward process for updating your mobile number linked to your Aadhaar through IPPB portal online.
To Wrap Up
The Indian government owns India Post Payments Bank (or IPPB). This bank offers a lot of banking services through its mobile banking app. You can perform the process of updating the mobile number linked to your Aadhaar through an online method as well as an offline method also. As you know now, for online updates, you can easily do it through IPPB's official website, ippbonline.com, while for offline updates, you will have to visit the nearest UIDAI Aadhaar Kendra.