IPPB stands for India Post Payments Bank and works as a banking service provider in Rural, Semi-Urban, and Urban areas through doorsteps. IPPB aims to provide simple, diverse, and growth-oriented offers to the Indian households accessibility to banking services and allow them to become financially independent. India Post Payments Bank was launched on 30th January 2017 as a pilot project in Ranchi(Jharkhand) and Raipur(Chhattisgarh) under the Department of Post Ministry of Communication.
India Post Payments Bank works to expand its services to each and every doorstep, and the postman helps you as a financial advisor to get what you need. IPPB provides the best outcome you want from keeping your hard-earned money in the post office.
India Post Payments Bank Balance check Through Missed Call Banking
People can open their Indian Post Payments Bank's savings account at the bank's access points at the doorsteps. The savings account can be opened instantly without any paperwork and only with an Andhaar card. You can use this account to keep funds, deposit money, and withdraw cash. People can avail of the facilities like easy bill payments, money transfer via IMPS, and other remittance services at the doorstep.
India Post Payments Bank has a helpful way to check account balance through missed call service. Without any hassles, you can register for missed call banking by giving a missed call to 8424054994. After registration, you have to give a missed call to 8424046556 to know your balance. The mobile number should be registered with the savings account to facilitate the missed call banking service and balance inquiry.
Features of The Missed Call Balance Enquiry Service
India Post Payments Bank's missed call banking service has some features that help get better services.
You won't need any internet provision to utilize the service.
You can give the call 24*7.
It's accessible from anywhere you are.
You can use both medium android and IOS.
Apart from the balance Enquiry, IPPB has a different number for the mini statement. You can give a missed call to 8424026886 to get it.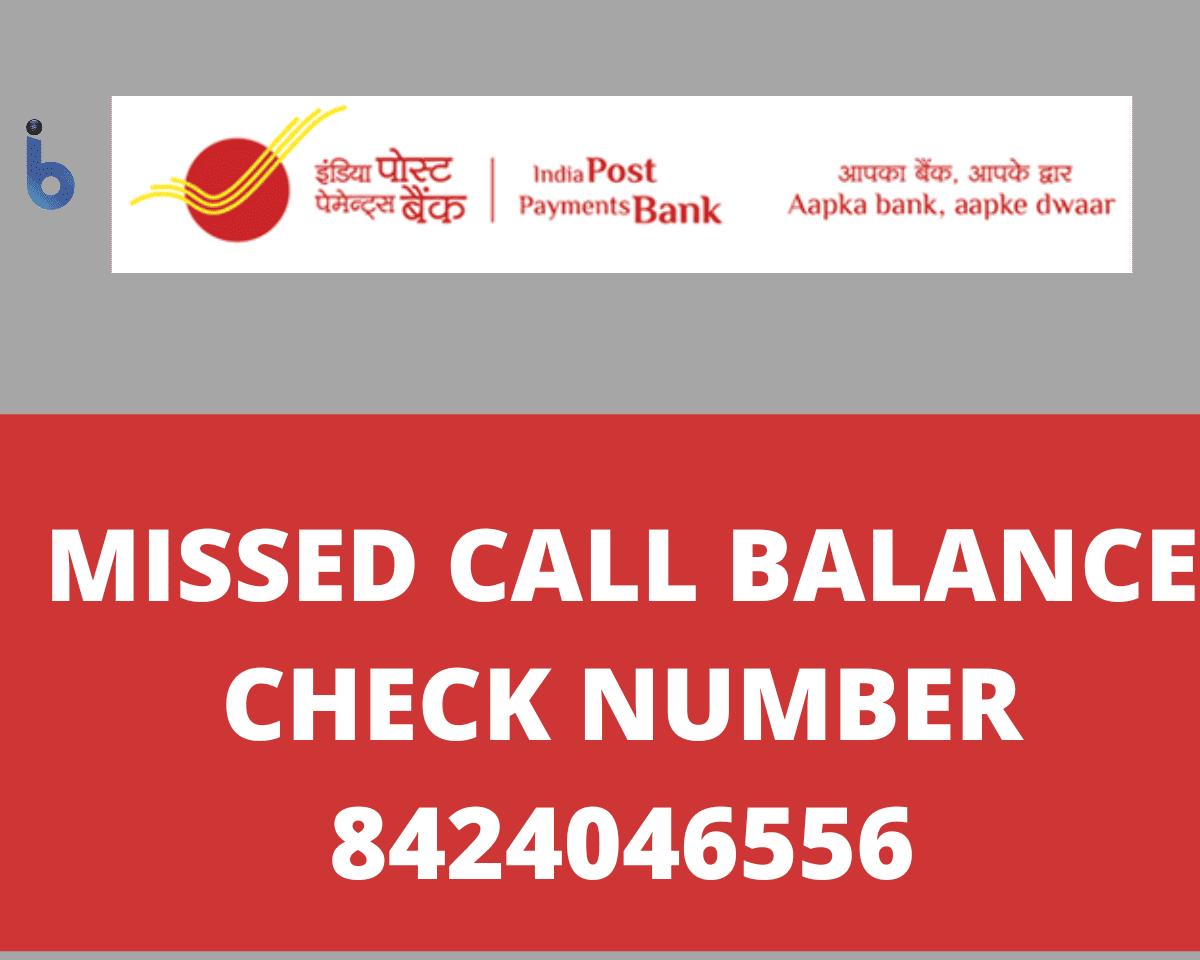 IPPB Balance Check Through SMS Banking
IPPB provides mobile banking and SMS alert banking to its customers to acquire the fastest banking service. People need to register their mobile numbers to access the banking facilities on their mobile phones. SMS alert is very easy and convenient for any services we take from government or non-government institutions or companies. Thus, all the banks use this system to work quickly for their valuable customers.
This SMS banking is so easy that you can sit back at your home and enjoy your banking activity at your fingertips. In India Post Payments Bank, you can even check your savings account details through SMS on your registered mobile number. The best aspect of this service is you can access SMS banking from anywhere in India, be it in rural areas, metro areas, or urban areas. You can access this service simply by sending an SMS written "BAL" to 7738062873.
Features of The SMS Banking Service
IPPB has the same features for the SMS banking services as well.
IPPB SMS number is available 24*7.
No internet facility is needed.
Any mobile handset is admissible for this assistance.
You can acquire it from any place.
To register your mobile number for utilizing SMS banking, send REGISTER to 7738062873. To get a mini statement through SMS, send MINI to the mentioned number.
| Type Balance Checking Service | Process |
| --- | --- |
| Missed Call Balance Enquiry | Give missed Call to 8424046556 |
| Balance Enquiry by SMS | SMS 'BAL' to 7738062873 |
| Mini statement by Missed Call | Give Missed call to 8424026886 |
| Mini statement By SMS | SMS 'MINI' to 7738062873 |
| Phone Banking  number | Call 155299 |
| Email | email to [email protected] |
Benefits of Having IPPB Savings Account
India Post Payments Bank started the banking amenities, and a savings account is must required. A person can avail of various banking services like money transfer, bill and utility payments, direct benefit transfer, and more. People in rural, urban, and semi-urban also can utilize these facilities with super ease. Here, IPPB has three different types of savings accounts- regular savings accounts, basic savings accounts, and digital savings accounts.
You can open a Regular Savings Account with zero balance in IPPB, and it's completely different from other post office accounts that require a minimum of 20/- to open. In Basic Savings Account, you will get similar advantages as the previous savings account, and every feature like doorstep banking with a QR card using.
Though, IPPB allows only withdrawal of money four times a month with the Basic Savings Account. For the Digital Savings account, you can open it with your IPPB mobile app downloaded on android. Above 18 years, anybody can open Digital Savings Account in IPPB with Adhaar Card and Pan Card. And you can also upgrade your Digital Savings Account to a Regular Savings Account using biometric-based Adhaar Card verification by KYC.
Conclusion
India Post Payments Bank has a flexible and comfortable infrastructure created by the Indian Government that extends every nook and corner of India. The government of India has owned 100 percent equity for IPPB, and it completes people's needs. India Post Payments Bank is a safer place to keep the money as its government-owned and easy to access. Here, we mentioned the two most important methods to know your IPPB account balance. To know further details check the official IPPB website.