YONO SBI application has been introduced by the State Bank of India (or SBI) is an integrated digital banking platform that enables its customers to access a wide range of financial and other customer-friendly services, like flight booking, train tickets, bus tickets, and taxi bookings, online shopping, or bill payments, etc.
In fact, YONO SBI is a mobile banking application that can be easily used through an iPhone/iPad or Android phone. Using the YONO Quick Pay option or under the YONO Pay section, funds can be easily transferred to the following recipients/beneficiaries, such as:
To your own account.
To the third-party account held in the State Bank of India.
To the third-party account held in any other bank than the State Bank of India.
This article walks you through the essential information about the YONO SBI mobile banking application, its critical features, and the straightforward process for how you can transfer money from this app. So stay tuned with us and keep reading this post to proceed further without wasting any time.
Features Of the YONO SBI App
Now, you are familiar with the YONO SBI app. However, it has a plethora of features to serve its customers with multiple services and convenience. Following are the significant features of the YONO SBI app to help you as per your needs and comfort to transfer money:
You can intelligently transfer money using Immediate Payments Service (or IMPS), National Electronic Funds Transfer (or NEFT), and Real Time Gross Settlement (or RTGS), according to the amount, type of beneficiary, and the time required for transfer.
UPI transactions can also be done using YONO SBI.
The beneficiaries for whom fund transfers are most frequently done will be auto-populated.
You can add a new beneficiary/a new third-party account and make the transfer of funds in a single process step.
YONO SBI app offers a smart search option using which you can search for a particular beneficiary from the given Beneficiary List.
You can use a smart search functionality to search the IFSC code of the beneficiary.
Using the YONO SBI app, you can instantaneously transfer up to Rs. 25,000 to a new beneficiary/a new third-party account.
In YONO Quick Pay, biometric-based authentication has been introduced for login and transaction.
Steps to Transfer Money From YONO SBI App
Suppose you want to use the YONO Mobile app so that you can quickly transfer money. In such a case, you should have a Savings Bank Account or Current Account with the State Bank of India. You can follow the step-by-step guidance to transfer money from your YONO SBI app in a few clicks.
Step 1. Open the YONO SBI app on your Android or iOS mobile phone. Enter your SBI credentials to log into the YONO SBI app, like MPIN, etc.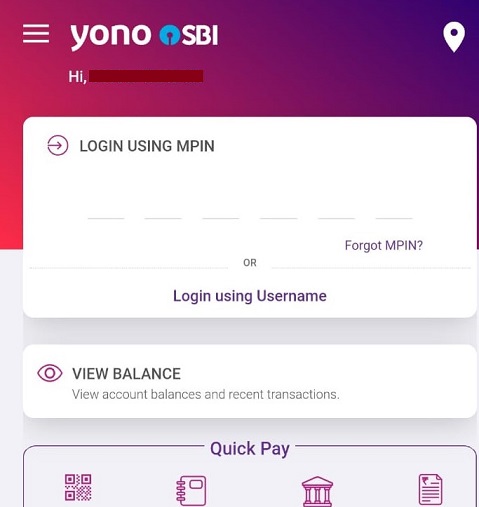 Step 2. Click on the 'YONO Pay' option from the home screen of the app.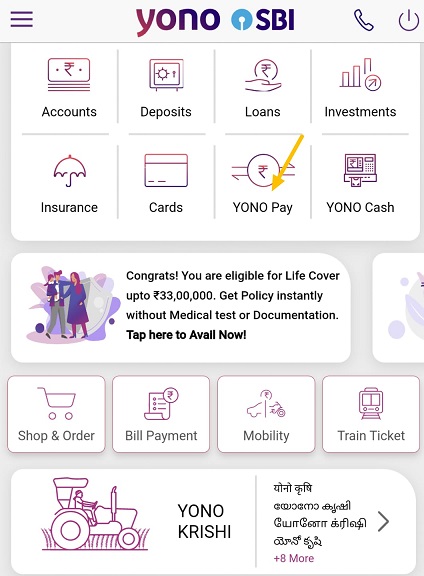 Step 3. Next, move to the "Bank Account" button on a fresh interface.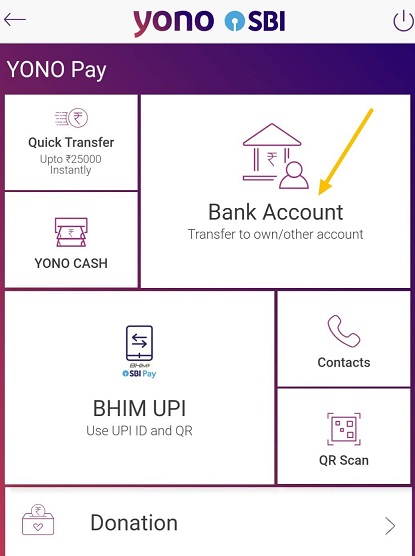 Step 4. Select the beneficiary to whom you want to transfer money.
Note: If no beneficiary is added, add the beneficiary in Yono SBI. But if your beneficiary is already added to your SBI account, click the "Other Accounts" option.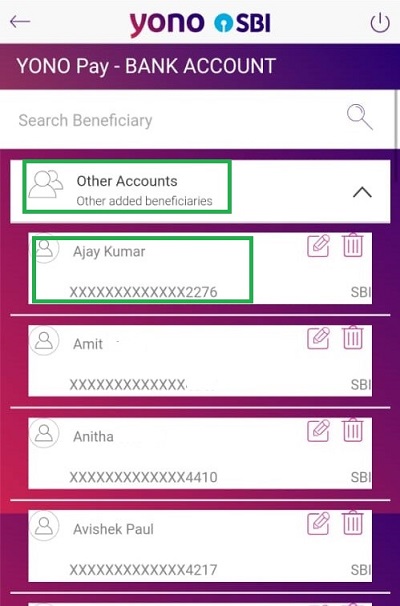 Click the Own Accounts option to transfer money to your SBI account, such as Recurring Deposits, etc. Upon selecting the beneficiary, the beneficiary details will be displayed, like his/her name, bank account number, and bank name.
Step 5. Enter the amount you want to transfer in the required space. Click on the "Select a Purpose" option and enter the reason for the transaction from the given list of purposes. Tap on the "Next" button.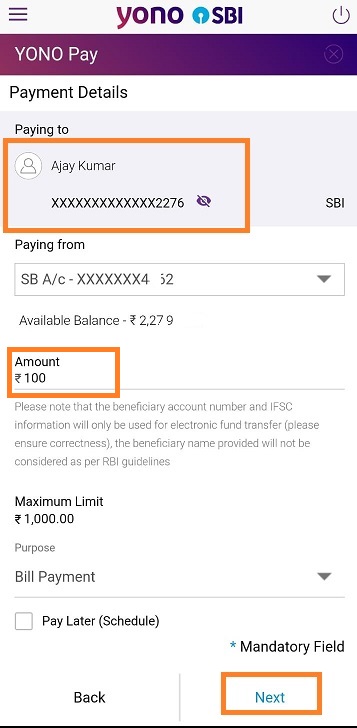 Step 5. Check all details properly and click the "Confirm" button.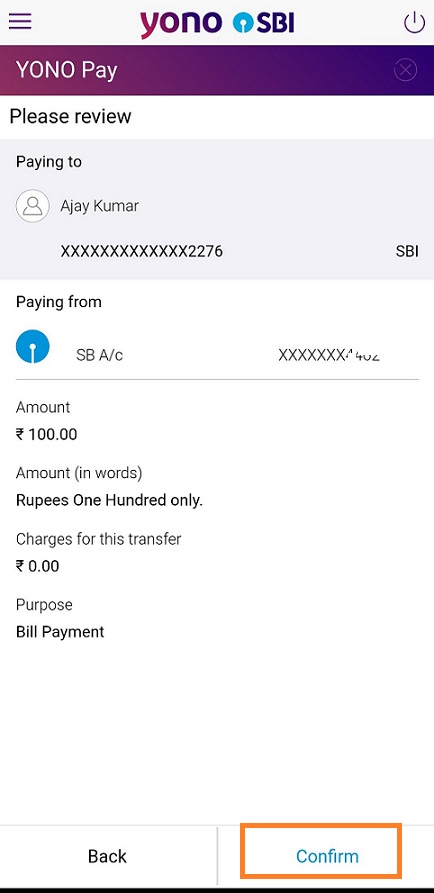 Step 6. You will receive an OTP on your registered mobile number. Enter the OTP as required and hit the "Next" button. That's it. Your transaction will be successful, and you'll receive a notification for the same.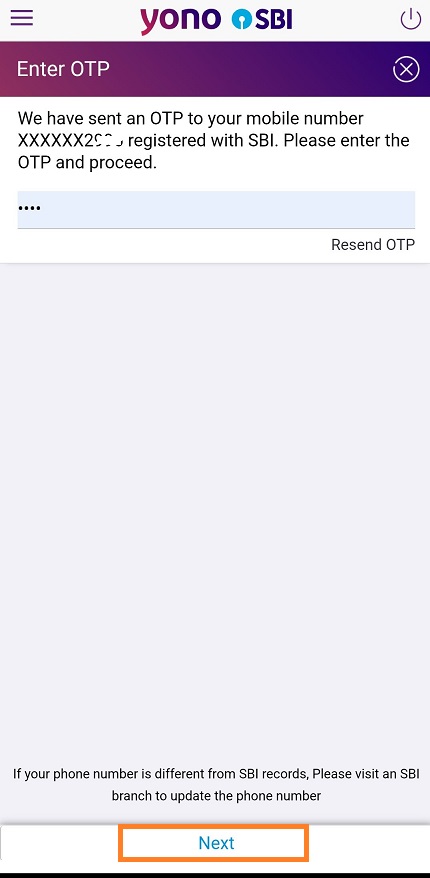 Following the above-described straightforward process and accessible guidance, you can quickly learn to transfer money from the YONO SBI app.
The Bottom Line
YONO SBI app has introduced a YONO Quick Pay section that is supported by biometric-based authentication for login and transactions for making instant transfers. Another key feature of the YONO SBI app is that under the mpassbook product, an animated transaction presentation is available in the View Balance section.
In addition to the above, a payment process based on the mobile number has been introduced under YONO Quick Pay. In case you are still going through some difficulties or are aggrieved to sort out some issues or complaints regarding transferring the money from the YONO SBI application, you can contact any of the below-mentioned toll-free numbers: 1800 – 1234, 1800 – 11 – 2211, 1800 – 2100, 1800 – 425 – 3800, or 080 – 26599990.
On the other hand, you can also write and send an email to the State Bank of India at their Customer Care Email ID: [email protected].