Ujjivan Small Finance Bank (or USFB) is one of the leading small finance banks in India. It is a scheduled bank, having its head office in Bangalore, Karnataka. The bank is included in the Second Schedule to the Reserve Bank of India Act, 1934 and it started its banking operations on 01/02/2017 to offer a wide range of financial services to meet the needs of financially unserved or underserved economically active poor individuals, which means ordinary people, marginal farmers, micro and small industries, among other unorganized sectors, and socially and economically disadvantaged persons in society who contribute to economic activity or can contribute to economic activity, but who were not adequately able to fulfill their needs by financial institutions. The bank helps to uplift the quality of their lifestyle.
Ujjivan Small Finance Bank allows its customers to use the SMS and missed call banking facility to check the current updates on their bank deposits and their bank account balance free of cost. This way, they can get quick answers to their queries in this regard. You can quickly and conveniently use these services 24*7 from anywhere without even using a smartphone. You can do it with any type of mobile phone to keep up to date with your banking transactions and accounts.
In this article, we will provide you with detailed information about Ujjivan Small Finance Bank balance check numbers and straightforward processes for how you can use these numbers efficiently.
What Is Account Balance And Its Primary Uses?
The amount of money that remains in a bank account after paying all the debts, deducting all the debit charges, and entering the credited amounts is referred to as bank balance or account balance. You can get your bank balance information using various methods in your bank.
However, the remaining amount in a bank account may differ from the actual balance because the required calculations still have to be done for some unpaid debts.
Following are some important uses of checking the bank balance, such as:
A bank balance gives you updated and accessible information about how much money you have in an account.
While you keep track of all transactions, the bank balance helps you quickly manage an account's cash inflow and cash outflow.
If verification is required for a previous incoming or outgoing payment, in that case, you can efficiently verify it by keeping track of the bank balance.
Ujjivan Small Finance Bank Balance Check Number
If you are a bank account holder with Ujjivan Small Finance Bank, you may need to know your updated bank account balance for any reason. Don't worry; we are providing you with two methods so that you can quickly check it. Just follow the below-instructed step-by-step straightforward guidance:
1. Check Ujjivan Small Finance Bank Balance Using SMS Banking
By following this method, you can check the balance of your account. Ujjivan SFB SMS, balance check number, is 9243232121.
You must type "BAL" into your text message.
In case you have many bank accounts, add space after typing "BAL" followed by entering the last four digits of your account number for which you want the bank statement.
Send your text message to 9243232121.
After that, you will receive the balance information in your account.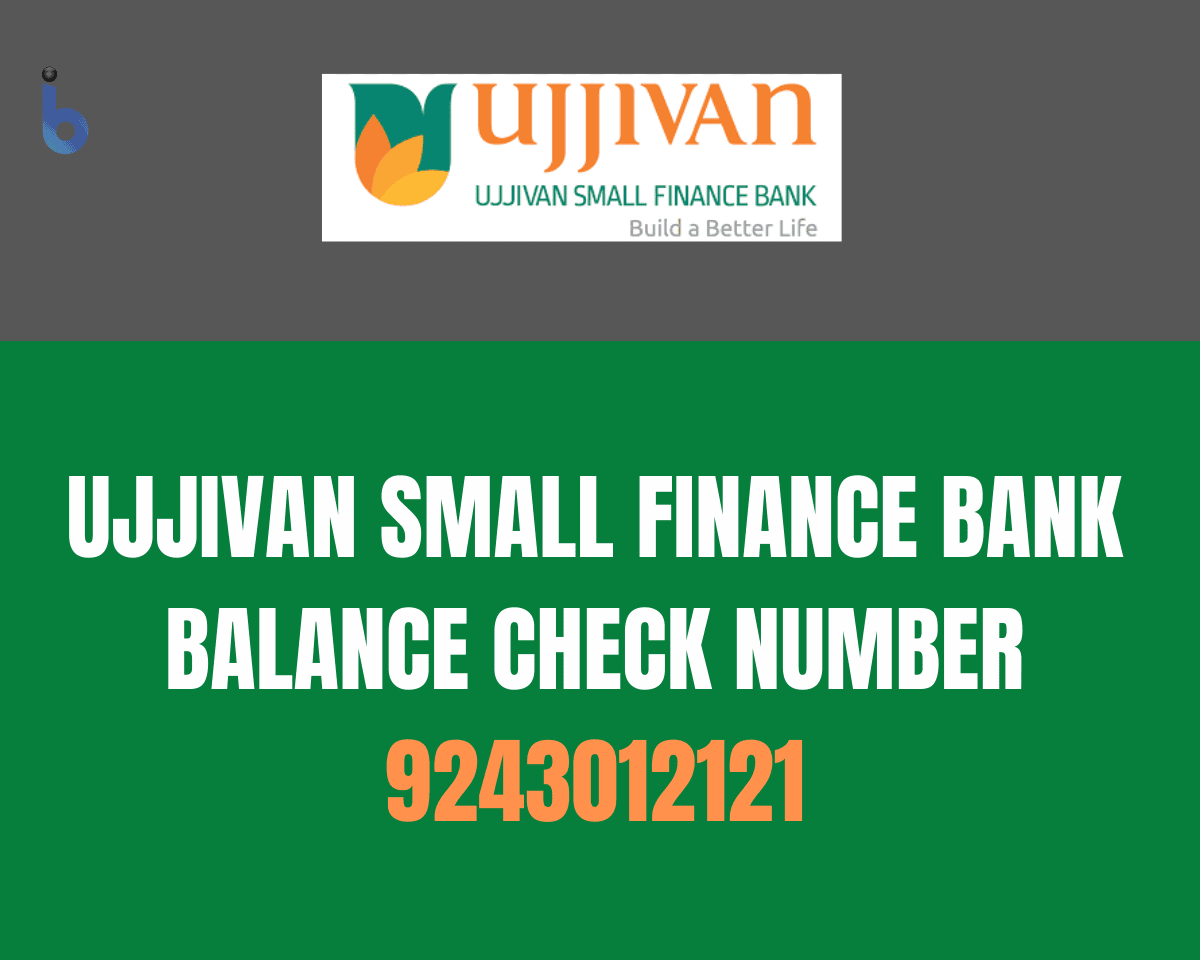 2. Check Ujjivan Small Finance Bank Balance Using Missed Call Banking
By following this method, you can check the balance information of your account. Ujjivan SFB missed call balance check number is 9243012121.
You must give a missed call to Ujjivan Balance Check Number, i.e., 9243012121, from your mobile phone.
This call will be auto-disconnected after ringing 2-3 times. After that, an SMS Alert text message regarding your account balance will be received on your mobile phone.
You will receive your account's updated bank balance through this SMS text message.
Please Note: Make sure that your mobile number is already registered with Ujjivan Small Finance Bank for the SMS Alert service.
| Services | Contact |
| --- | --- |
| Ujjivan Bank Missed Call Balance Check Number | 9243012121 |
| Ujjivan Bank Balance Check through SMS | SMS 'BAL (Add space & last 4 digits of account number if you have more than 1 account)' to 9243232121. |
| Ujjivan Small Finance Bank mini statement Number | 9243032121 |
| Ujjivan Bank Whatsapp Number | 8928913333 |
| Ujjivan Small Finance Bank Toll-free Number | 18002082121 |
| Email | [email protected] |
To Wrap Up
If you maintain a healthy bank balance, you can uplift your lifestyle, create new employment options, and make better professional advancement. There are a number of critical measures to boost your financial standing, such as: paying off debts, spending less, earning some extra money, and more.
We have already discussed the simplest methods to check Ujjivan Small Finance Bank's balance to check it anytime from your comfort.
Suppose you are still facing some difficulties or having some queries or issues regarding the Ujjivan Small Finance Bank Balance enquiry Number, you should contact the bank by making a call at their Customer Service Number: 1800 – 208 – 2121, and NRIs can call at 080 – 6868 – 2121.
In addition, you can write and send an email to sort out your issues with Ujjivan Small Finance Bank at their Customer Care Email ID: [email protected].