When we open a bank account, the bank usually issues an ATM card. But if we don't get the ATM card by the specified time, we must fill in an ATM application form and submit it to the bank. After that, the ATM card will reach our mailing address within 10-15 days via Speed Post.
Suppose you have a bank account with the Bank of India and have applied for an ATM card. But even after two weeks from the date of the ATM application, you still didn't get it. In such a case, you can check your ATM card's delivery status online.
Here, we will walk you through the detailed information on how to check the Bank Of India ATM card tracking status, what an ATM card is, its significance, and its benefits. Stay with us for deeper information. Let's get straight to the process without wasting any time, but first, understand about the ATM card.
What Is The ATM Card, Its Significance And Benefits
Nowadays, almost everyone knows that the ATM card is a plastic card that can easily be used to withdraw cash from the ATM machine. Let's look at its other evident features and benefits.
Significant Features of BOI ATM
Through its ATM cards, Bank Of India allows its customers to shop online, pay all types of bills, recharge, withdraw cash, make purchases offline, and a lot more.
Using a BOI ATM card, you can withdraw cash from any bank's ATM.
Contactless payments can be made by simply tapping your BOI ATM card at the Point of Sales (or PoS) machine.
BOI ATM cards can be used for domestic as well as international transactions.
Benefits of BOI ATM
Just like credit cards, you can avail of some additional advantages on your BOI ATM card transactions, such as reward points, exclusive deals, insurance coverage, etc.
By using a BOI ATM card for your online and offline transactions, you can earn Star Points.
Your BOI ATM card is directly linked to your bank account. So you can keep track of your spending and control excessive expenditures.
As per the variant of your card, you can avail free domestic airport lounge access.
Steps To Check BOI ATM Card Tracking Status Online
In this passage, by following an easy tracking process, you will learn how to check the current status of your Bank of India debit card. So stay tuned with us and just follow some easy steps as written hereunder:
Step 1. Open your device's web browser, i.e., on your mobile phone or tablet. Then, search and open the India Post Track. Visit the official website of the India Post. Or directly click on this link: www.indiapost.gov.in.

You will see two options on the next screen: Consignment and Complaint. Select the Consignment option and enter your consignment/despatch number in the given box. Enter the answer to the given captcha code as required and click on the Search button.
Step 2. Now, you will see the current status of your BOI ATM card on your mobile screen, showing you detailed information on your desired consignment.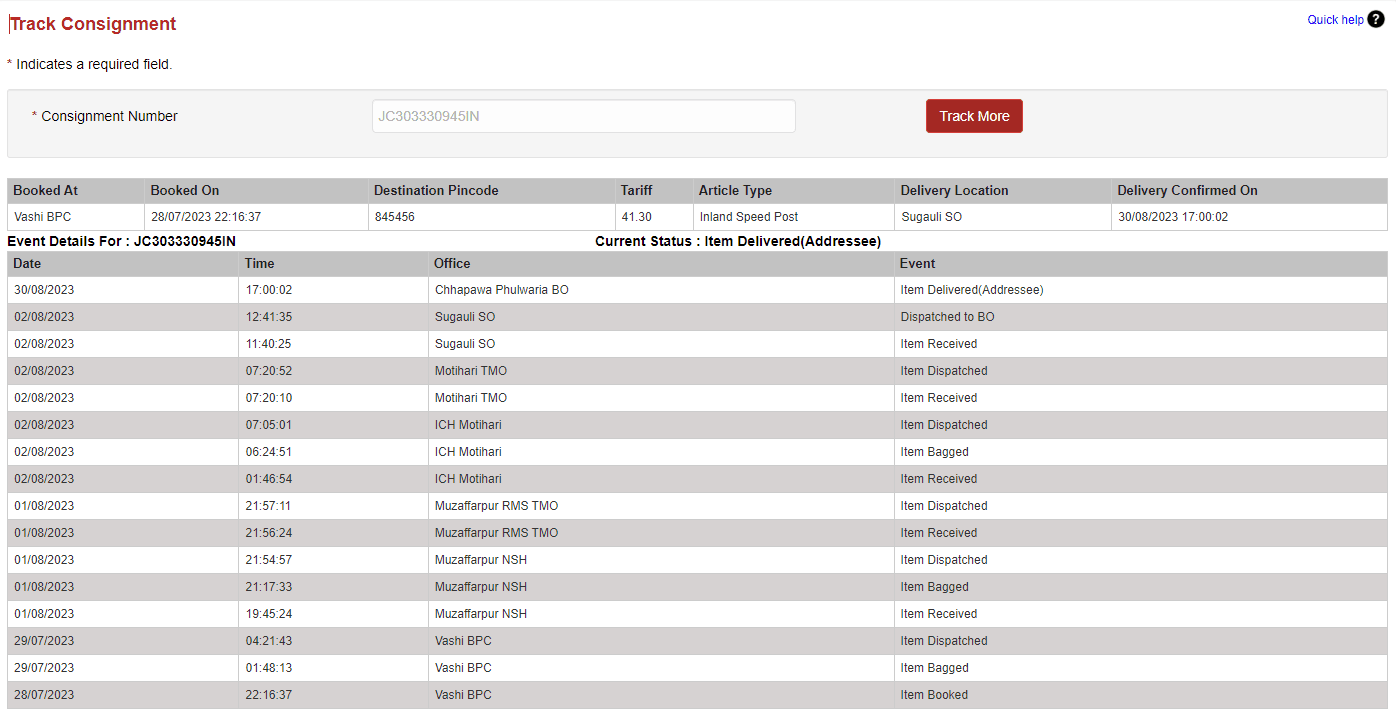 By following the above-described process and using the consignment/despatch number, you can quickly learn how to check the current status of your applied BOI ATM/Debit card.
The Bottom Line
Now you know the process to check the current status of your applied Bank of India ATM card. In this article, we have also guided you through the features and benefits of BOI ATM cards.
However, sometimes, you may not have the consignment/despatch number of your ATM card through SMS message. In that case, you will have to talk to the officials of the Bank Of India at the following toll-free contact numbers: 18001031906 and 1800220229 to request them to provide you with the consignment number.
If, as per the bank record, your ATM application is submitted and your ATM card is issued, they will give you the consignment/despatch number. However, if your application form is not submitted to the bank for some reason, there are mistakes in filling in the ATM application, or the ATM card is not issued by the bank, you will not have the consignment number.
Whatever the case, without the consignment number, you will not be able to check your BOI debit card tracking status online, and you will have to fill out another ATM application form to have the consignment number and follow the above-described process.