Kotak Mahindra Bank has launched India's first zero-contact, video KYC savings bank account, Kotak 811, which offers you various customer-friendly banking facilities and services on your smartphone, such as online shopping, paying bills, to recharge or use 'Scan & Pay' facility at merchant outlets. However, a Virtual Debit Card is given inside your Kotak mobile banking app to quickly cater to all your banking/investment needs anytime and from anywhere.
Kotak 811 is a zero-balance digital savings bank account that can be opened online through the Aadhaar OTP verification process. Once your Kotak 811 bank account is opened, a virtual debit card will be available to you instantly from your mobile banking app, which can be used to perform various online transactions.
If you are a new user and your Kotak 811 Virtual Debit card not showing, then in this article post, we have discussed how you can see the virtual debit card in the Kotak app. So, without wasting any time, let's start walking through this article for more information on the above subject, but first, know what a Virtual Debit Card is and its benefits.
Features And Benefits Of Virtual Debit Cards
Virtual Debit Cards have some exciting features and benefits for you, such as:
A Virtual Debit Card can not be accessed without using a mobile app password and net banking password. Therefore, it is more secure as compared to a plastic debit card.
If you feel that your Virtual Debit Card is being misused, you can quickly block it without visiting the bank branch or contacting them, as it was needed with your regular plastic debit card.
You can set a specific amount limit for your Virtual Debit Card so that you can easily use it at online shopping sites with more flexibility as compared to traditional debit cards.
Steps to View Your Virtual Debit Card In Kotak App
Suppose you have a Kotak Mahindra Bank savings bank account, and you want to access a Virtual Debit Card to make transactions. But you don't know how to access it. Don't worry. Just follow some easy and quick steps to assist you with the same, as follows hereunder:
Step 1. Open the Kotak Mobile Banking  Application on your mobile phone. Enter your CRN number and MPIN to log in to this app.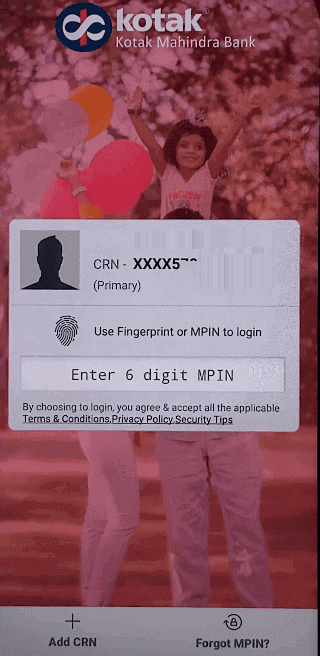 Step 2. Click on the "Kotak 811" logo on the next screen.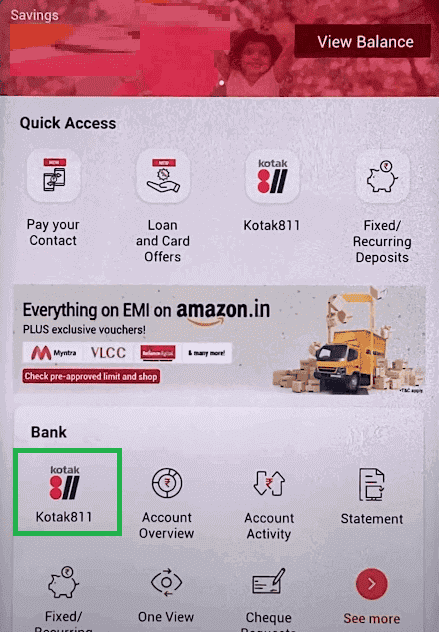 Step 3. Click on the red color "Virtual Debit Card" tab.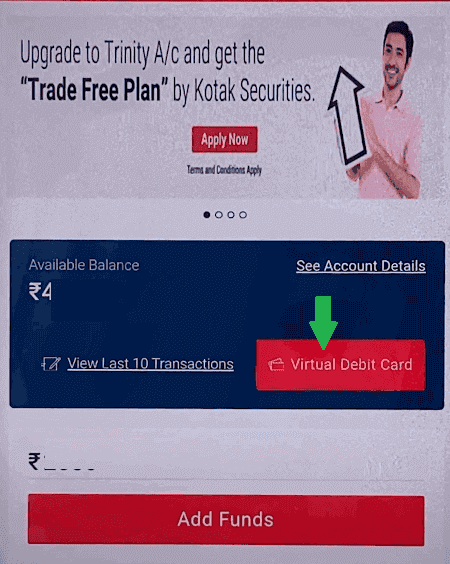 Step 4. Now, you will see your Virtual Debit Card on the next screen, wherein you can see its details, such as the 16-digit Debit Card number, the name of the cardholder, its expiry date, and the Card Verification Value (CVV).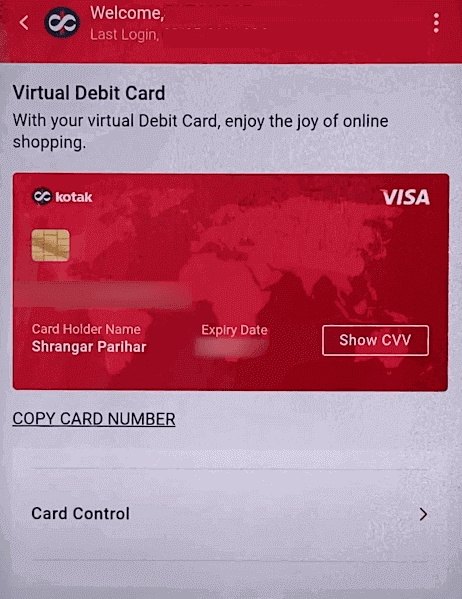 Touch the 'Show CVV' box on the Debit Card. Then, the card will be flipped, and you will see the Debit Card's CVV on the back side of the card. That's it. By following the above-described easy step-by-step guidance, you can quickly learn to see a Virtual Debit Card in the Kotak App.
The Bottom Line
Since Virtual Debit Cards are not in any physical form like other regular plastic debit cards, this feature makes cloning difficult. Therefore, transactions through it are more secure. More importantly, your actual debit card number is not used for online transactions because your virtual debit card is associated with your bank account, which is an added security measure taken for your transactions.