The Government of India are making one bold move after one another to make India a better economy. The latest move being the launch of Bharat Interface for Money or the BHIM UPI App which will help you being more digital or cashless.
As per the government, this app will make people more and more secure in terms of sending or receiving money or even in making payments for utilities. The user interface is quite simple, fast and quick and it is like all the other UPI Apps.
Let us find out how you can send money through the BHIM UPI App
Sending money is not a very difficult process and with this App it is even more simplified. All you need is a smartphone and an internet connection. And sending money is just a few taps away.
First and foremost you need to install the BHIM UPI App. Just go to the android play store and search for it. There are many applications so just look for the one developed by the National Payment Corporations of India. Install it on your smartphone.
When you launch it for the first time, it will ask you to set up a password. Choose an easy one so that you don't forget but also difficult for others to guess.
After this step, the app will prompt you to select the SIM so here you need to select the one which is linked to your account number. You will then receive a verification message on that number.
Second step is adding your bank account number. After the verification you will be able to see bank names listed so you choose your bank and the app will pick up your account number automatically.
Steps to add a beneficiary and send money via BHIM app
Step 1: To send money you need to launch the app by entering the password and then tap send. You will then need to enter the mobile number, bank details or aadhaar card of the beneficiary.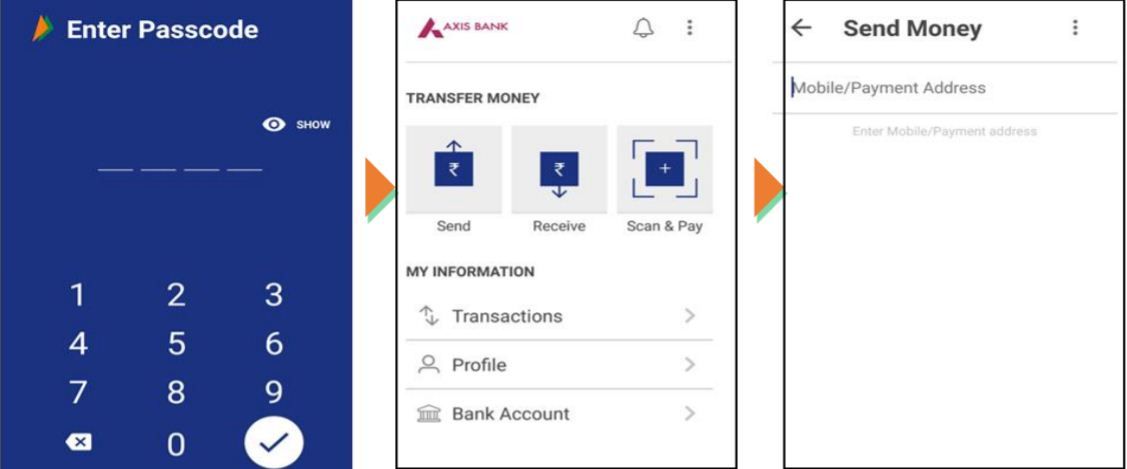 Step 2: To check if the number is valid you can tap on "verify". You will then be directed to the payment page where you will be required to enter the amount and the remarks and tap "pay".
Step 3: Then you will be asked for your UPI PIN which is your mobile banking PIN so proceed with that. Payment will be done and the beneficiary will get the message.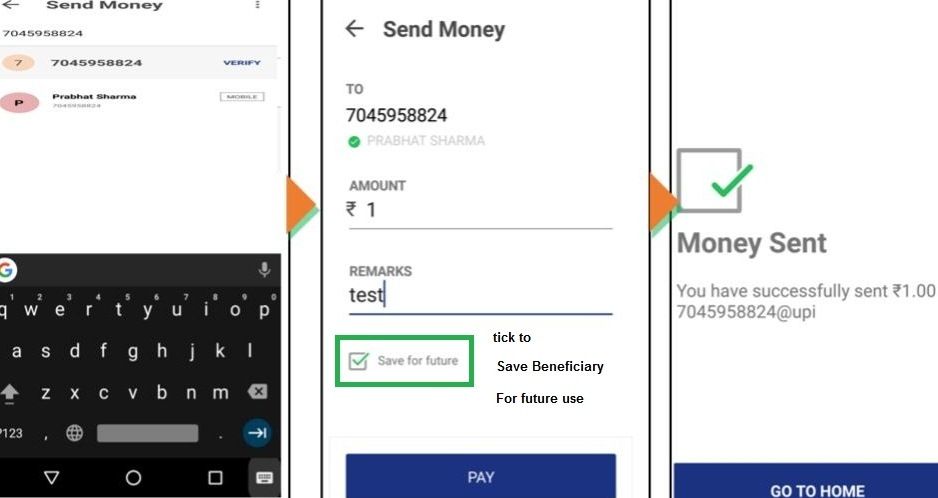 Note: You can even save this transaction for future by hitting on "Save for Future" button. With this, the specific contact will be saved as a beneficiary.
Conclusion
The concept of cash-less economy is a hit and more and more people are learning these things as now there is an uncertainty of the government's next move. Jokes apart – going cashless is not only easy for the life of people but it also helps to authenticate the transactions which we do.
This is a smart move to eliminate the corruption and also the black money which will eventually be helpful in growth of economy. As of now, this App is available for Android user and very soon there will be one for iOS users as well.