Do you have a savings account at Post Office? Don't you get time to check your account balance? Don't bother! If you don't get time to check the post office account balance physically, you can now check it from your home or office. The postal department has upgraded its services with modern technology. Modern technology has made many things easier. Now, you need not go to the post office in person for checking the account balance or for any other activity.
Postal Department embraced advanced technology and providing easy solutions to its customers. The postal department has hosted numerous of services online, and the customers can avail these services from their devices with internet connectivity. Before availing the online services of the postal department, you need to get registered for internet banking. You can register for accessing online services only at the post office at which you have opened the savings account.
Know FD Rates: Post Office Fixed Deposit Interest Rates
Upon your request, the concerned officials at the post office will guide you throughout the process. You need to have patience as it will take around ten days to process your request for online access. You will receive the login details by post, or even you can collect the login details personally from the same post office. Now you are ready to check the post office account balance online!
Steps to Activate India Post Internet Banking Online
Step 1: Turn-ON your internet accessing device, i.e., computer or laptop. Open the updated web browser and open the official website of Department of Posts: https://ebanking.indiapost.gov.in/. You will get directed to the official webpage where you can access your account online.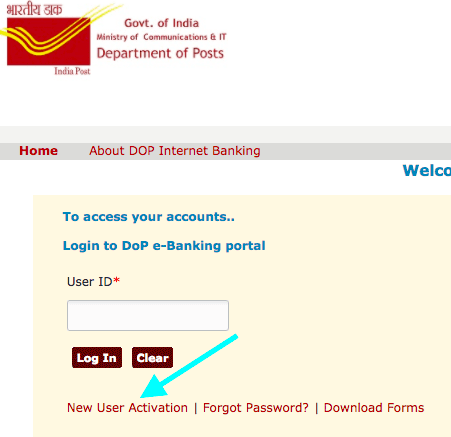 Step 2: There is a separate tab on the page for New User Activation; click on the link, and you will get directed to another page.
Step 3: You need to activate your online account, entering the New User Activation details received from the Department of Posts. You will see two separate tabs on the page, i.e., Customer ID and Account ID. Filling both the boxes is mandatory. Fill both the boxes and 'continue'.

Providing the details, you will receive activation confirmation with a User ID. Change the by default User ID and Password for security reasons.
Important Note: The password you set must be powerful so that any unauthorised person will not be able to access your account. You also must change the password frequently to avoid phishing.
How to Check India Post office Balance Online:
To access your account login to the DoP e-banking portal with new User ID and click on Login.
The next step is to enter the password.
Now you have successfully logged in to your account. Just click on Accounts tab, available balance in your account will be displayed on screen.
What all can you manage the account section with online access?
Summary of the Account
Savings account
Information about RD account
Accounts particulars of PPF
Account details of TD
Information about NSC
Detail information about Loan on RD
Detail specification about Loan on PPF
Information about Tax deduction Activities to perform under transaction
Managing the Payee
Managing the Billers
Transferring funds within DOP accounts
Transferring funds outside DOP accounts
Withdrawal from PPF account
Viewing the scheduled transactions
Paying to the PPF Account or Repaying any Loan on PPF
Viewing the recurring instructions
Paying the RD accounts
Viewing all the involved Transactions
Repaying the Loan on RD You also get access to general services like
Checking the registered Mail ID
Inquiring about the Facilities
Making Requests for Services for post office account balance enquiry, you need to select Accounts Summary or Savings accounts details. Remember your User ID and Password for further transactions.
Important Note: If you in case forget your Internet Banking username you need to contact the post office branch and get re-registered. If you forget the login password, you can simply click 'Forgot Password' on the page and generate a new password which you will receive at your registered email ID.
You must enter the User ID and Password with fast actions or else the session will be timed-out and once again you have to start from the first! Accessing your post office account online is quite easier and time-saving option. You need not visit the post office every time to check your account balance. Make sure to register for online access and check your account at your available time!