Do you have an account with Central Bank of India? The Central Bank of India is one of the oldest government-owned banks. It has branches across the country and is one of the largest commercial banks.
It offers excellent banking services and advanced banking facilities to satisfy the varying needs of the customers. You must be aware of the banking facilities and services if you have an account with the bank.
With the modernization and tech improvements, the banking sector upgrades its services to meet the current requirements of the account holders or customers. Missed call services are one of such modern services introduced in the banking industry that ensures convenience of the customers.
Accessing the missed call service, you need not visit the bank or ATM or access net banking facilities for simple services like checking account balance or getting the Mini Statement for your Central Bank account.
You need to give a missed call to a dedicated number from your registered mobile number, and you will get the updates via SMS.
Obtain the Central Bank of India Mini Statement by Missed Call
Dial 9555144441 from your registered mobile number.
Give a missed call to the number or the call will get disconnected automatically after a few rings.
Within a few minutes, you will receive an SMS.
Open the SMS to find the details of the last five transactions in the account linked to the account.
It is a toll-free number, so you need not pay any charges.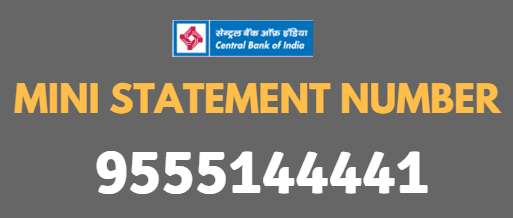 You can access the missed call services only from your registered mobile number. The customers can access this service from anywhere and anytime.
If you haven't updated the passbook nor have access to internet banking services, you can use the missed call services.
It takes only a few minutes to obtain the mini statement with the Missed call service.