You may require a mini statement of your HDFC account instantly at any time of emergency. Do you know! You can access your HDFC Bank account balance via missed call and SMS. Now, no need to access your Internet Banking service or visit your branch or bank ATM to get the Mini Statement!
You can get the mini statement by simply giving a missed call to a specific toll-free number or by sending an SMS to a specific number. HDFC is the only bank that offers SMS banking services in Hindi and English. To access this service, you need to link a mobile number to the bank account. It is very simple to get an HDFC Bank Mini Statement by missed calls and SMS.
Get bank mini statement following the easy steps:
If you wish to get the mini statement via a missed call, dial 18002703355.
Type the specific keyword 'Txn' and send it to 5676712 if you wish to get the mini statement via SMS.
Within a few seconds, you will get an SMS in response to your missed call or SMS.
The text message will contain your bank account number and the last three debits or credits to your account.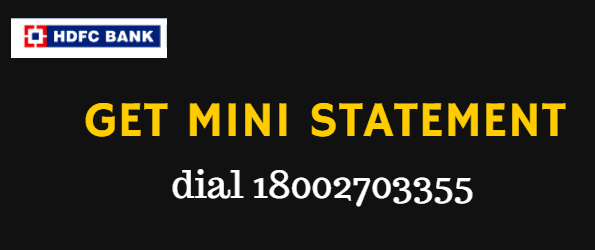 If you have multiple accounts at HDFC Bank with the same mobile number, you need to make additions to the existing SMS keywords, i.e., TXN<Last five digits of the specific account number> and send it to 5676712.
How to Get registered for Facility?
First of all, you need to update the mobile number with the hdfc bank account. You can apply for getting registered for this service by visiting your bank branch and apply an application form. Fill up the form and drop it at your HDFC Bank branch. You will get a confirmation message from the bank once the mobile number gets linked to the specified bank account.
To activate SMS Banking service, you need to send an SMS to 5676712 from the registered mobile number. Type "REGISTER<Custid> <Last five digits of the account number>" and send it to 5676712. This process will help to get you registered for SMS Banking with the mobile number.
You can also register for SMS Banking via net banking. It is a process of 3 simple steps. Login to net banking services using your Customer ID and IPIN. Click on the SMS Banking registration and fill up the required details.
Activating SMS Banking service via ATM is even easier. Visit any HDFC ATM and enter the ATM PIN. Select More Options featured on the homepage and select 'Register for Mobile Banking'.
Getting HDFC Bank Mini Statement by missed call or SMS is quite easy and convenient service for people who don't have time to waste standing in a long queue at the ATM or checking the Mini Statement via Mobile Banking.
Simply, make a call or SMS to the said numbers and get the latest Mini Statement of your account. You will get information about last three transactions.