Anyone of us may require the last transaction history on an urgent basis! To get the mini statement, you may have to log in for net banking or else you have to visit the ATM center or call the branch. All of these options are quite consuming. If you use phone banking, you need to follow the steps and press certain numbers which are extensively time-consuming.
If you opt for calling the branch, you may have waited for a long time as well as answer a few questions which is mandatory for confirming your identity. How about getting the mini statement giving a missed call or SMS? Yes, Bank of India has introduced a new facility with which the customers can get the mini statement simply giving a missed call and SMS to a specified number.
Method 1

: Follow Below Steps to get a Mini Statement in Bank of India

Dial 09015135135/09266135135 from your mobile number. Your call will automatically get disconnected after one or two rings and SMS will be sent to your registered mobile number.
Update: Sorry guys!! Through these missed call numbers, you will get only balance information. Use method 2 given at end of the post with image to receive a mini statement of your account.
Important Notes:
You must dial from your registered mobile number to avail of the service.
If your mobile number is registered, you will receive an SMS specifying your account number and mini statement.
If you have provided the same mobile number for multiple accounts in the same bank, you need to register the preferred account.
No charges are applicable for availing this service.
You would not receive SMS if you did not link the mobile number to the bank account.
How to Register mobile number in Bank of India Account?
For registering, you need to fill up a form at your branch and deposit to the concerned officer. Activation of this service will take some time, and you will get confirmation from the system via SMS. After activation, you can check Bank of India account balance and get a mini statement of the last four transactions.
If you don't receive SMS from the bank after giving a missed call, you can try once again after some time. Due to server errors, you may not receive the SMS. If the same thing continues even after several trials, then you need to contact your branch and check whether you have linked the correct mobile number to the account or not.
Method 2

: Bank of India Mini Statement through SMS

In order to use this service, your mobile number should be registered for mobile banking. The mobile banking service can be activated through internet banking as well as by submitting an application to your home branch. After activation, you will get 4 digits SMS password. The password can be used to receive a mini statement on a registered mobile number.

Now to get BOI mini statement, type 'TRANS SMS Password' and send it to +919810558585 from registered mobile banking number. The last 5 transaction details will be sent through SMS immediately.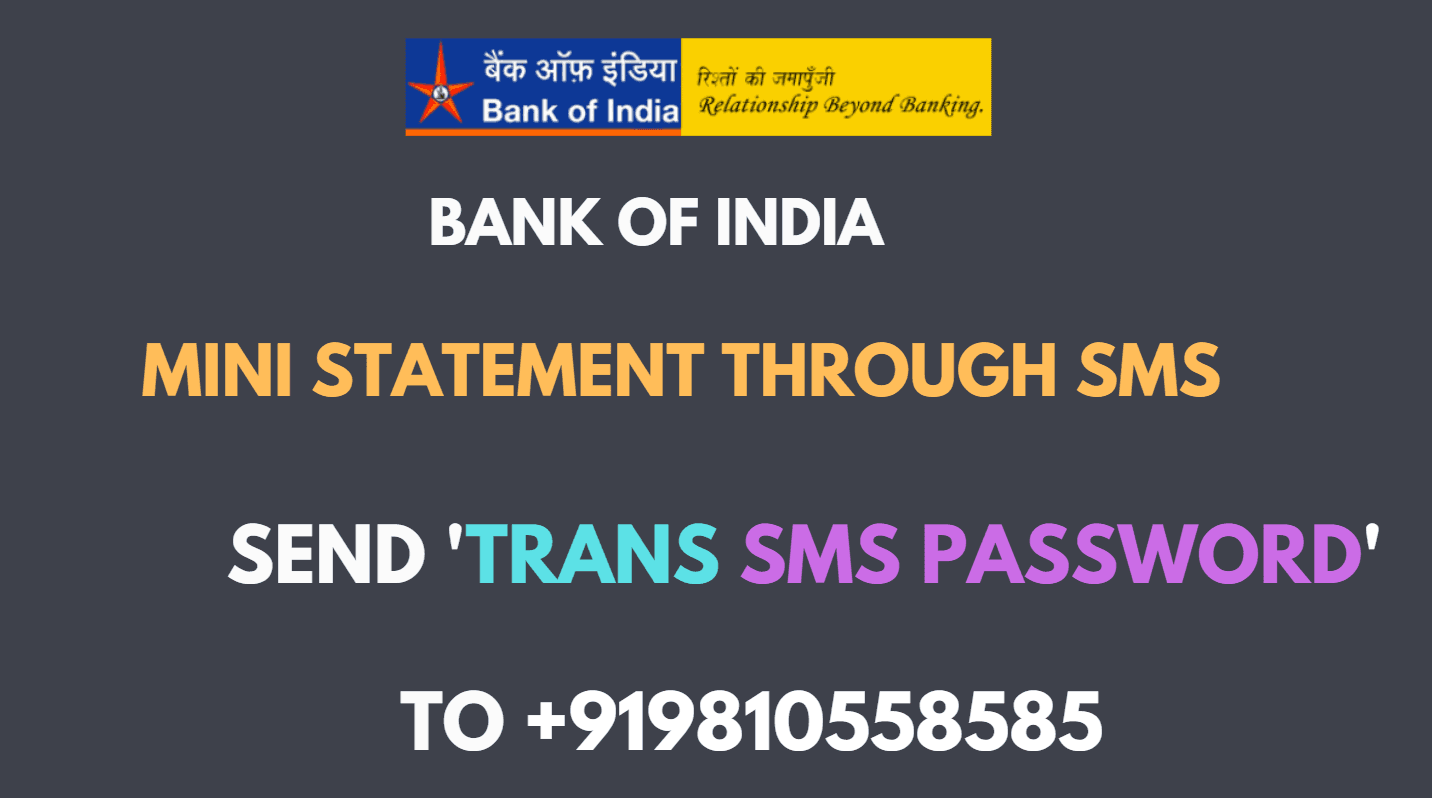 The service of Bank of India via a mini statement by a missed call is a toll-free service. Within a few minutes, you will receive the latest mini statement of the registered bank account. Make sure, your mobile number is registered and successfully linked to the bank account. It is the easiest and convenient process for getting the mini statement instantly without wasting time and standing in a queue for a long time!