Nowadays, the banking sector has gone quite competitive! The nationalized banks across the country are upgrading their services to provide convenient services to their customers. Apart from online banking services, SMS banking services have proven to be quite useful for the account holders.
If you have an account with PNB, to get the mini statement details, you need not visit the branch. You can get the mini statement of your account, simply sending an SMS to a dedicated number facilitated by PNB.
To activate this service, first of all, you need to get your mobile number registered at pnb bank and activate for SMS banking service. The registered mobile number will get linked to your account, and you can avail the service and get the mini statement on your mobile via SMS.
Visit your branch and fill up the application form no. PNB 1167, then you will receive the confirmation about activation via SMS on the registered number. After mobile number registration, you can even check PNB account balance by missed call or sms.
Get PNB mini statement via SMS- Follow the steps
Now type MINSTMT 16 digits Account Number and send it to 5607040.
To avail, the services send SMS with the specified keyword to 5607040.
Make sure to check and confirm the account number.
You will receive the mini statement of the mentioned account via SMS.
If you have multiple accounts at PNB and have given the same mobile number, you will get info and mini statement of the account number entered in the SMS.
You can avail this service and get the mini statement of your account round the clock.
PNB offers this service with quarterly charges of Rs 15, and an account holder can avail this service.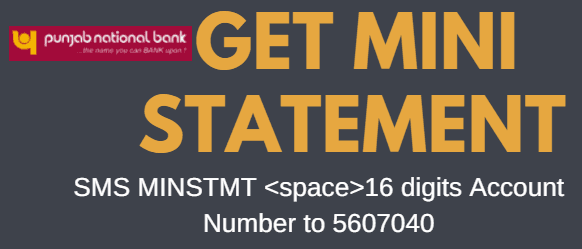 For the busy lifestyle, people run out of time and visiting the bank branch or standing in a queue at the ATM for collecting mini statement is not a smart option for such people. Availing this service is indeed an easier method to save time and get the mini statement being in your comfort zone!
Make sure to inquire about the services from your bank branch before availing the service. If you don't receive confirmation SMS about registration, then contact the bank. If after sending the SMS for the mini statement, you don't receive the SMS, try once again. If the same instance continues, contact your branch and confirm the service!