Nowadays, for the busy lifestyle, people don't get time to stay updated with their bank information as per their wish! Such people completely depend on the account updates shared by the bank! Visiting the bank branch or standing at the ATM in queue consumes lots of time.
The banks get adapted to the trending technology, caring for their customers. This new technology is quite convenient and helpful for the bank account holders! If you have an account at IDBI bank, you can check account balance by missed or sms. If you need the mini statement for your account, simply give a missed call to toll free number 18008431133. You will receive an SMS from the bank containing mini statement info.
IDBI offers the service to all account holders. The account holders operating single account get pre-activated for this facility. If you have multiple accounts at IDBI and have given the same mobile number for all accounts, you can register a single account with the mobile number for using this facility.
Follow the simple steps to register mobile number
Type REG <Space> Account Number and send it to 5676777 or 9821043718/9820346920.
Soon you will receive an SMS specifying the registration status.
If the status shows successful registration, you can instantly use the service and obtain the mini statement of your idbi account.
Follow below steps to get Mini Statement in IDBI Bank
Simply dial 18008431133 from your registered mobile number. Your call will get disconnected after a ring.
You will receive an SMS from the banking system automatically. You will get the mini statement of the account linked to the mobile number.
The mini statement will feature details about last 5 transactions of the account.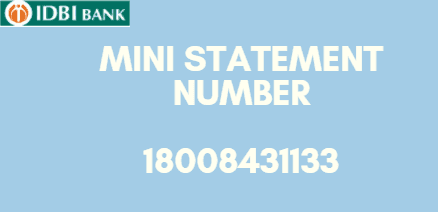 Follow below steps to change the registered account number linked to the mobile number easily
Repeat the same step, i.e., Type REG <Space> Account Number and send it to 5676777 or 9821043718/9820346920.
 The account holders can avail this service 4 times in a day.
Currently, IDBI Bank provides this service without any charges.
Simply give a missed call to the specified number and get the mini statement on your mobile screen! 18008431133 is a toll-free number and need not pay any charges to the telecom service provider. This banking service is quite popular and convenient for the account holders.
If you haven't registered the mobile number, make sure to update the mobile number in the IDBI bank records. Avoid visiting the branch or wasting your valuable time standing at the ATM for getting the mini statement! Use this simple step to get the mini statement!