With the opening up of the internet highways to all corners of the country and development of technology allowing smartphones to almost every hand in the country, people are getting smart and saving a lot of time and easing out many tensions working on their requirements through mobile phones.
Banking is one of the sectors there digitalization had taken place at a breakneck speed and the days of queuing up at the bank counters to update the passbook or getting the printed statement is over.
Almost all banks have started the facilities like mobile banking; interactive voice response system (IVRS) or the missed call facility to do all the banking works through the mobile. Bank of Maharashtra is not an exception to the list, and they are efficiently guiding the customers with their mobile banking facilities including providing the mini statements.
Bank of Maharashtra Mini Statement Number
You are aware that every time you deposit some cash or cheque or withdraw money from your bank or do mobile banking, you get SMS of the transactions made making you assured. This is because your Bank of Maharashtra bank account number is linked with your mobile number or we can say that your mobile number is registered with your bank account.
Often you need to know the last 6 or 7 transactions or likewise and want to see the balance with a mini statement. The Bank of Maharashtra mini statement Number is perfect to get the same. All you need to do is give a missed call to 020-27008600 and immediately you will get an SMS with the mini statement or the bank balance.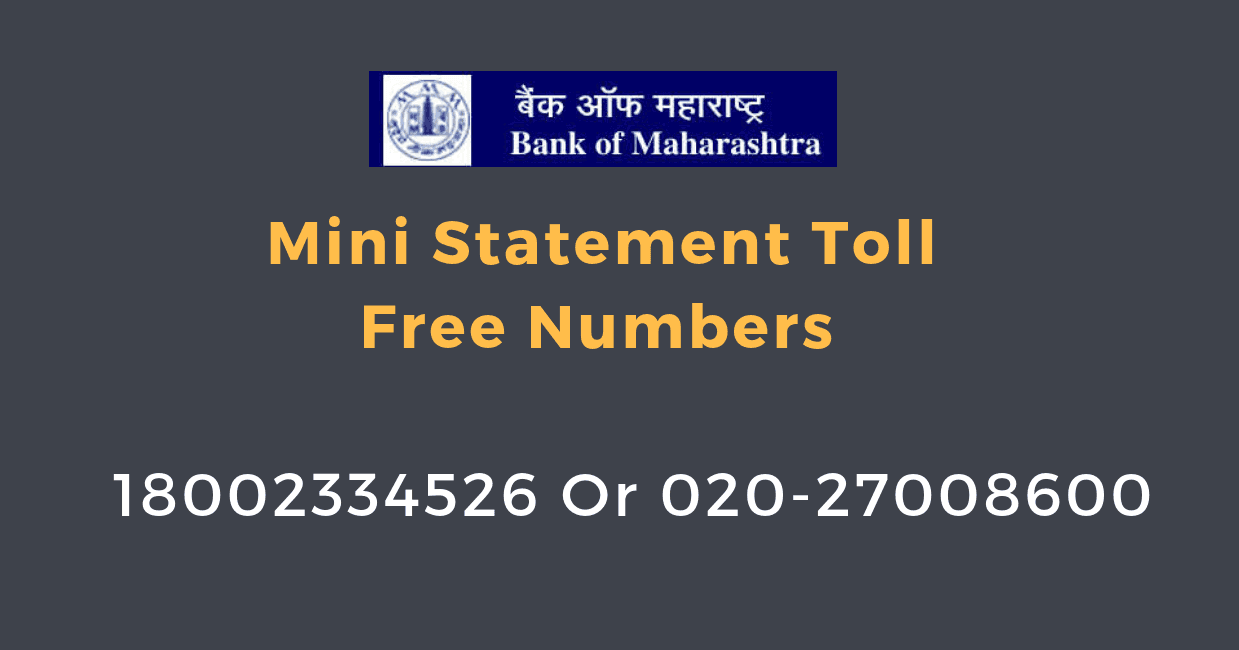 You may also call the toll free numbers 18002334526 and follow the IVRS instructions that are given and select the correct option to get the mini statement on your registered mobile number.
It may be worth mentioning here that unless the mobile number is linked or registered with the bank and the account, it is not possible to get the mini statement over phone dialing the Bank of Maharashtra Mini statement number 9222281818 or 18002334526.
Being a customer one should always get the mobile phone number linked with the bank to avail the facility of getting the mini statement over the phone.
Overview
The Bank of Maharashtra Mini statement number 18002334526 and 020-27008600 is very helpful to know the transaction details of the last few transactions and keep track of your account balances and transact accordingly.