The UCO Bank was established in the year 1943 in Kolkata, West Bengal. UCO Bank is a major government-owned commercial bank of India which was previously known as United Commercial Bank. UCO Bank has an employee count of 25000, and it was ranked 294th by Bank Trust Report 2014.
Shri Atul Kumar Goel is the current MD & CEO of UCO Bank, and he got a helping hand from Shri Ajay Vyas as executive Director. UCO Bank has more than 3000 Service Units spread all over India and also undertake Foreign Exchange Business in more than 50 Centers in India.
The UCO Bank has 42 Zonal Offices spread all over India for the ease of customers to reach them. UCO Bank also has two foreign centres in Singapore and Hong Kong. It is next to impossible to run such a huge network without any fault.
Glitches and errors may occur in the system, but for that, customers should not face any loss. To ensure this UCO bank has given many privileges to the customer to file their complaint and has made the complaint system so transparent that customers can see the progress of work done by Bank in the filed complaint.
The various ways of complaint filing in UCO Bank
Method 1: Lodge complaint in UCO bank online
Step 1: Go to the official website of UCO Bank by clicking on https://www.ucobank.com and select Customer Care Center which is present in the bottom left side of the page.
Step 2: Then click on 'Complaint/ Grievances- Registration' which is the first option present in the new list.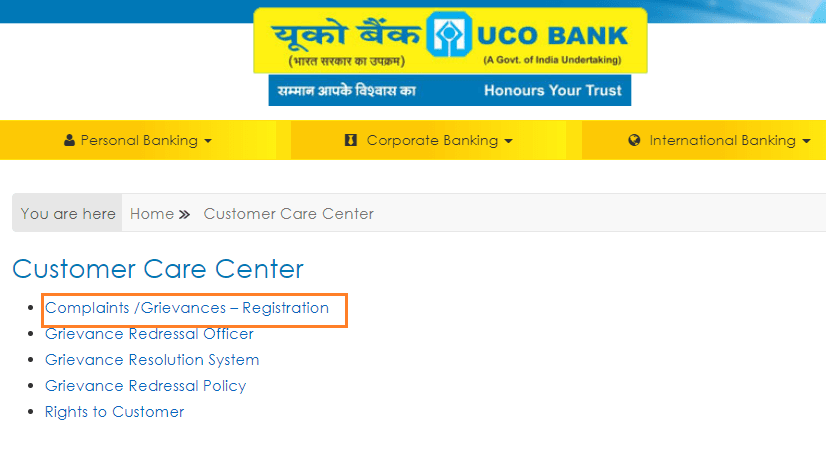 Step 3: Now choose any one Grievance Redressal option from the list.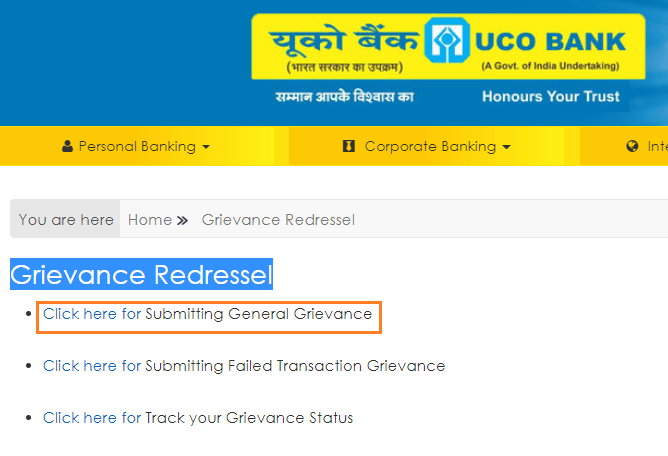 Step 4: A form will come up, and it will be asking for the personal details you have. Fill the form correctly.
While filling up the form the complainer has to ensure that options of Complaint category, Complaint type, and complaint details are filled correctly, and any file related to the complaint can be uploaded in the form.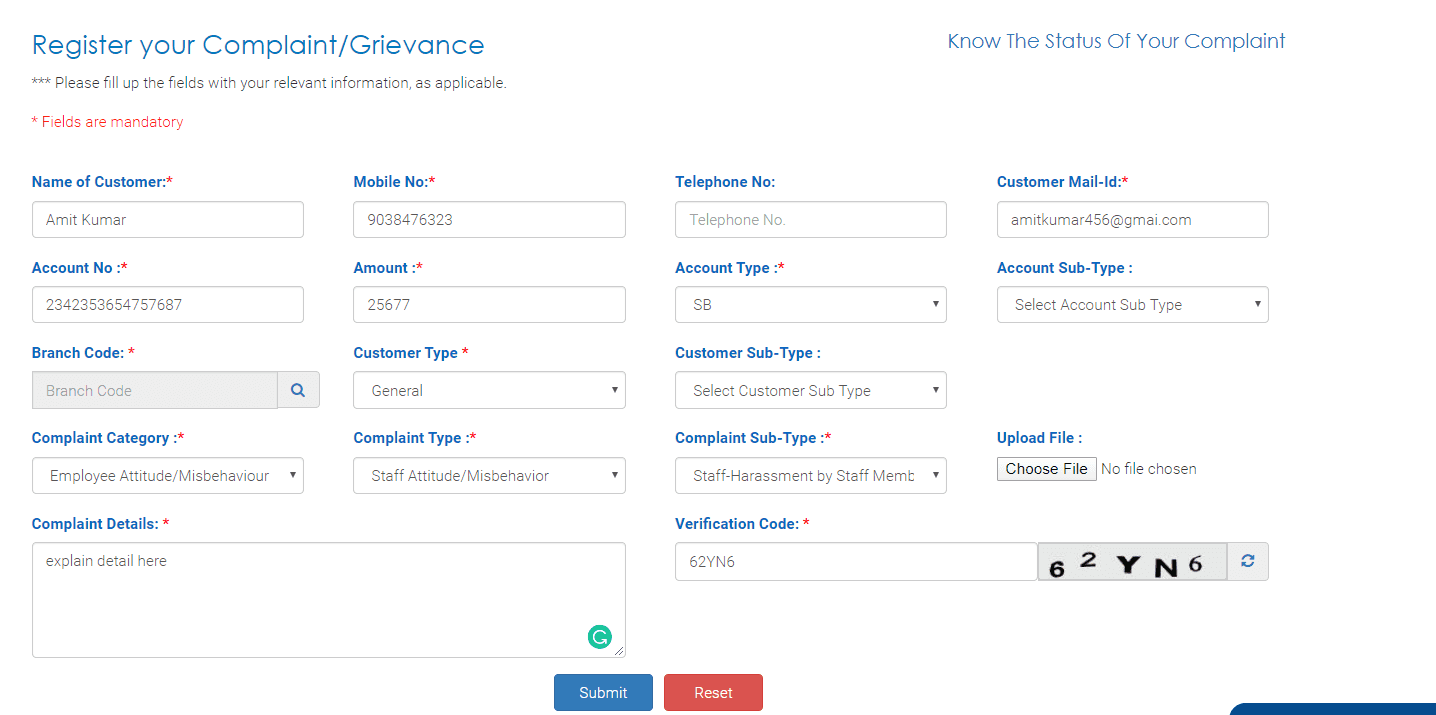 The last thing to be done is to fill the verification code correctly and then click submit, and your complaint is filed.
Important Note: Not only this, but you can also track whether the bank is working on your complaint or not by clicking the option of 'Know the status of your complaint'.
Method 2: Lodge complaint in UCO bank Via toll-free Helpline Number
Those who have an issue is going through all the long documentation procedure, UCO Bank has provided a toll-free helpline number. A customer can call the toll-free number at any time since it is open 24 x 7 and can file a complaint or know the status of the complaint.
The contact number for customer care is: 18002740123
Method 3: Through Email Id service
UCO Bank has also provided email id service in case you are unable to connect the toll-free number.
The email Ids are :
[email protected]
[email protected]
Also, if your complaint is regarding ATM, a separate email is provided to the customer. The email is
Method 4: Go to the Bank
UCO Bank has tremendously hardworking employees in all of its branches. You can directly visit the nearby UCO Bank in your locality. Once you reach the UCO bank there is a separate complaining account where your complaint will be registered and solved as well.
I hope we have been able to provide you with some fundamental ideas regarding complaint filing at UCO Bank.