Online banking, in recent times, is an integral part of everyone's life. With the outbreak of the virus, people prefer staying in, and most of the work was shifted online. All the banks have apps to their names. Which they provide online services so that people do not have to go out to take care of banking issues.
But whenever there are services provided online, problems will be arising as everything is machine-controlled. Thus, the banks need to have proper grievance redressal cells so that the people lodge complaints, and the banks can look after those complaints and make amends accordingly.
HDFC Bank Limited is an Indian banking and financial services company, and they have its headquarters in Mumbai. HDFC Bank offers several services and products with wholesale banking as well as treasury bills, retail banking, auto loans, personal loans, 2-wheeler loans, loans against property, lifestyle loans, durable consumer loans, and credit loans.
HDFC Bank is well known for its credit schemes and other loans, along with the incredible goodwill in the market. The trust and faith in the company are undeniable, and it is one of the flourishing personal banks in India. Still, to retain their position, they have to update the market and others.
Steps To Lodge Complaint In Hdfc Bank Online
In the case of online transactions, there is a lot that can go wrong; therefore, the following steps should be followed to file a complaint online at HDFC Bank.
Stage 1: First of all, you need to fill out the complaint form online on the HDFC help desk or customer care site https://leads.hdfcbank.com/applications/webforms/apply/HDFC_CustomerCenter/Customer_Center.aspx by choosing an appropriate query.
If you registered a complaint, a Complaint ID could generate. The complaint can be escalated further for a non-receipt of response within 8 days or an unsatisfactory reply.
Also, complaint status can be tracked online. Thus, registering after filling in your name, account details, ID, contact details like address, e-mail and telephone number, and Transaction or Complaint Reference number.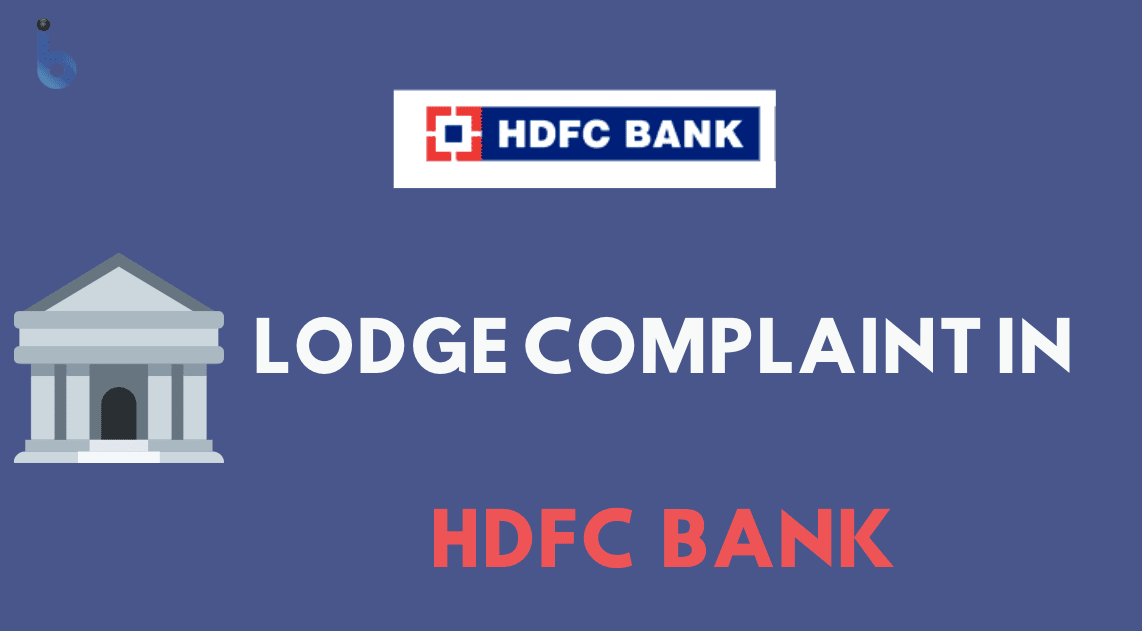 If either of them does not work out, you can always write to them at the email id provided in their help desk: [email protected]. There are state-wise numbers provided as well by which you can seek help to complete the online proceedings.
| Services | Contact |
| --- | --- |
| Customer Care Number | Check the HDFC official website for state-wise numbers |
| Email | [email protected] |
Stage 2: If you are not satisfied with the resolution given via stage 1, then you can raise a complaint to Grievance Redressal Officer using the reference number through the link https://leads.hdfcbank.com/applications/webforms/apply/grievance_redressal_form.asp?_ga=2.122705289.329845265.1540272882-1750795496.1540183009.
You can also call or email to Grievance Redressal Cell:
Services
Contact
For Banking products
1800 266 4060
For Credit Card
044 – 61084900
Call Timing
Monday to Saturday
9:30 am to 5:30 pm
Not available on 2nd & 4th Saturdays, all Sundays, and Bank Holidays
Stage 3: Even, if you are not satisfied with the resolution provided by Grievance Redressal Cell, then you can approach to Nodal Officers / Principal Nodal Officer.
To Call Visit: https://www.hdfcbank.com/personal/need-help/contact-us/call-us
To email Visit: https://www.hdfcbank.com/personal/need-help/contact-us/write-to-us
Step 4: If you are not satisfied with the resolution given by the Nodal Officers / Principal Nodal Officer, then email [email protected].
Still, your issue remains unresolved, then raise your complaint to RBI online.
Conclusion
With the grievances remaining unresolved, the goodwill of the bank can be tampered with, and that is not advisable for any bank to have. The customers' faith is really important for the banks as they trust their life savings and their hard-earned money with them. Thus, it cannot be taken lightly as it builds trust and brings goodwill to the name of the bank.
It helps them build an empire on trust and faith; thus, any scratch on it can hamper their market base immensely. Therefore, the grievance redressal must be responsive and strong enough so that fewer problems are faced by the customers, especially when there is an outbreak of a pandemic. People cannot handle problems offline, compromising their security.