ICICI Bank is India's leading private bank. It provides many other utility services to its customers besides banking facilities. For example, suppose you own a credit card from the ICICI bank and are clueless to check its statement. In this case, you have come to the right place to solve your query. Here we will assist you with the ICICI credit card statement password. First, let us quickly check what a credit card statement is.
What Is a Credit Card Statement?
A credit card is a financial instrument provided by the banks to their account holders to assist them with a set credit limit for their ease to spend at the time of need but pay at a future date.
A credit card statement is made to record the summary of the credit card transactions, including the purchases and the payments during a definite period. This statement allows the credit card holder to know his balance at any time.
Steps to Open Credit Card Statement in the ICICI Bank
Any account holder or customer of the ICICI bank can check his credit card statement with the help of the following steps:
Install the ICICI bank app to know your account's status. Download the ICICI mobile app through Google Play Store on Android devices or the App Store on iOS devices. Type 'iMobile Pay by ICICI Bank' to download and install the application.
Now, open the app and visit the app's main interface. Head to the Credit card section and click on Statement. Here, you will see the last 20 transactions (recent) of your credit card.
Often, some transactions are missed in the billing cycle. But you can still check it through your registered email ID. Visit your registered email ID and open the mail of the credit card statement on the date it is generated.
In case of confusion, you can check the bill generation date in your iMobile app. Go to Application > Manage > Billing Cycle > Date.
Once you are thorough with the date, check your mail ID for your bill generation date. Now open the mail and scroll your credit card statement to download it.
Click the downward arrow beside the PDF document to download it on your device. As soon as the PDF file downloads on your device, you can view it anytime using your password.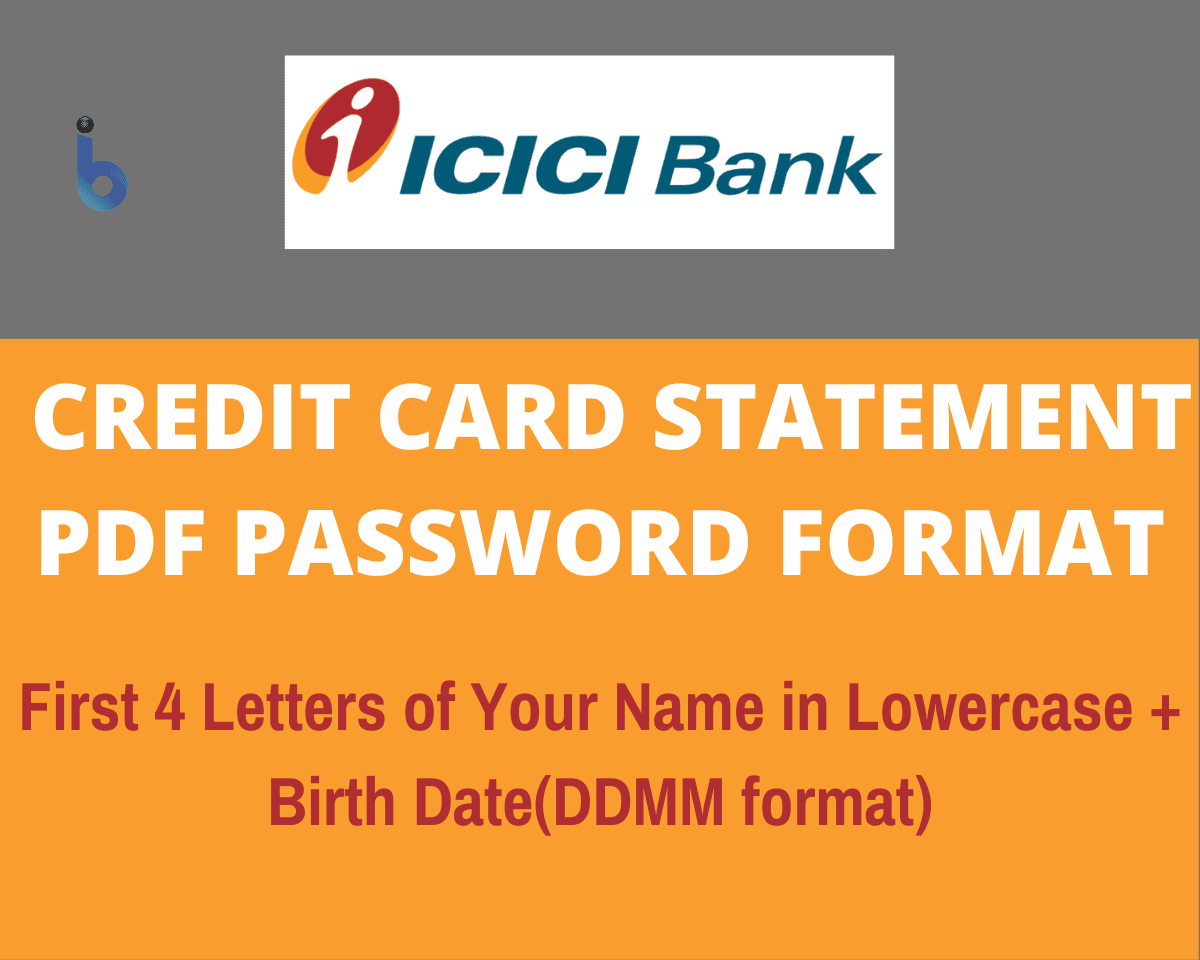 Steps to Open ICICI Bank Credit Card Statement PDF Password
Generally, credit card statements are password-protected for the confidentiality of the documents. These documents require a password to open them. Follow the steps below to open and view your credit card statement password.
Open the downloaded credit card statement on your device. Type in the eight-digit customized password to open the document.
Generally, these passwords are alphanumeric; the first four letters are alphabets, while the last six characters are numerals.
The password is typically a combination of your name (displayed on credit card) and date of birth in a DDMM format and is case-sensitive.
Hence, you must type the first four letters of your name in lowercase, followed by your birth date in the earlier format, without any space or special characters.
For example: suppose your name is Adhiraj, and your date of birth is 19th July 2000. In this case, your password will be adhi1907. Enter your credit card statement password in the provided space to open the PDF document anytime in the future.
Precautionary Measures
We have provided you with the necessary help with the ICICI credit card statement password. However, with digital access, you should be sensible enough not to fall prey to fraudsters. Hence, to avoid any mishap, refer to the following guidelines.
1. Do not share your private details or OTP with any person.
2. Beware of imposters and fraudsters. The ICICI Bank never calls or sends messages for any personal details of the owner.
3. Do not log in on any public computer to access your sensitive information like passwords and bank details.
4. Always prefer the bank's official website or mobile application for any banking details
5. In case of query or confusion, visit your nearest ICICI bank branch or call its 24*7 customer care helpline.