A Unified Payment Interface (or UPI) provides one of the best instant payment transfer services to more than 150 million active users in India. By just using the UPI ID, its users can transfer their money anywhere and anytime as they do not need to enter or send their entire bank account details like bank account number or IFSC codes, etc., to do so.
Using the UPI ID is one of the best available options to make payments in our country. You can choose from various applications available for this purpose, such as Google Pay, Paytm, PhonePe, Amazon Pay, and many more. All these applications have a unique Virtual Payment Address (VPA) or UPI ID platform.
In this article, we will write about the Phonepe application. If you are using the Phonepe application, then you should know the way to find your UPI ID in PhonePe. But you can take it easy because this article is going to be very useful for you. You just keep reading it till the end, and you will be able to learn all the necessary information in this regard.
2 Ways to Find Your PhonePe UPI ID
Finding your UPI ID in PhonePe can be tedious, especially if you are not an avid phone user. So by following the below-mentioned helpful information, necessary instructions, and some easy steps, you can find your UPI ID in the PhonePe application, such as:
1. See UPI ID in Phonepe App Home Page
Nowadays, UPI id can be found at the center of the PhonePe app home page. Firstly, open the PhonePe application on your mobile. A new page will open before you, where you can see various options, such as Complete Your Profile, Transfer Money, Quick Links, Recharge & Pay Bills, etc.
Now, scroll down to the transfer money option. Below the transfer money option, you can see your UPI ID easily. Check the Image below: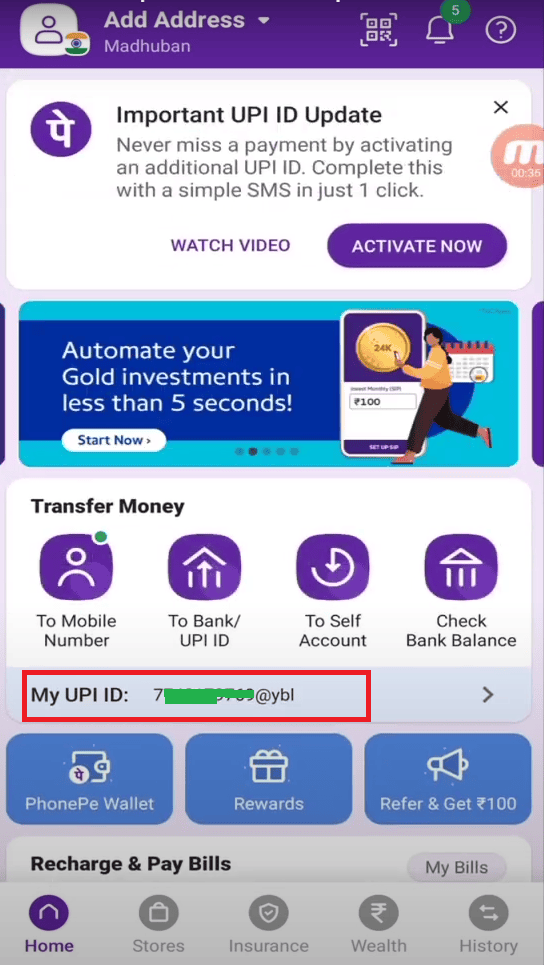 2. Find PhonePe UPI ID in the Profile section
Sometimes, you may not see your UPI ID on this page because this is a necessary precaution taken in the PhonePe application. It is done to secure your valuable money so that any unauthorized person may not be able to use your UPI ID and withdraw money from your bank account. Therefore, UPI ID exists in some other sections of the app.
Step 1: From the homepage of the app, Click on the Profile Icon (located at the top left corner of the mobile page).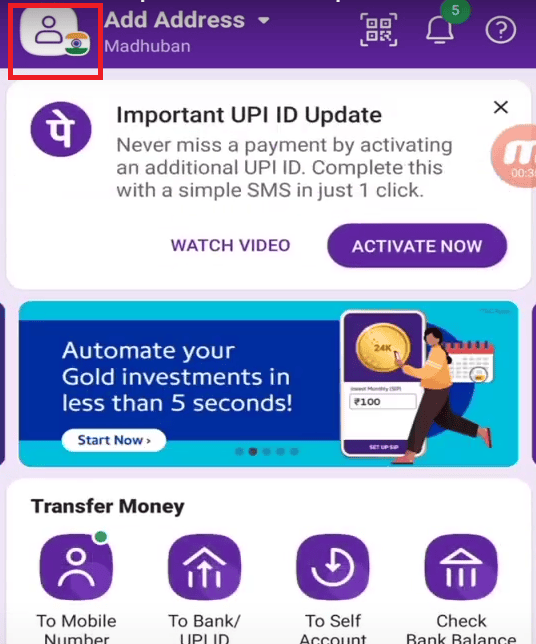 Step 2: Now, your Profile section will open before you. Under the payment setting, you will see various options such as UPI Settings, QR Codes, and more. Click on the UPI Settings.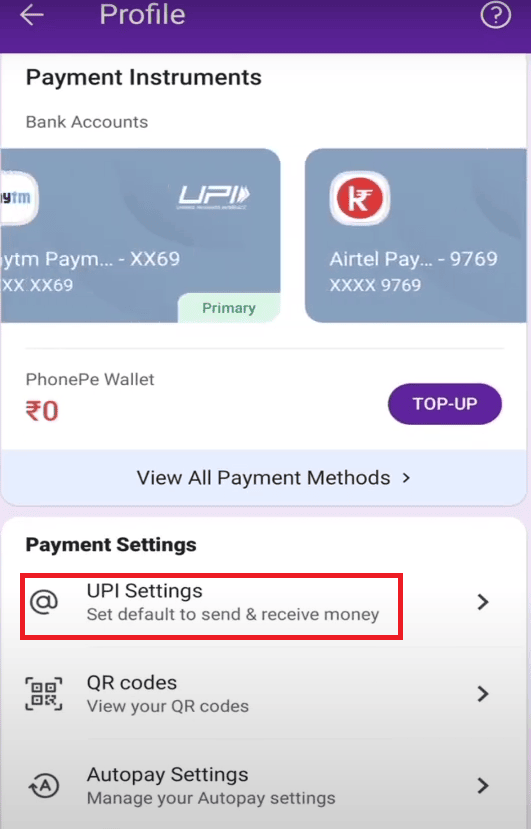 Step 3: Upon doing so, a new page will open before you, and you can see your UPI ID with your bank name. These UPI IDs can always be used in quickly transferring or receiving money.
Note: Only an activated UPI id can be used to transfer and receive money. You can activate the UPI id by clicking on the Active now button.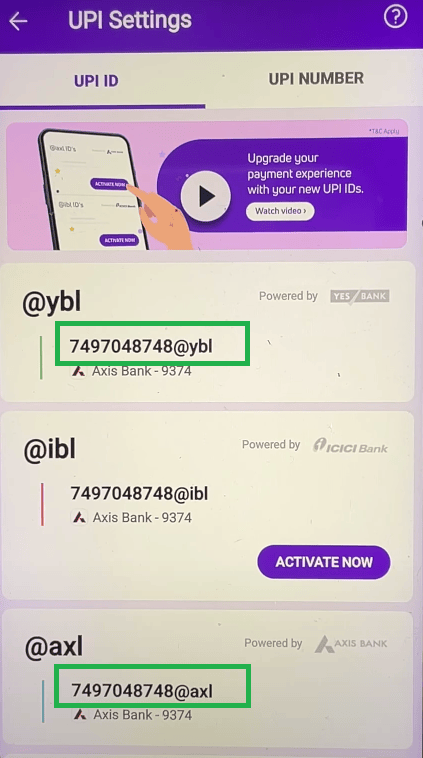 PhonePe UPI ID Example
| Phone Number | Powered By | UPI ID Example |
| --- | --- | --- |
| 9857467393 | Yes Bank | 9857467393@ybl |
| 9745637291 | ICICI Bank | 9745637291@ibl |
| 9834765479 | Axis Bank | 9834765479@axl |
Download or share Qr Code For payment
Click on the QR CODES option. Then a new page will open up before you, where you will see your QR code on the mobile screen. You can share it with such a person from whom you want to receive a payment.
For example, that person will scan this QR code with the help of any UPI app., and then using this QR code, he can send you any amount of money.
You will find two options on the MY QR CODE mobile page:
DOWNLOAD and SHARE.
By clicking on the DOWNLOAD option, you can save your QR code in your mobile phone gallery to share it with other people.
By clicking on the SHARE option, you can directly share it on any one of the various choices, like WhatsApp, Instagram, Facebook, email accounts, or some other accounts.
However, most people generally share their QR code with the WhatsApp accounts of other people.
So this way, you can effortlessly see your UPI ID in PhonePe.
Conclusion
This article has explained the procedure to find your UPI ID in PhonePe effortlessly and seamlessly. You can link multiple UPI IDs to the same bank account. But in that case, your UPI PIN will be the same for all UPI IDs linked to the bank account.
However, if you face any other issue or need help regarding other queries relating to the PhonePe app, you must write a mail or contact the app's support team only. These apps have eased our lives to make digital transactions hassle-free; however, even a slight mistake can cost you valuable and hard-earned money.