Zerodha is one of the most renowned and popular leading stock broker companies in India, which is referred to as the top online discount provider company with a reasonable, affordable, and set pricing structure that charges a single fixed fee for any service, regardless of your usage.
Interestingly, Zerodha is a combination of the English word "Zero," which means nothing, and the Sanskrit word "Rodha," which means barrier. It not only just provides a trading facility for its customers but also allows them to run a Demat account so that they can easily and quickly switch between the two platforms as per their situation and requirements.
Zerodha offers various benefits and advantages to its consumers, such as:
They don't charge their consumers for clearing fees because they are a self-clearing broker.
While they solely provide Direct Mutual Fund Investment Plans (DMFIP), they also provide the Zerodha Golden Pi application as the first free online platform, which allows their retail customers to invest in Bonds, Debentures, and G-securities in India.
Moreover, Zerodha stock broker company has a well-established partnership with many banks, different bond trading institutions, and some financial organizations. This partnership gives its customers easy access to different types of bonds and debentures.
However, while using Zerodha, you can also suffer some disadvantages, such as Zerodha's Call and Trading expenses being much higher when they are compared to Angel Broking Charges or any other stock broker company.
Zerodha Annual Maintenance Charges
The Zerodha Annual Maintenance Charge (or AMC) is the yearly Demat maintenance fee charged by Zerodha from its customers. You should know that a quarterly Demat AMC is levied on Zerodha's investors, which means that whenever you register an account with Zerodha, then after precisely three months from the date of account opening, the next installment will be charged.
For example, in case an investor opens a Zerodha trading account on January 1, 2023, the next installment will be due on April 1, 2023. Similarly, in case an investor establishes a trading account on March 17, 2023, the next payment will be due on June 17, 2023.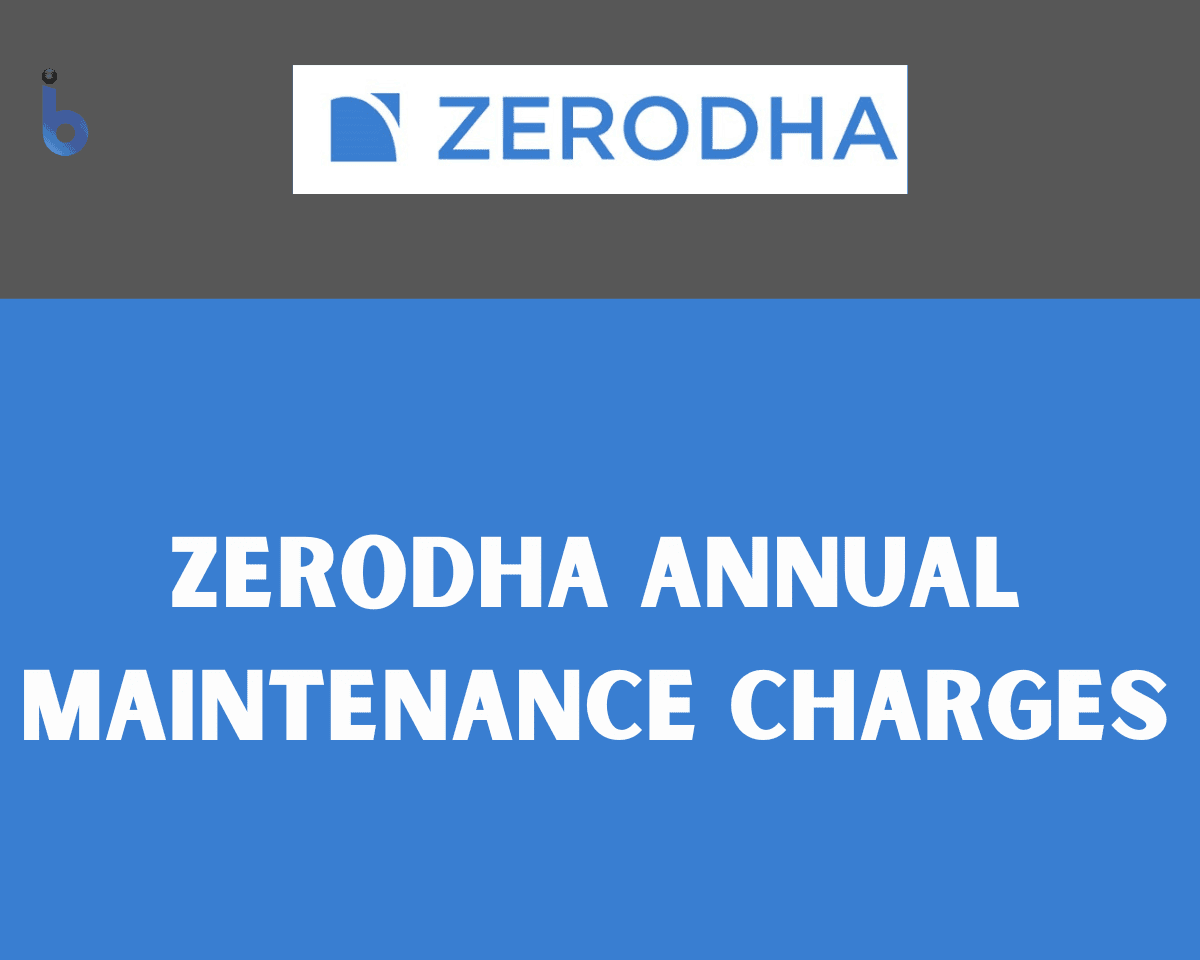 You will be charged a specific AMC amount after three months. Therefore, AMC expenses will be deducted from the investor's trading account through Zerodha on a quarterly basis ( i. e. every three months).
All these Zerodha AMC fees/charges collections are utilized to keep the registered trading accounts working. In case you fail to pay the AMC fees, then, in consequence, your trading account can be frozen or even closed.
Demat Account Annual Maintenance Charges in Zerodha
| Type of Account | Annual Maintenance Charges | Quarterly Maintenance Charges |
| --- | --- | --- |
| Individual, HUF, and partnership firms | Rs. 300 + 18% GST | Rs. 75 + 18% GST |
| NRI | Rs. 500 + 18% GST | Rs. 125 + 18% GST |
| Corporates, LLPs, and private & public companies | Rs. 1000 + 18% GST | Rs. 250 + 18% GST |
| IL&FS demat | Rs. 400 + 18% GST | Rs. 100 + 18% GST |
Zerodha Basic Service Demat Account (BSDA) Annual Maintenance Charges
| Holding Value | Annual Maintenance Charges | Quarterly Maintenance Charges |
| --- | --- | --- |
| Upto Rs. 50000 | No amc | No amc |
| Rs. 50001 – Rs. 200000 | Rs. 100 + 18% GST | Rs. 25 + 18% GST |
| Above Rs. 200000 | Rs. 300 + 18% GST | Rs. 75 + 18% GST |
So you can understand that there can not be any set deadline for AMC payment deductions. However, you are required to ensure that you keep sufficient amounts in your trading account. So Zerodha's automatically operated system will easily deduct the AMC amount from your trading account on the specified date.
You should know that while Zerodha regularly collects funds from its investors, they usually deposit these funds in a traditional lump sum form, so as to avoid complicated documentation procedures and other complex processes. This way, they can keep regular track of all of its simple documentation procedures and make their business operations relatively more accessible, manageable, and uncomplicated.
The Concluding Moment Thoughts
Hopefully, by going through this article carefully, you will have quickly learned about what are the Zerodha Annual Maintenance Charges.
However, you should know that the Zerodha trading account opening process is relatively easy and straightforward, as well as safe and secure too. You can opt for both online and offline modes to open the Zerodha trading accounts. Once the application for opening a Zerodha trading account is received, it generally takes 24 hours to open it.