The complete form of the term "Paytm" is "Pay Through Mobile." It is one of the largest and most popular digital payment platforms in India. If you are using the Paytm app., then you will undoubtedly experience how simple and convenient transaction making can be for you at no transaction cost at all.
You can use your mobile phone number and email ID to generate a Paytm account to avail yourself of its valuable transaction services.
You should know that you can add more than one bank account with Paytm, but you are required to choose any one of them as a primary bank account. Other than making easy transactions, the Paytm app. also allows you for easier and quicker checking of your bank account balance.
All your Paytm-linked bank accounts are displayed in a row on the Paytm application home screen, which provides you with more accessible and quicker access to each bank account. You can use the multiple bank account linking feature of the Paytm app for easily keeping track of all your linked bank accounts and checking their balances, as well as a detailed history of transactions made through these accounts in the same place and at the same time.
In this article, we are going to provide you with all the necessary information on how to check your bank account balance in Paytm. So stay tuned with us and keep reading this post till the end.
Steps to Check  Bank Account Balance in Paytm
Suppose you are using Paytm digital payments platform for transferring cash in an instance to someone; then you should know the procedure to check the bank balance you have added to your Paytm account. In case you are confused or you don't know what to do in this matter, then don't worry; just follow the below-written simple and easy steps as follows:
Step 1: Open your mobile phone, find the Paytm application on the mobile screen, then tap on the Paytm symbol. After that, you will see many options on a fresh interface. Click on the "Balance & History" option on the left side of your mobile screen.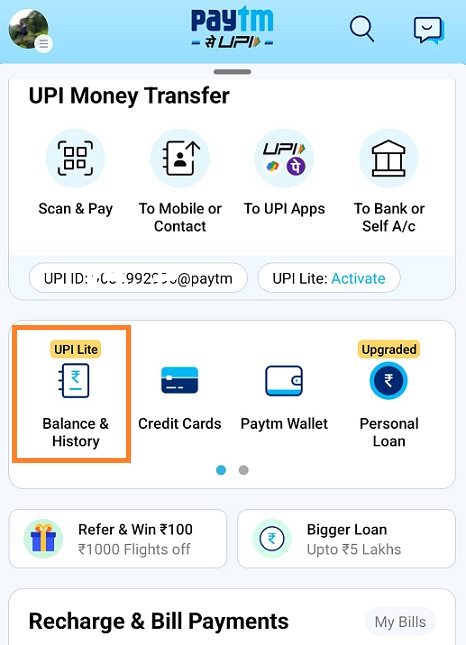 Step 2. Now, you will see many balance checking options for different things, such as: "Paytm Wallet Balance" and all the bank accounts linked to your Paytm account. Click on the "Check Balance" term in front of the bank account you intend to check the balance for. For Example, here we are checking the account balance of the State Bank of India in the Paytm app.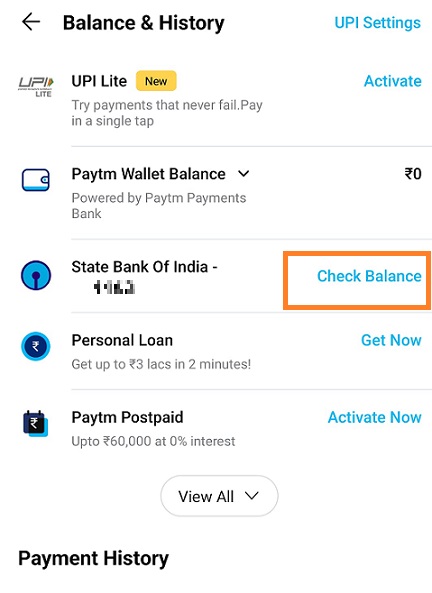 Step 3. After that, you need to enter your 6-digit UPI PIN. Now, you will see the current balance of the selected bank account in place of the "Check Balance" term.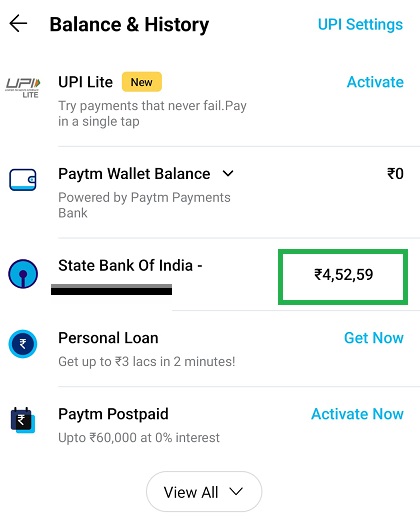 So this way, you can easily and quickly learn about how you can check a bank account balance through the Paytm application.
Some Takeaway Concluding Thoughts
We can now hopefully expect that you should have learned how to check a bank account balance through the Paytm application and find this post helpful to quench your queries in this regard.
However, suppose in case you are still facing some difficulties regarding transactions related to UPI complaints or having some queries or issues or grievances in checking a bank account balance through the Paytm application, then you should visit the Paytm application, select the "24X7 help and support" option, click on "view all services" option, then click on "UPI payments and money transfer" option. After that, you can talk about your issues to the 24X7 Paytm customer support team to register a complaint with regard to the UPI transaction details and account balance. They will provide you with efficient guidance for resolving the concerned issues.
Additionally, you can also call Paytm on their 24X7 helpline number: 01204456456 so that your UPI transaction/account balance-related queries can be resolved satisfactorily.