Paytm has significantly changed the way we make digital transactions. In fact, money transfers have been made much easier for bank account holders using Paytm applications. With the help of its popular mobile payment method, Unified Payments Interface (or UPI), now Paytm users can quickly and easily make secure money transfers directly from their bank accounts without any problem or bother.
When you make online money transfers on the UPI payment application "Paytm," immediately, a UPI reference number is automatically generated in the related banking system, which is known as the transaction ID for Paytm. You can see the Paytm transaction ID by tapping on a specific transaction for which you want to know it. You can utilize the transaction ID to check the detailed history of any particular transaction and can track its status.
So before we learn how to find the transaction ID in Paytm, we would like to let you know what the transaction ID is and why it is so important for Paytm users.
What is The Transaction ID In Paytm, and Why Is It Important?
Paytm transaction ID is a unique 12 digits code, which is generated with each transaction detail in the "Balance & History" section of the Paytm application. When digital transactions are made through the Paytm application, sometimes, you may need to ensure that the transferred money from a bank account has been successfully credited to the recipient's bank account.
Or, at times, for some reason, the details of a particular transaction may be needed for checking. In both cases, with the help of the transaction ID, you can easily track the status of a specific transaction and can also check the detailed history of that transaction. In addition to the above, with reference to the transaction ID, the Paytm customer care support team can help you to sort out the matters related to transactions.
In this article, we will provide you with all the necessary information and step-by-step easy guidance on how you can find the Transaction ID In Paytm transactions. Stay tuned with us and keep reading this blog till the conclusion. So, let's start without wasting any time.
Steps to check Transaction ID in Paytm
Suppose you are using the Paytm application for making digital transactions using its popular mobile payment method, Unified Payments Interface (or UPI); then you should know what the transaction ID is and how you can find it in Paytm transactions.
If you still find yourself doubtful or you don't know what exactly should be done in this matter, then in such a case, you can just follow the below-written simple and easy steps for the same, such as:
Step 1. You should open the Paytm application and see its homepage on your mobile phone. After that, tap on the "Balance & History" option under My Paytm Passbook.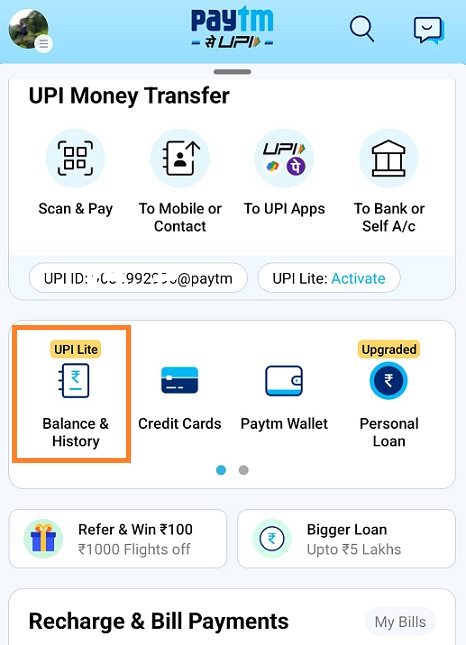 Step 2. Next, a new page will open up before you. Here you will see all the transactions made so far. After that, you are required to select a specific transaction for which you desire to find out the Paytm transaction ID. Then, it would be best if you tapped on the selected transaction.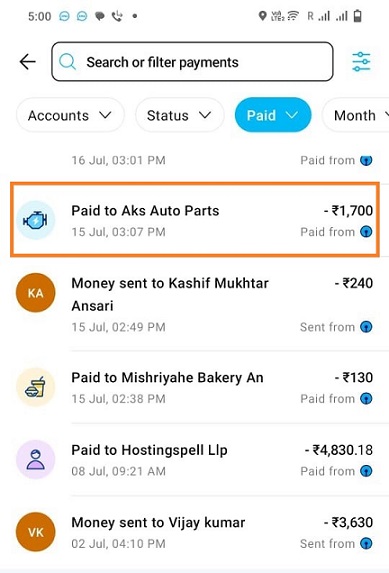 Step 3. Next, a fresh interface will open up before you. Here you will see a 12-digit number in front of the "UPI reference number" on that page, which is the "Transaction ID" you want to know.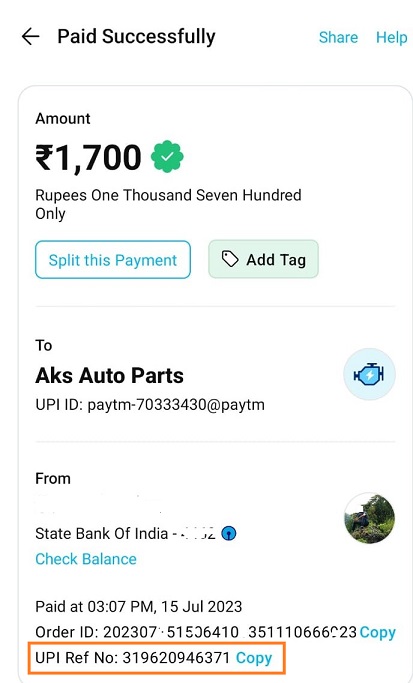 You can note down the required Transaction ID, or you can take a screenshot of the selected transaction details to save it on your mobile phone. So this way, you can easily and quickly learn about how you can get the Transaction ID from Paytm transactions.
The Concluding Thoughts
We expect that by carefully reading this article and following through the above-mentioned simple instructions, you will have quickly learned about how you can check the Paytm Transaction ID.
However, in case you are still finding yourself doubtful or confused or facing any problems or having some issues, complaints, or grievances in finding the Transaction ID in Paytm transactions or you need to sort out your queries, then to resolve the issues efficiently, you should contact the Paytm Customer Care Support team by making a call any time at their 24X7 helpline number: 0120 – 4456 – 456. They will shortly respond to your call to help and guide you through accordingly, appropriately, and satisfactorily.