Paytm is the largest online payment or money transfer portal in India. It helps you to transact your money to any UPI app with no extra charges. Paytm is also used for online recharges like DTH recharge, Phone bill payments, electricity bill payments, mobile phone recharge, Internet recharge, Gas bill payments, etc. Apart from that, you can also book a movie ticket, Bus, and train tickets with your Paytm app or website. Paytm is an abbreviation of "Pay through mobile" started in 2009. It is a multinational technology company based in Noida, India.
Now, we are going to talk about Paytm Fastag. Paytm Fastag works as electronic radio frequency identification technology at the toll stations. Considering Paytm is a digital bank, you can buy your Fastag from the Paytm website or its app. The more impressive thing here is, your Paytm Fastag is a reusable tag that can be attached to your vehicle's windshield.
A Fastag is allowed to all toll plazas auto-deduction tax system. Mostly for digital cashless India, the central government established the Fastag system and made it mandatory for everyone. You can only issue one Fastag card for one particular vehicle. You cannot buy another until and unless the previous one is lost or destroyed permanently.
Paytm Payment Bank is one of a bank tied up with Fastag facility. While using Paytm, you want to buy a Fastag from it, and after purchasing Fastag, continue to work at the toll stations. But, you don't know how to check your Fastag balance. Here we are sharing the methods to check your Paytm Fastag balance. The process has given below:
Ways to Check Fastag Balance in Paytm
All the conceivable option by which you can check the Paytm Fastag balance is here. We are persuading these processes will be secure and safe.
1. Paytm Application
Paytm application is the new version of its website with a variety of options. In 2017 Paytm has launched its app with more diversity available inside. Not only that, our Indian government allowed Paytm to offer Fastag facilities to its customers. Simply, you need to go to your Paytm app and visit the "Manage Fastag" option there.
After that, a new page will appear, and you only need to fill up as required with your valid documents, which you have used during the time of purchase Fastag, including your vehicle number. The amount will pop up to you right after submitting everything it requires. Thus, you can check your Fastag balance.
2. Website
By visiting the Paytm website also another way to know about your Fastag balance. All you need to do is put your appropriate information and vehicle details to the required places and click on the submit button, and you are good to go. The balance amount you wanted to check will be visible to you instantly.
3. Toll-free Phone call
If you are a Paytm Fastag customer, you must be the one who searches for a toll-free call system to check your Fastag balance? Any NHAI Fastag person can give a call to 18001204210 to know about Fastag related queries.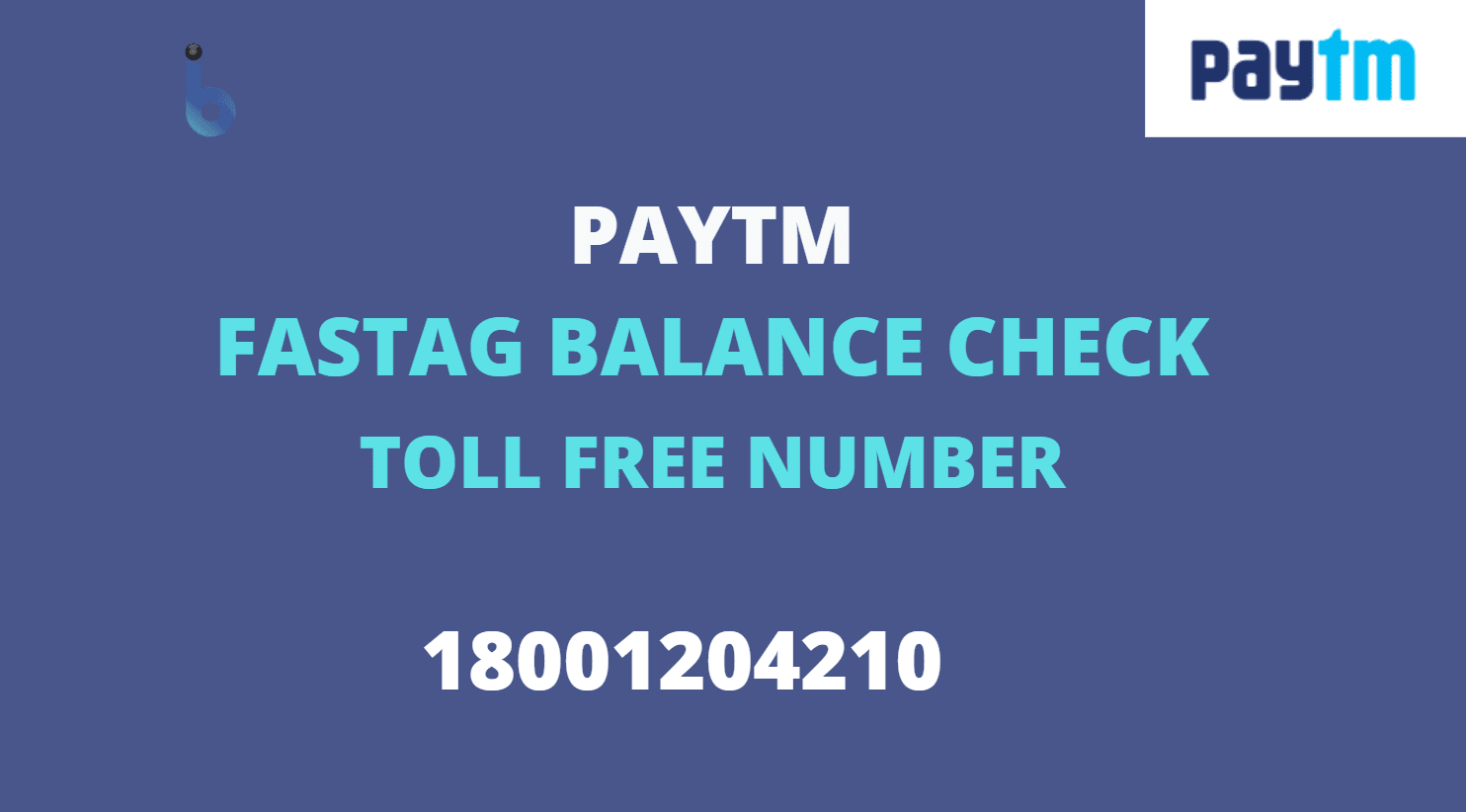 This toll-free number is in the Fastag card already, and you have to affix it in a way, you can see the toll-free number from inside your car or from the driver's seat. It's the NHAI toll-free number for every Fastag holder.
4. SMS alert
The Paytm Fastag service is easy and manageable. Every time you get a low balance on your Fastag card or any Fastag balance-related guidance you need Paytm will notify you over your registered mobile number. Therefore you will be able to maintain your Paytm Fastag wallet.
Conclusion
In the end, we can assure you Paytm Fastag is the perfect RFID. Paytm offers some extra benefits to its customer if someone buys a Fastag from Paytm for their commercial vehicles. Paytm gives fleet management and also easy appeasement to your Fastag app. Paytm payment bank has a passbook where you can see all your transactions.
In the Paytm app, you can manage any Fastag recharge, and Paytm doesn't charge any extra money or hidden fees for these transactions. You will be astonished by knowing that every time you recharge your Fastag, there is a 2.5% cashback on it every month. We hope all these pieces of information will be helpful to you. For more queries, reach out to us, please. Thanks for reading.