SBI(State Bank of India) is the eldest and renowned bank in all over India. You may have seen at least one person in every single family as a customer of SBI, can be any branch. If you are a Fastag person and you have an account with SBI, you must connect both. It will help you to the trouble-free journey. Fastag has been made inescapable for all vehicles from 2019 all across the country by the ministry of government.
Fastag is a device to work as RFID(Radio Frequency Identification) to clear toll stations from the traffic and save fuel for the future. Fastag is an electronic toll collection system without stopping straphangers at toll plazas to pay cash. It made people's lives easier and faster by making the process cashless. The Fastag card should stick on the windshield of your vehicles so that when you are at the toll plaza, the scanner will scan it and make the payment directly from your account connected with your Fastag.
The Fastag card holds your tag ID, vehicle class, etc. The scanner will capture all your details and send them to check it's authenticity. These things are being varified by National Electronic Toll Collection. Once the verification goes well, the payment will be done by itself. The Fastag card validity stays for at least 3 years from the date of issue. The Fastag is for evolving the current situation of toll payment into an effortless transaction, controlling by the National Payments Corporation of India.
Your SBI branch will make the Fastag payment easier if you don't want to wait and feel tedious. However, recharge is more important, when you travel a lot. If in case you went out to go far away and you didn't even check the balance of your SBI Fastag card. You may fall in a false position at the toll station if your card has run out of balance. Therefore you need to keep checking its balance before going out anywhere.
SBI Fastag Balance checking process
When India is moving towards the digital economy, Fastag is an innovative invention by the government of India. It's very time-saving and fuel-saving techniques as well, even no-one needs to stop in the long and drastic queue at the toll plazas. However, it's necessary to check the balance on the Fastag card. Here are the procedures to check it:
1. SBI Fastag website
SBI has its Fastag NETC website for all inquiries about Fastag information. You can go easy and check your Fastag card balance there. It's absolutely easy you just need to put everything that the website requires, and the balance amount will show to you.
2. Email
You might know how important email is nowadays. Because every little vital document we usually save in our mail id to make those more secure. And now most of the people are using it for getting information. We know you also use email to restore everything you need for the future, and thus we give you fact that you can now check your Fastag balance via your mail id as well.
3. Massaging alert
Massage alert is also a way to get to know about your Fastag balance. When you connect your Fastag card with your SBI branch account, you will get a message over your phone number saying that it's connected, and after that, you will get every notification including a balance check for the Fastag.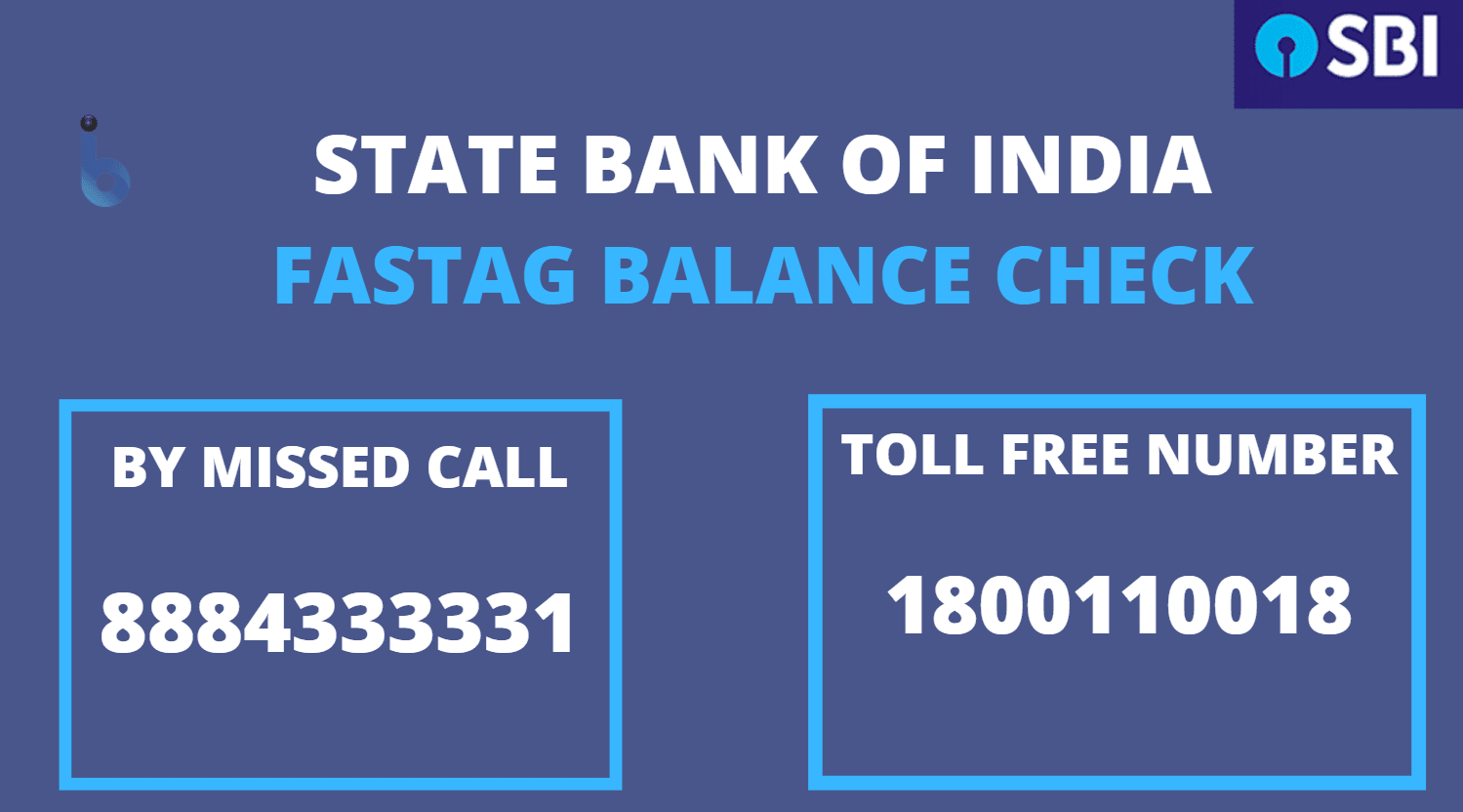 4. Toll-free call system
A toll-free number is another way to know about the Fastag balance on your card. Since you attach your Fastag card with your SBI bank, you have to call over SBI toll-free number. The SBI toll-free number is 1800110018.
5. Via missed call
If you do not have too much time in your hand and you need to know instantly your Fastag card balance how much money you have left, and if you can go further or not then give a missed call to your SBI Fastag inquiry by calling at +91-8884333331.
| SBI Fastag Services | Contact |
| --- | --- |
| Toll-Free Number | 1800110018 |
| Missed Call | 8884333331 |
| Email | [email protected] |
Conclusion
The SBI Fastag can be used across India at all toll stations. It comes with some extra benefits when you will constantly use Fastag, and this is confirmed by the government of India itself. As it is mandatory to use, we assume you have it already, and if not, then surely you should get your Fastag as soon as possible. We hope these methods will help in your decisive situation. For more information related to SBI Fastag, do not hesitate to contact us.