Long road and long journey it seems quite interesting right? Who doesn't like beautiful weather with a long drive? In the meantime, if you get stuck in a queue of a lot more weels at any toll plaza, what are you gonna think? At this time you can't even go without giving tax. obviously, it is compulsorily applicable to every citizen in India. If you are gonna use the road you have to give the government an amount of tax for using it.
Therefore, the Government of India started Fastag, so that you don't have to go through any exhaustion and tediousness. Fastag has been made to give every citizen a hassle-free gallivant. Here Axis Bank gives the Fastag service to its customer, though there will be a one-time deposit for issuing at first, then it will continue with your traveling.
The Fastag meets your necessity during driving. From the year 2017 Indian govt imperatively issued Fastag to all the newly sold vehicles and it will remain the same for every next vehicle to be sold. Fastag is a NETC (National Electronic Toll Collection) program, that was started by the ministry of road transport.
Here, if you are an Axis Bank customer and you want to apply for a Fastag card to make your travel worry-free, then you took the right decision. Axis Bank is helping its customer to know more about the Fastag facility these days.
As our Indian govt turn towards caseless India and digitalization, it's pretty good to be in distance and not touching in this pandemic scenario. This thing is helping a lot in various modes. Only you have to keep it in a place from where the toll scanner can scan it and cut the tax amount directly from your account. isn't quite simple and easy? You will need not wait until the tax has been deducting.
Here comes the main part, everything is going great, you are out for some work and you are in the middle of high way, suddenly you came close to your first toll plaza and you remember if your card has enough balance or not, what will you do? How will you check the balance? Never mind, we got to you, we are giving some options to check your Axis Fastag balance at once. Check them down below.
Ways to Check Axis Bank Fastag Balance
Now, the Fastag card balance depends upon how frequently you are traveling. You can keep minimum rs- 100/- to the max- 1 lac as recharge. Some people usually recharge it, and most people nowadays connect it with their bank account so that they don't have to worry about it. We gave the following ways how you can check your Axis Fastag balance:
1. Through Axis Bank official site
You can easily go to Axis Bank's official website to check your Fastag amount. Here what you have to do is type "Axis Bank official website" in the search box and click on the first appear option "Axis Bank". Then, click on the first option called "Explore products", here you can see the "Fastag" option where you can find all your queries regarding it.
2. Mobile Phone message
SMS alerts are for reminding us about the last moment recharge. When your mobile number will get registered, an SMS notification will go to your registered mobile number for the Fastag. A constant and regular update will go to your number. Do not erase any of them, not even forgettably. Because if any of the SMS will be deleted, you will not keep track of how you are spending card amount.
3. Through Email
If you like to store all your important and emergency documents in your mail id, then this is the right option for you to get a mail for checking Fastag balance. Taxation is a very important document, likewise other important data you will store it in your mail.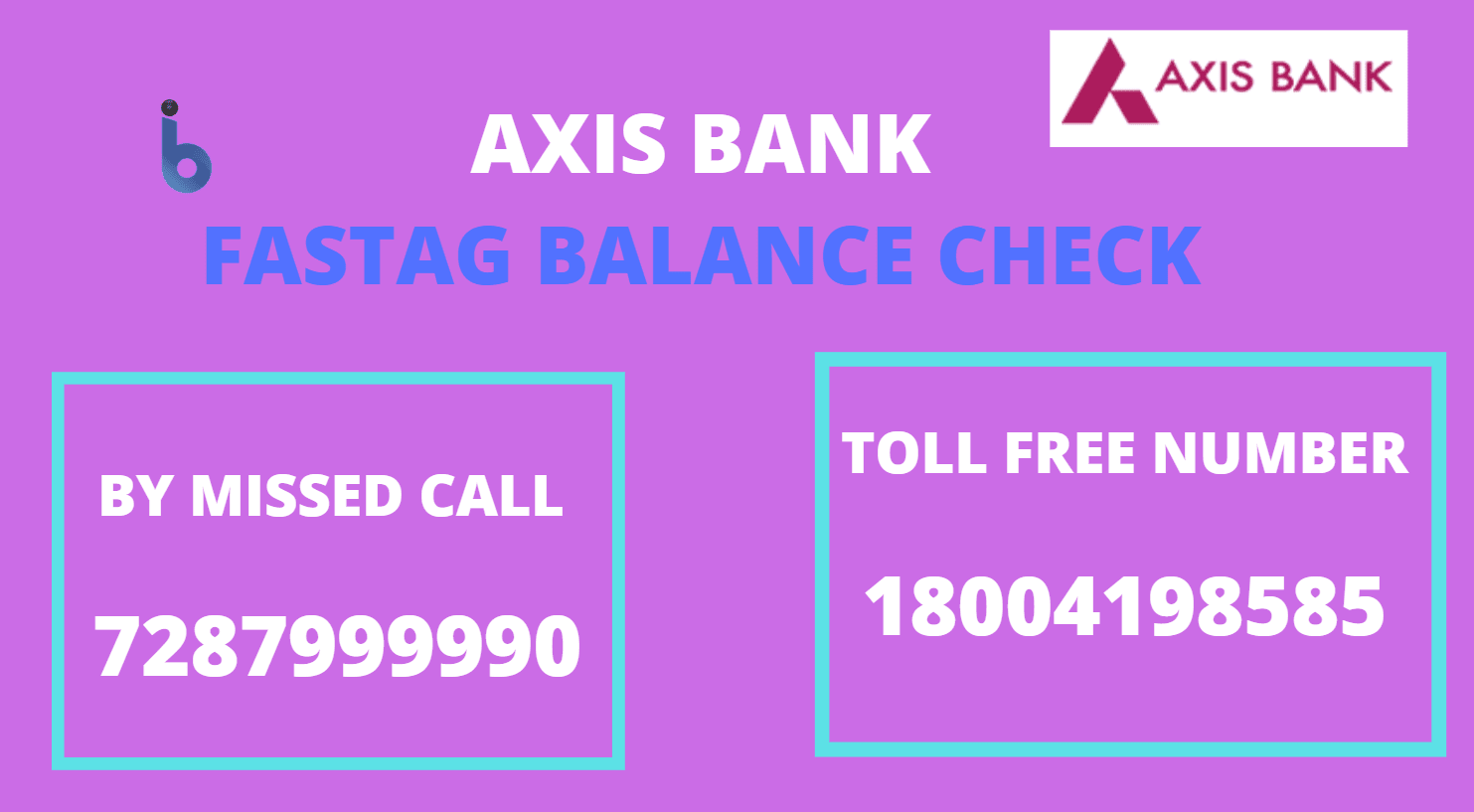 Then why not the Fastag recharge balance check? Drop your mail id when you will go for application to your Fastag card. After start working on your card, every single information you will get to know via your mail id about the Fastag.
4. Call Customer Care
Axis Bank has its own toll-free number 18004198585, where you can call to check your Fastag balance. It is open to all their customer 24*7. Slow down, you do not need to panic, just give it a call and you will be able to know how much amount you have on your Fastag card. Then you can decide if you need to recharge or it has ample amount in it.
5. Balance checking via Fastag App
Fastag has its application My Fastag created by our Indian govt to register their card facilities, check balance, recharge, and many more. This app will give you all information, which goes handy for you.
6. By Giving Missed call
Sometimes people don't find anything in mind about what they will do to come out from any vanquish situation. If you don't find anything quickly, here give a missed call to them at 7287999990. You don't need to do any tough thing, just a missed call. When you will give a missed call an instant notification will go to your number and will show you your desired answer.
| Axis Fastag Services | Contact |
| --- | --- |
| Toll-Free Number | 18004198585 |
| Missed Call | 7287999990 |
| Email | [email protected] |
Conclusion
Fastag has come to India in the year 2016 and till 2019 it has become a massive game-changer for every Indian citizen, whoever travels on high-way usually. If you are also one of them you must have Fastag as well. Axis Bank is one of the banks registered with Fastag and helps its customer to get every little service regarding it.
These are the process, how you can check you Fastag balance in Axis Bank. Follow these ways to get up-to-date every time you will go out for a drive. If you want more information about Fastag, you can contact us, we will be happy to help you in any possible way.