The traffic and the long queues are the tiresome waiting in the big cities every other way. Isn't it? It's hurting to loos time for no reason, but this isn't in our hands at all. In this rushed span globe people don't want to waste their time by any chance, always thinking how can work harder? Or, how can we work on time management?
There we hope if we get some more time to finish our work in a day. The traffics makes blunders in the middle of everything. You can't handle the signal queues, but at least in the toll plaza. Our Government of India made something very genius and mandatory for every Indian citizen. The Fastag facility at the toll plazas gives relief to the Indian communal for not waiting too much in the middle of the road by anyhow.
In the year 2019 Indian Government made a rule for using the Fastag to everyone that has to be maintained. Everyone knows the importance of Fastag while we travel on the national highway. Because, if you travel on the highways, you have to give toll-tax. And the tax giving process starts with your Fastag account opening.
All over India, 22 banks are there that offer the Fastag toll collection system. Today we are going to share some valuable facts with you. The IDFC First Bank is one of them who all are link up with the Fastag system. IDFC First Bank is the merged bank of IDFC Bank LTD and Capital First LTD on December 18, 2018.
Now, the main story comes, we believe you have a Fastag, and you usually recharge the Fastag card, as you travel very often. Suppose you forgot to check the balance at the last minute, and you found it at the toll station. Then, even if you don't know how to check your Fastag balance. Here, we are with some remarkable ideas for you.
Ways to Check IDFC First Bank Fastag Balance
We assume you are in a hurry and don't even know how to check the balance on your Fastag card. You are thinking, it must be very time-taking and the toll plaza is right in front of you. You can't take too much time to know your Fastag balance rest amount. Then you can follow the techniques given below to get a quick result.
1. Through SMS
It is easy to get an SMS alert over your phone number. If you have an account with IDFC First bank, you did register your phone number with it at the time of account opening. You need to set an SMS alert on the registered number. Anything informative related to your Fastag will appear on your number to grab your attention for the current state of your Fastag card. You will be notified by the bank authority instantly.
2. IDFC First Bank official website
IDFC First has its official website to know more about the bank and every facility they give to their customers. By visiting its website, you can thoroughly enquire about everything you want to know. For the Fastag balance check, you have to visit the website. Then you have to open the customer portal and put the vehicle number. Click on the submit button, and the result will be visible to you. Apart from this, you will see how to buy Fastag and other Fastag information.
3. The Fastag Application
Now-a-day's everything has its application. People are installing them according to their choices and their need. Fastag also has its app to make some difference in your Fastag use. You can install the Fastag application from your mobile and register.
Follow the step one by one to know about your Fastag balance, and you get to know it. Here the app might have asked for the vehicle number. Either be sure about it or don't take too much pressure and note down somewhere you can access.
4. Contact Customer Care Toll-free Number
IDFC First Bank has a toll-free number 18002669970 to know your Fastag balance. You can call this number and talk to a customer care executive. They will tell you the rest amount on your Fastag card. They are available anytime you want their service.
5. Via mail
You know what? Mailing is a format using by students, workers, and any business person in daily life. There is no investment need to create an account as students also use it for restoring their study materials for future use.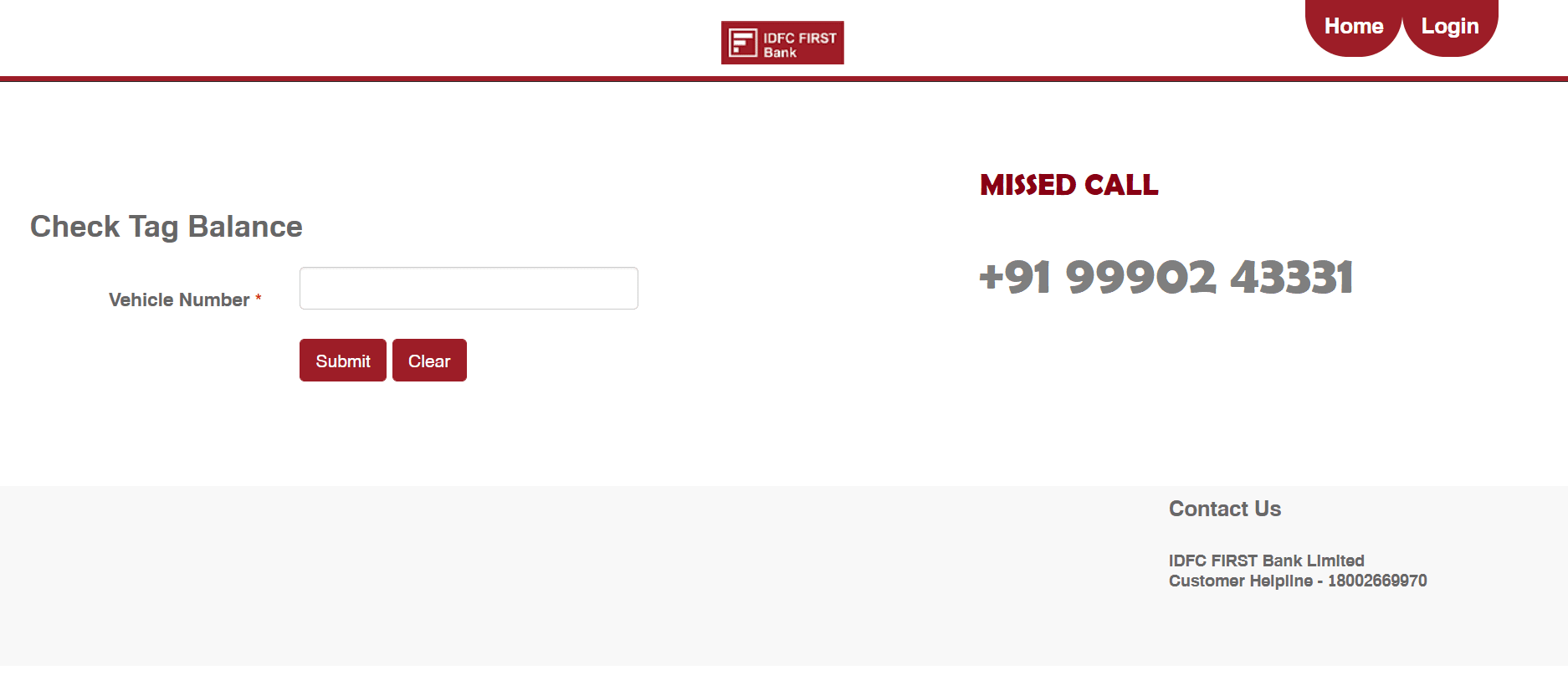 Job workers and business people use mailing platforms to collect official documents and data management. Mail address is the perfect place to collect information. If you have given your mail-id while opening your IDFC First bank account, you will get a mail notification for the Fastag.
6. Missed Call Number
If these options mentioned above still keep making you think about the balance check system for the Fastag card, then you must see this one. Missed call service is way faster and smoother than any other options out there.
Only you have to give a missed call at +919990243331. Just one ring & you get a message over your number. This is the IDFC First bank Fastag inquiry number only for missed call service. According to the amount available on your card, you can travel and stay tension-free at the toll stations.
| IDFC Fastag Services | Contact |
| --- | --- |
| Missed Call Number | +91 99902 43331 |
| Customer care Number | 18002669970 |
| Email | [email protected] |
Conclusion
The central govt introduced us to this electronic toll collection system by the National Highways Authority of India in 2017. After 2019 Indian government decided to convert the system into a mandatory policy for every single vehicle in India. Now, people can buy a Fastag by visiting the nearest certified bank and make it connected to their existing bank account.
As Fastag is compulsory for every vehicle, the Government of India segregated the class for every automobile. As per the class of your vehicle, you have to recharge it. And obviously, there is a minimum amount you have to keep on your Fastag card to continue the card facility.
To avoid the hassle, stick the card on your car's windscreen, and the scanning system will copy each of your details. Once the details are verified, the toll tax amount will deduct right from your bank account, and your journey will start again. We give you every possible information you need. Hope these options will also be helpful to you. If you need any assistance, please reach out to us for more.