We know you value your time and who wants to waste their time when there is an option to save it. During the time of travel there is a tax giving process at the toll plaza and to make it trouble-free Fastag is there. In the transport work or those people who all frequently travel knows about Fastag.
Fastag was started by the Indian govt in the year 2016, which is operated by NHAI (National Authority of India) but only in Ahmedabad and Mumbai. However, the Indian govt made it mandatory pan India in the year 2017.
Now, HDFC Bank gives you the Fastag card facility to smoothen your journey. If you didn't get it yet, go get registered for hdfc fastag. The Fastag card needs to recharge as per your journey periods. Here, you can attach your Fastag card directly with your bank account to make your journey hassle-free.
Only you have to keep the card stick onto your windshield. Whenever you will cross a toll plaza while driving the scanner will check your card and tax will deduct straight from your account.
Fastag Card Balance checking system in HDFC Bank
Time is so precious, for that the Fastag card is here. But, if the recharge will end in the middle of your way, it can be a big issue. And if you pass through the toll station and won't give tax, it may cost double and you may splurging. We give you some procedures to check your Fastag card balance before it ends.
1. By Calling Call Toll-Free number
Every month you check your list at the beginning, where you have to invest your money and where to give it, right? Then it comes to the recharge section, where you have left enough recharge and where not. For the HDFC Fastag card balance check, you can call the bank's customer care number Toll-free number at 18001201243.
2. By Giving Missed Call
Even for an instant result, you can give a missed call to the HDFC Bank at 7208053999 as well. After giving a missed call to this number you will get a quick SMS to your registered number with the bank account and you will get to know how much amount you have left on your Fastag card.
3. Through Website
You can check your Fastag balance by logging in to the HDFC Bank Fastag website https://fastag.hdfcbank.com/CustomerPortal/Login. After logging in you can see the Fastag balance check option where you can check the rest amount by giving your vehicle's documents.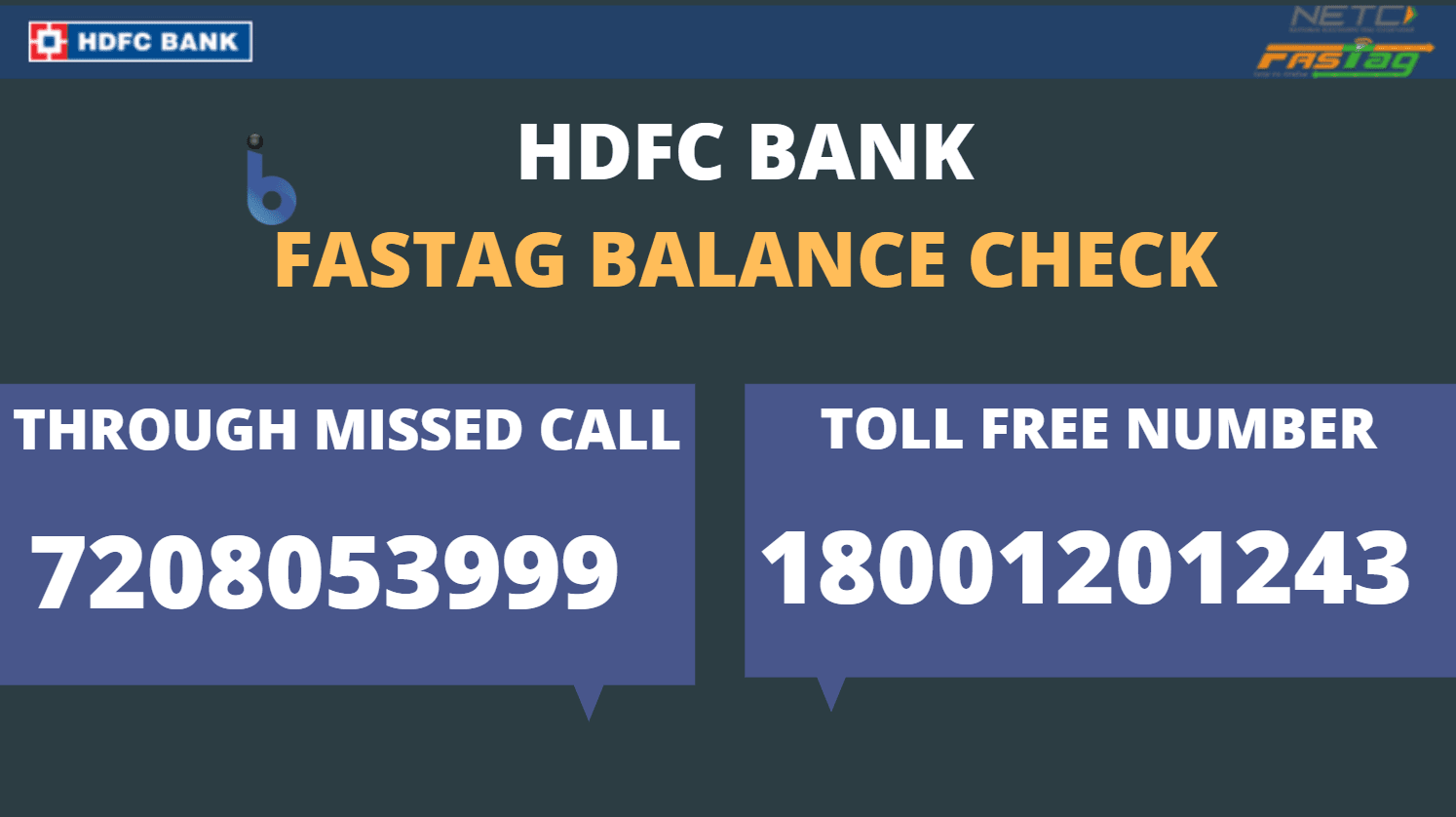 4. Using Mobile Phone application
Our government of India launched the Fastag application for the citizen who all are using their Fastag card to check all the inquiries including balance check. Install the Fastag app and click on the "get started" button. You will see so many options are there for your Fastag.
5. Check SMS
It's too easy to get an SMS alert on your mobile phone for any sort of emergency purposes. As you have already registered your number with the HDFC bank which one you have attached to your Fastag card, you can easily get an alert via SMS.
6. Through Email
People often tend to forget about their engagement in some particular matter. It may happen you are into something and you might have forgotten it and now suddenly you have noticed that you should have stored it and somehow you can't manage to do so.
At that point, you may feel yourself in some miserable situation and unable to think about what you can do. We don't want you to face this awful situation anymore. Mailing is a format where you can store all your data, including your bank details and valuable pieces of stuff. You can get your Fastag balance amount while checking mail over your email-id.
Conclusion
We want your journey to be safe and pleasing. No hectic, no difficulty. This is so valuable when we think about your time-saving and much more work to be done. Keep your Fastag update and hope this will help you. For more information contact us. Happy and safe journey.