A FASTag service enables the driver of the vehicle to not stop in the toll booth to count cash to pay. HDFC Bank FASTag is a collaboration with the National Electronic Toll Collection (NETC), which aims to ensure smooth transportation through national and state highways. FASTag has become mandatory in our country from January 15. Those who still don't have FASTag activated Id, they have to pay the double price as a penalty.
There is a lot of reason behind the government to forcefully activate it. Some reasons are:
You need not always remember about the carrying of cash of the exact amount required in the booth. Digital transactions are safer as you can monitor your account balance deduction as it sends a notification every time you make a transaction.
Save time in the toll booth by not getting into the complications of cash counting.
Every time you pass through a toll booth after the payment is made at a national highway, you can earn a reward of up to 2.5%.
HDFC FASTag service is available in more than 420 toll booths. It has come up with helpline numbers for the ease of communication between customers and HDFC bank.
For Services and sales queries: 18001201243
Emergency roadside assistance number: 02267872087
For general query at toll plaza level: 1033
HDFC FASTag Registration Online
Step 1: To sign up for the program, a user has to conclude a one-time registration to initiate the unique Tag number for their vehicle. To register, click on https://v.hdfcbank.com/htdocs/common/fastag/index.html. Now click on the apply button.
Important Note: To register as a new member, you have to produce your KYC document, registration certificate (RC) of your car, passport-size photograph, Pan Card (mandatory), residence, and ID proof (a valid license is sufficient for address and ID proof). To make a wallet with Full KYC, the customer needs to provide all KYC documents, or they can devise a MIN KYC with the Pan Card.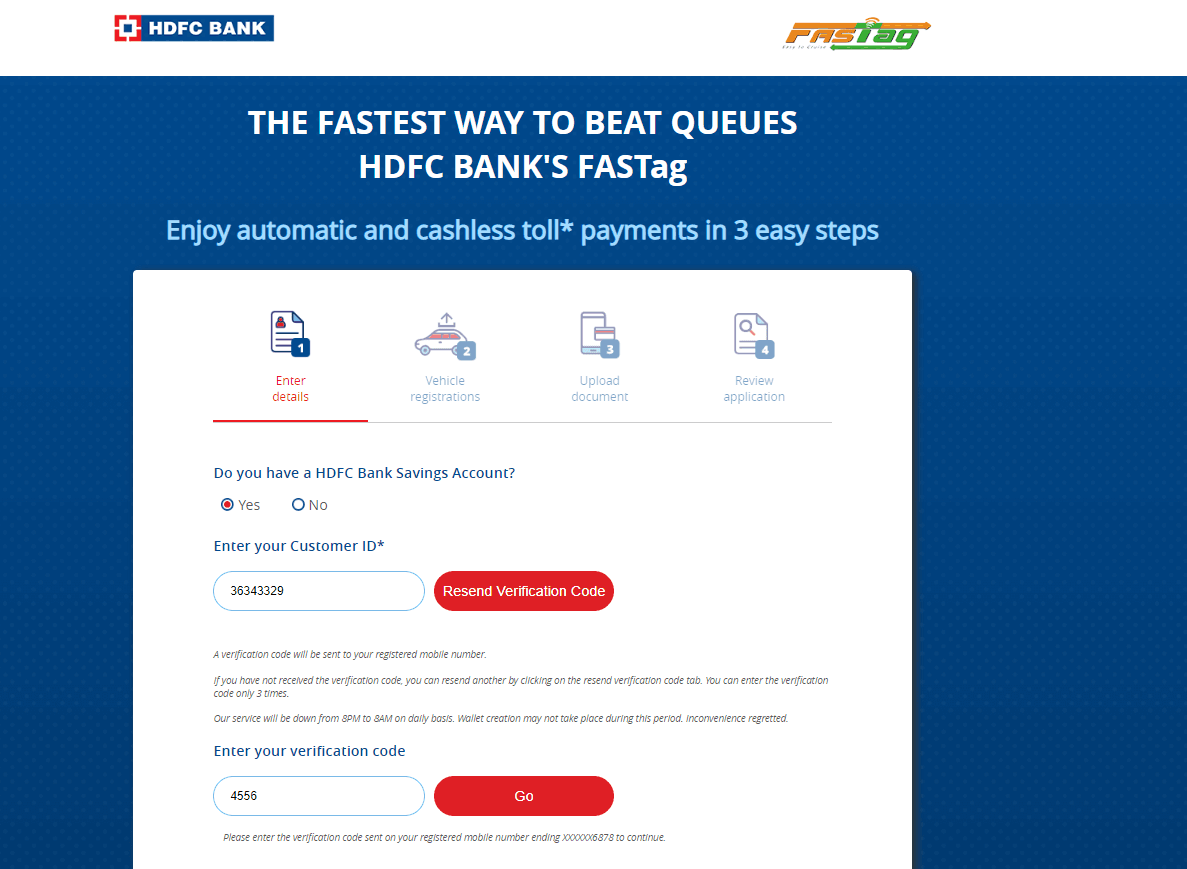 Step 2: On the next page, click on 'yes' if you have HDFC saving account. In this case, you have to enter the HDFC customer id number. Enter the customer-id and click on send a verification code button. You will receive the verification code on the registered mobile number. Enter that code and follow further steps to complete registration.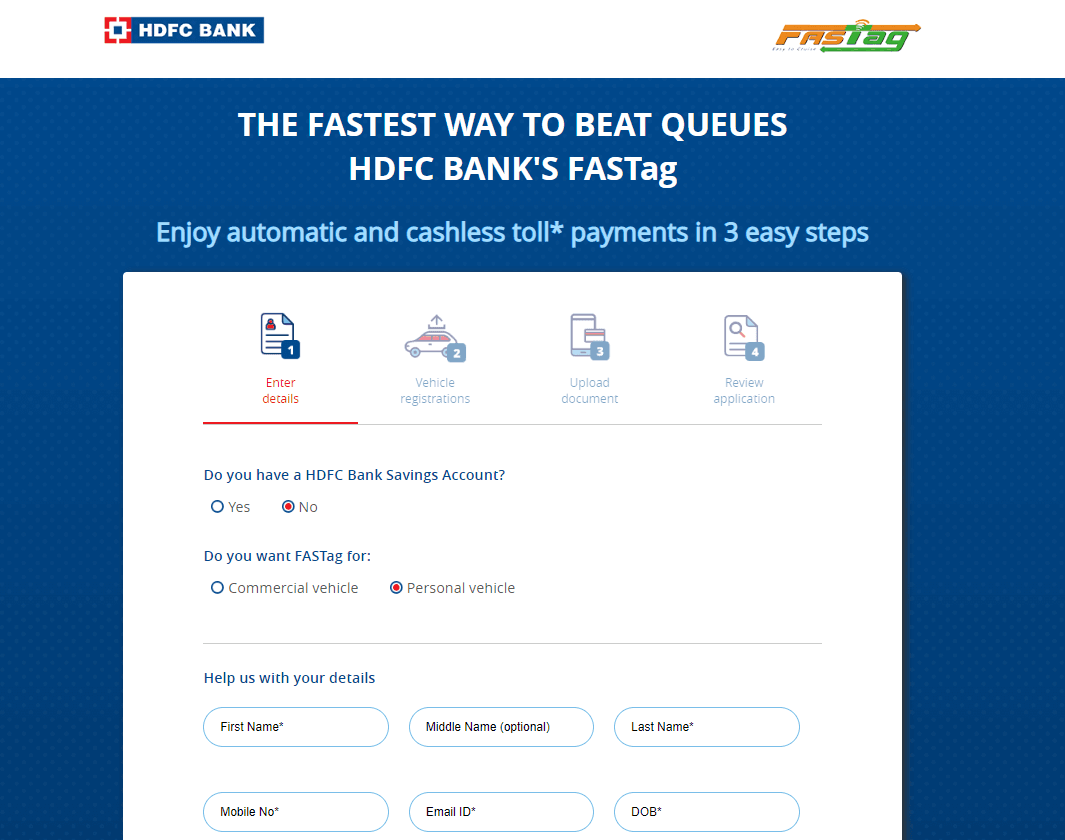 If you don't have an HDFC account, then click on 'no' and choose the type of vehicle for FASTag. Now complete the registration by entering the details without any mistakes. After approval, you will get a User ID and Wallet ID to your registered email or mobile number.
HDFC FASTag Registration offline
To buy a FASTag you need to visit the nearest Point of Sale (POS) locations or HDFC bank authorized agent sales office, and from there you will be guided. It will charge you around Rs 400 (Rs 100 for FASTag issuance fees, Rs 200 for the security deposit, and Rs 100 as the first-time balance). Alternatively, you can also dial HDFC FASTag Toll-free helpline number 18001201243  for further instructions.