Google Pay is developed by Google in May 2011. It is a digital platform of electronic wallet and online payment system that facilitates contactless and cashless purchases through a mobile device. FASTag is a technology developed by the National Payments Corporation of India (NPCI) to offer a nationwide toll solution.
As soon as the vehicle approaches the toll plaza, the FASTag user can easily scan his FASTag with the help of the tag reader present there. It enables the FASTag user to pay the toll amount digitally; avoiding the cash payments and long queues as well.
Steps To Check FASTag balance in Google Pay
To check your FASTag balance through Google Pay, a FASTag user needs to follow the steps given below:
Step 1: Firstly, download and install the Google Pay app through Google Play Store for Android users and Apple Store for iOs users. Register on the Google Pay account using your credentials.
Step 2: As soon as the app's interface opens before the user, there will be an option of 'New Payment' on the home screen of the app.
Step 3: After clicking on the option of the New Payment, the page will load further. On the next screen, click on the option of 'Bill Payment'.
Step 4: Now, a menu will open before you. Choose 'FASTag recharge' from the menu. Select your Bank's FASTag from the options before you. You can also directly search Fastag and choose your bank. Click on 'Get Started'.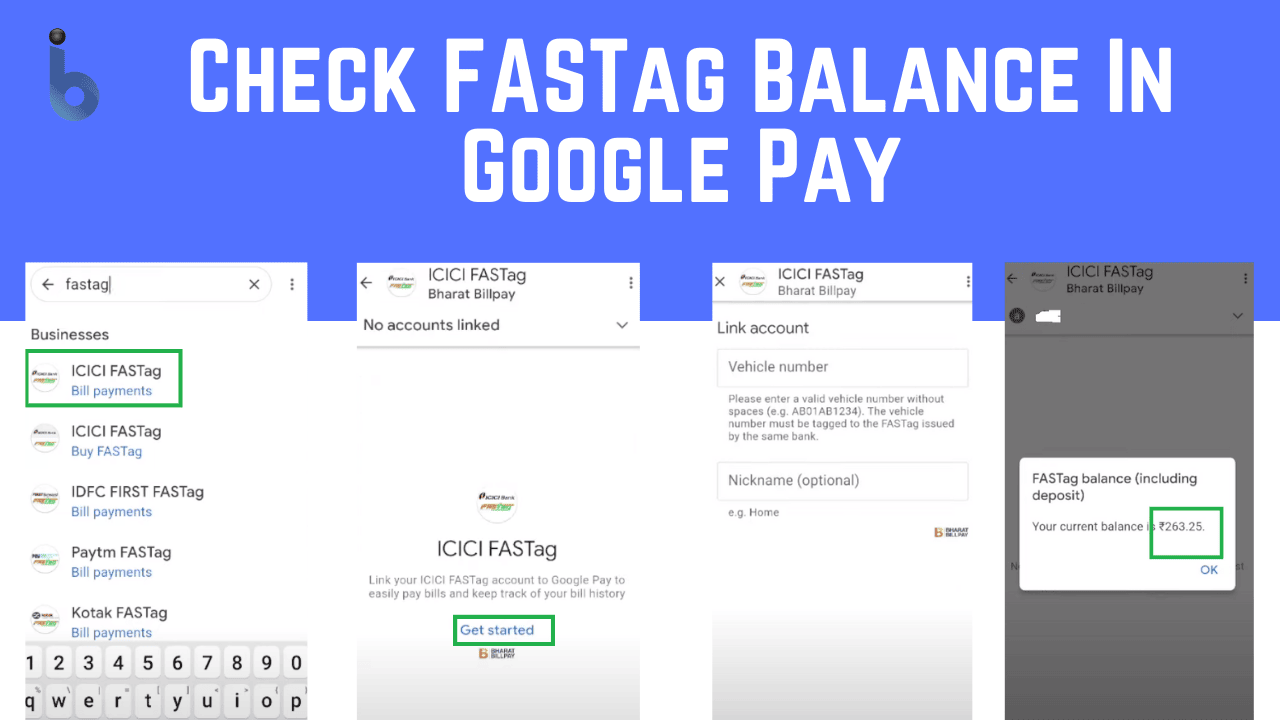 Step 5: A new screen will open before you where you need to type your Vehicle Number which must be tagged to the FASTag issued by the same bank. Next, click on 'Link Account'.
You will now get to see the customer name and vehicle number on the page loaded before you. Now, again you need to click on 'Link Account'
Step 6: An option with 'Pay' and 'View Balance' will appear before you. Click on the option of 'View Balance'. As soon as the option is clicked, your current FASTag balance (including deposit) will appear before you.
For example, if you have ICICI Bank's FASTag and your vehicle number is AB 12 CD3456. Then, click on ICICI FASTag and enter your vehicle number without space, i.e AB12CD3456. By following the steps given above, any FASTag user can check his FASTag balance from Google Pay easily.
Conclusion
With the use of digital media, things have been somewhat simplified and now the data is mostly generated with a click. But, the user needs to have an active internet connection to use the majority of the apps.