Every vehicle is accountable to pay the toll amount before heading to the national highway. As people still prefer cash to pay toll charges, this creates traffic congestion at toll plazas. But now not anymore. You won't have to be stuck in vehicular traffic at toll stations.
Now, save your precious time that you spend at the toll plazas by using the FASTag option to pay toll charges instead of paying it in cash. FASTag is a virtual toll payment system that employs Radio-Frequency Identification (RFID) technology facilitating automatic deduction of toll fees from the prepaid account linked to it when a vehicle passes by the toll station.
FASTag is valid for 5 years after you purchase it. As per requirement, you only have to recharge or top up the FASTag. You can simply cross the FASTag lane and don't have to dawdle in the long queue. Accordingly, the toll plaza staff read the tag and deduct the charge.
To recharge or top up your FASTag account both online and offline. All recognized banks and FASTag issuing banks have the option of online FASTag recharge portals. Also, you can visit PoS (Point of Sale) locations or bank branches of the issuing banks to recharge the FASTag account.
The Government of India (GOI) proclaimed the FASTag as a compulsory toll payment mode. For all private and commercial vehicles, FASTag is mandatory. Different banks have different ways to recharge FASTag and different ways to view the balance. In this article, we will discuss ways to check ICICI FASTag balance.
Steps to check ICICI FASTag balance
If you are the account holder of ICICI bank, you can check FASTag balance through various ways like online, SMS, mobile application, and Customer Care helpline number.
1. Check FASTag Balance on Website
There are 13 banks that provide access to FASTag and here you can apply for a FASTag, recharge, or top up and check balance. Here are the steps to check the FASTag balance on the ICICI website:
Visit the official website of ICICI bank: https://www.icicibank.com/Personal-Banking/cards/prepaid/fastag/index.page
Choose your account type, move further to the login page and log in to your FASTag account with your credentials
After you are logged into the FASTag portal, you will be able to view all the account details comprising the FASTag balance.
2. Checking FASTag Balance Via Mobile Application
Log in to the eToll app with your login credentials
You can view the amount required for your wallet
Click on the Tag Account Number to view your FASTag Account balance.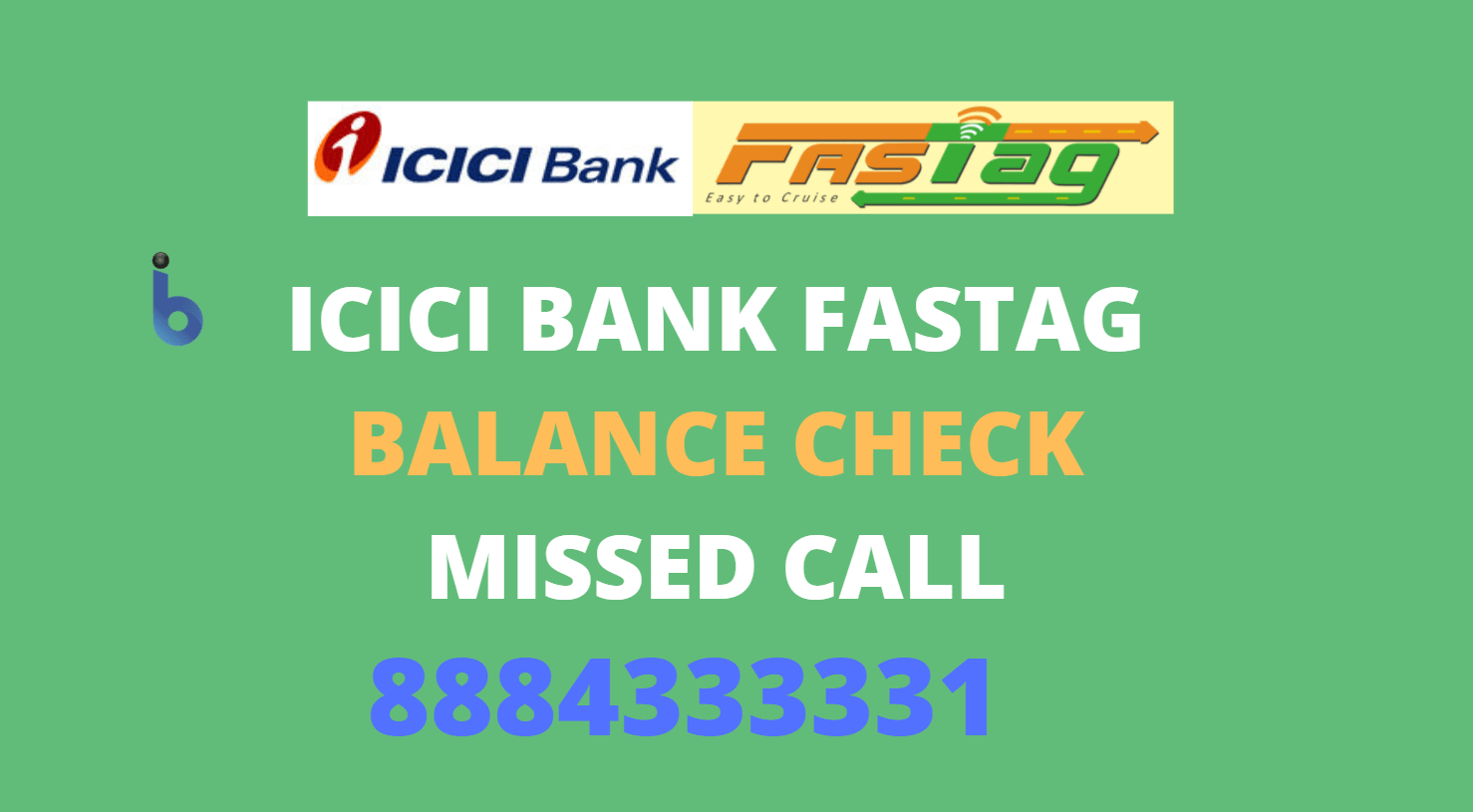 3. Check Fastag Balance Through SMS
After registering for the FASTag service, you will receive an SMS every time the toll fee gets deducted. Also, you will be notified about your FASTag Account balance, update on low balance, payments of toll amount, and recharge confirmations.
4. Checking FASTag Balance through Missed Call
You can check your FASTag balance via helpline number just by giving a missed call on a toll-free number +91-8884333331. For that, the mobile number to be registered with the prepaid wallet of the National Highways Authority of India (NHAI).
| ICICI Fastag | Number |
| --- | --- |
| Missed Call Number | 8884333331 |
| Toll-free number | 18002100104 |
| Chargeable number | 18602670104 |
The aforementioned were the ways to check your ICICI FASTag Account balance. You can access and check your ICIC FASTag Account balance as per your convenience- through website, SMS, mobile application, and Customer Care helpline.