Paytm is the most trusted digital payment service system in India. It was founded in 2000 in Noida and is India's leading financial services company. This Noida-based company has a mission of bringing half of Indians to the mainstream economy through digital payments, banking, investments, and more. Paytm offers consumers and merchants payment services and financial solutions. It also helps small business owners with commerce and defrayal loans. Nowadays, people prefer Paytm more than any other medium of payment. Even during the time of lockdown, Paytm continued to launch new offers and related products that made the payments convenient to the customers. This process attracted consumers' eyes and gained more trust. According to a report, Paytm has almost 73.5 million active users till April 2022.
Paytm started its bank called Paytm Payments Bank in 2015 with lots of benefits. People get a digital debit card and a zero balance account maintenance facility with the Paytm Payments Bank savings account. Just like other banks, Paytm Payments Bank also has a KYC facility. It offers 2.5% interest per annum on the savings account, free digital transactions, and up to 6% interest on fixed deposits. With all these facilities, customers can avail of a physical debit card if they want on request. Paytm makes people's life easier through the digital banking system. People can do banking through their mobile anywhere, anytime.
Some Reasons to Close Paytm Bank Account
Nowadays, almost every person has 2-3 bank accounts, and every bank has different criteria. Banks are eligible to maintain a minimum balance in every savings account, and the customers are bound to do the same to continue the savings account. Here, some banks have policies to open a savings account with a lump sum amount, but no minimum balance is required to maintain that account. Paytm Payments Bank is one of them that has a policy that doesn't require a minimum balance. But there are other reasons a person can choose to discontinue their Paytm Payments Bank savings account. We mention some of them below.
Higher money transaction rate.
Lower rate of interest for customers.
Bank services break down.
Multiple bank accounts maintain hurdles.
These can be the reasons to close Paytm Payments Bank Account. Usually, as a digital bank, whoever opened an account with Paytm Payments Bank never wanted to close it. Still, these reasons are enough to make the decision.
Steps to Close The Savings Account online
Paytm Payments Bank account closing is more effortless than other bank accounts. You can do it on your own. But before closing the savings account, focus on a few important things. If your account is joint, both the account holders need to present while closing the savings account, or one of them can sign a No Objection Certificate. Now, we are mentioning the steps and procedures to close your Paytm Payments Bank account online.
You should clear all your due loans and stop your credit services before closing the Paytm Payments bank account. Transfer the locker facilities to another bank and delink it with PPBL.
Clear the savings account and transfer all the left balance to your other bank account. Paytm Payments Bank account closing doesn't affect Paytm Wallet. So you can transfer your balance to the Paytm Wallet.
For the dormant account, you need to reactivate it before closing it permanently.
Keep your original documents like Pan Card and Adhaar Card with you that will be in need. It will help you with your address proof.
Paytm Payments Bank allows you to close your bank account online and doesn't require countless documents. You need the Paytm application here first. Firstly, open the Paytm app and go to the 24*7 help & support section at the bottom of the page.
You will find an option with View All Services. Click on that to go to the Savings Account and Debit Card section.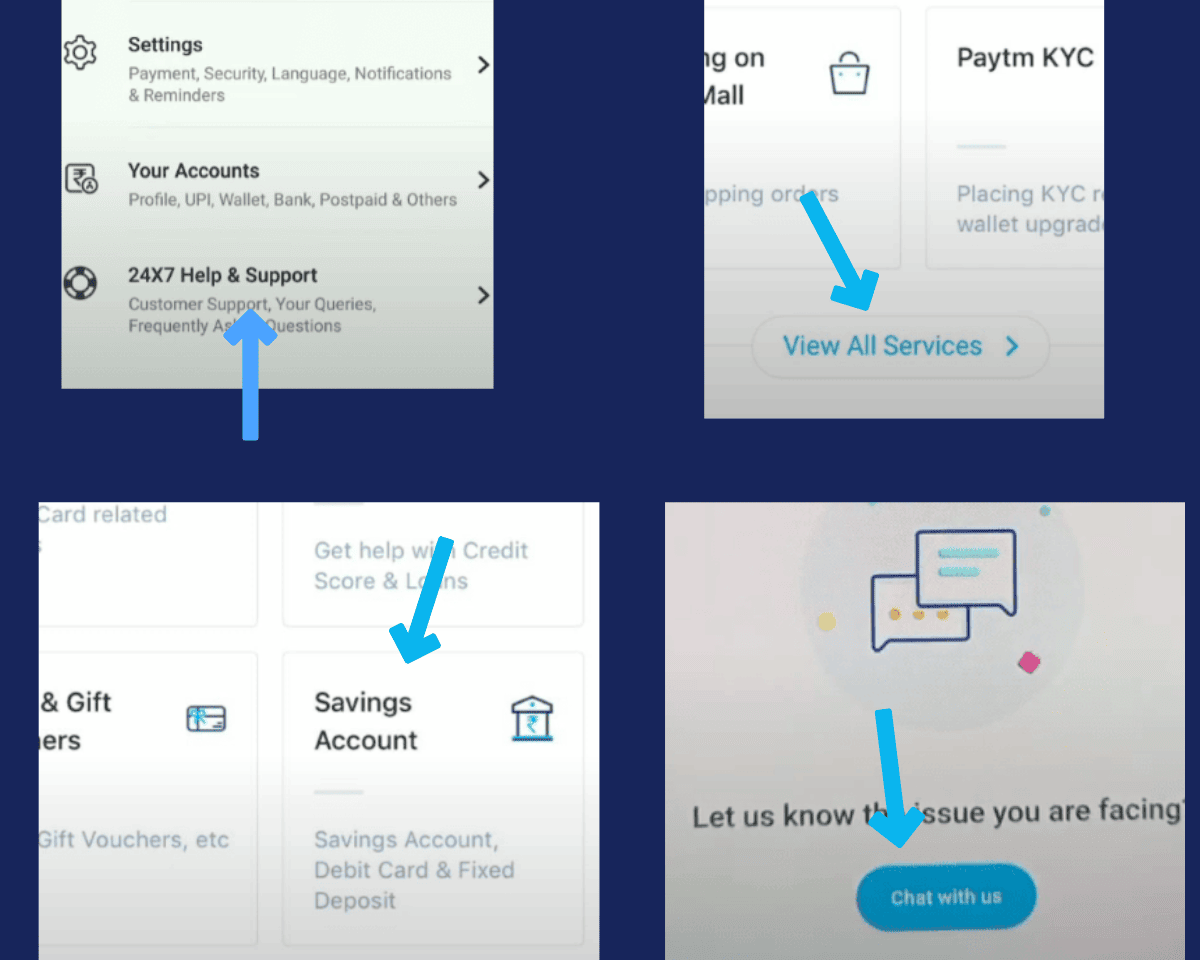 You have to click on the option. After that, you will get multiple options related to your savings account. Here, you need to click on the Issue with my savings account option.
After clicking on that option, Paytm will give you multiple options to choose your decision. Click on 3rd last option that I want to close my savings account.
Next, you have to click on the yes I want to close my saving account option right under the page where Paytm claims its benefits. Here you need to select one reason for your Paytm Payments Bank savings account closing decision and finalize it, agree on all details, and Submit the details.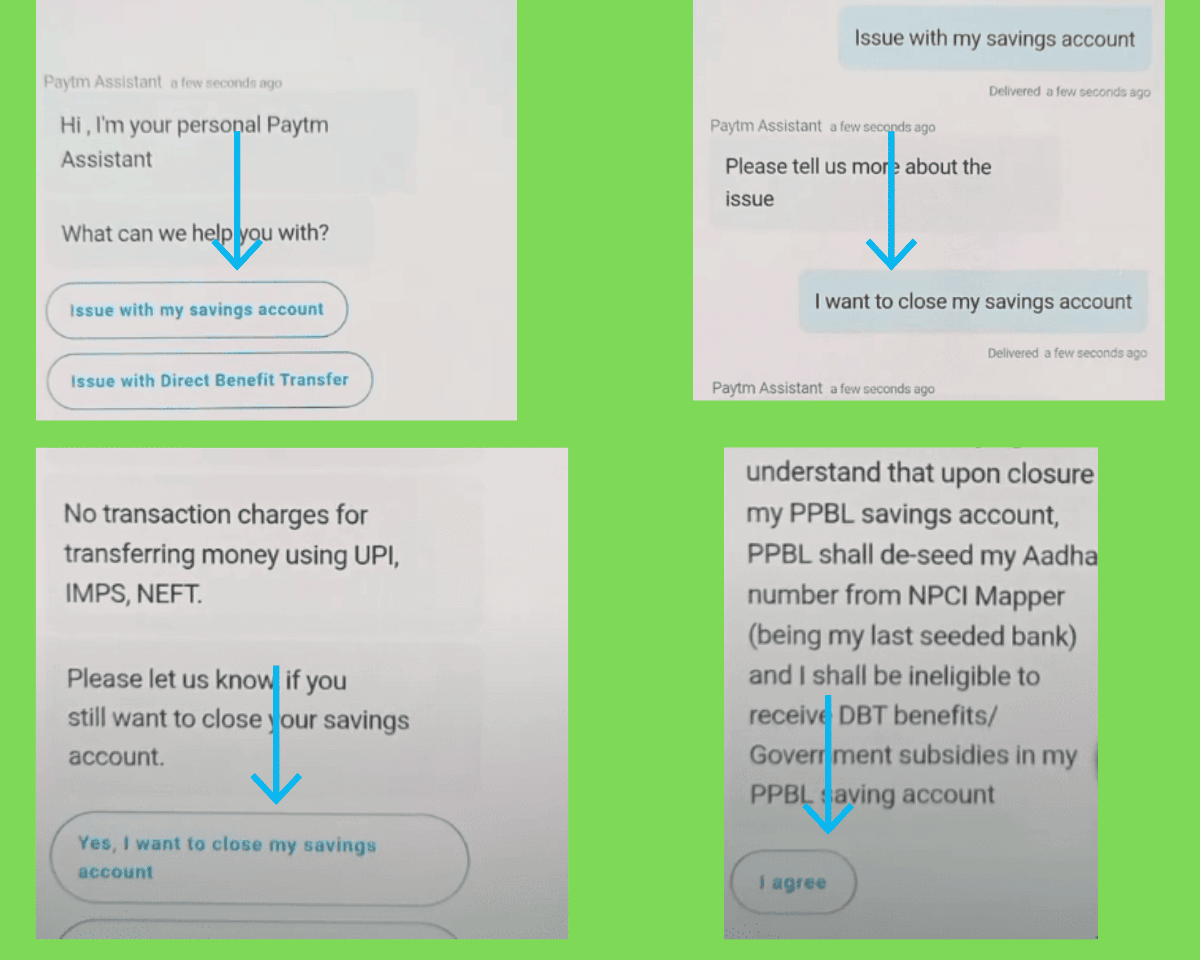 Conclusion
These are the steps thoroughly given for your help to close your Paytm Payments Bank savings account. With all the benefits, there you no need to decide on savings account closing though Paytm will ask you about it with their policy benefits at the time of the procedure. This savings account close has no effect on the Paytm Wallet, and you can still use it for your regular transactions. If you need more information related to Paytm Payments Bank and its other services, can check through its blog section.