Airtel Payments Bank is the first payments bank in India to have its head office in New Delhi. The bank executes all the activities a customer expects from a normal bank. On the other hand, it offers various customer-friendly and helpful services, like cashless recharges of mobile phones, DTH, FASTag, online utility bills, train tickets, and bus ticket booking, instant fund transfers to beneficiaries, Debit card facilities, and a lot of more.
However, a payments bank does not offer credit or lend out loans to its customers as normal banks do. But you can enjoy the ease of banking by opening a Savings Bank Account or Current Account with Airtel Payments Bank. It allows you to send money to others from remote locations far away from cities. It provides a network through which others can transfer funds to you from everywhere to eliminate the dependency on cash.
In this blog post, you will learn detailed information on why we should open a Savings Bank Account or Current Account in Airtel Payments Bank, the reasons for account freeze, block, and closure, and how you can unblock it. So stay tuned and proceed further with this article. Let's get into this article and read ahead.
Reasons For Airtel Payments Bank Account Freeze, Block And Closure
An Airtel Payments Bank customer is allowed to use the bank's services subject to the acceptance of its Terms and Conditions. In case the customer commits any violation or is suspected of violating the Applicable Terms and Conditions, the bank can block the Customer's Account without any notice to the Customer until further notice from the bank.
The following are some significant reasons for blocking an account you should know so that you can avoid the unwanted account block:
In case of money laundering activities, potential fraud, or threat to national security.
In case the bank can not verify the identity of the customer, or can not get his/her necessary documentation, or the customer's provided information is not reliable.
In case the customer stops using the mobile connection related to the bank's product or service.
In case the customer is involved in any threatening behavior or any harassment act against any employee or agent of the bank.
In case the operations in an Account are suspected to be carried out disproportionately to his/her profile and/or source of funds are not known to the Bank, and so on.
Steps to Unblock Airtel Payment Bank Account Online
Suppose you have a Savings Bank Account or Current Account with the Airtel Payments Bank and it is blocked for some unknown reason but you want to unblock it. Don't worry. In such a case, just follow this easy and straightforward unblocking process: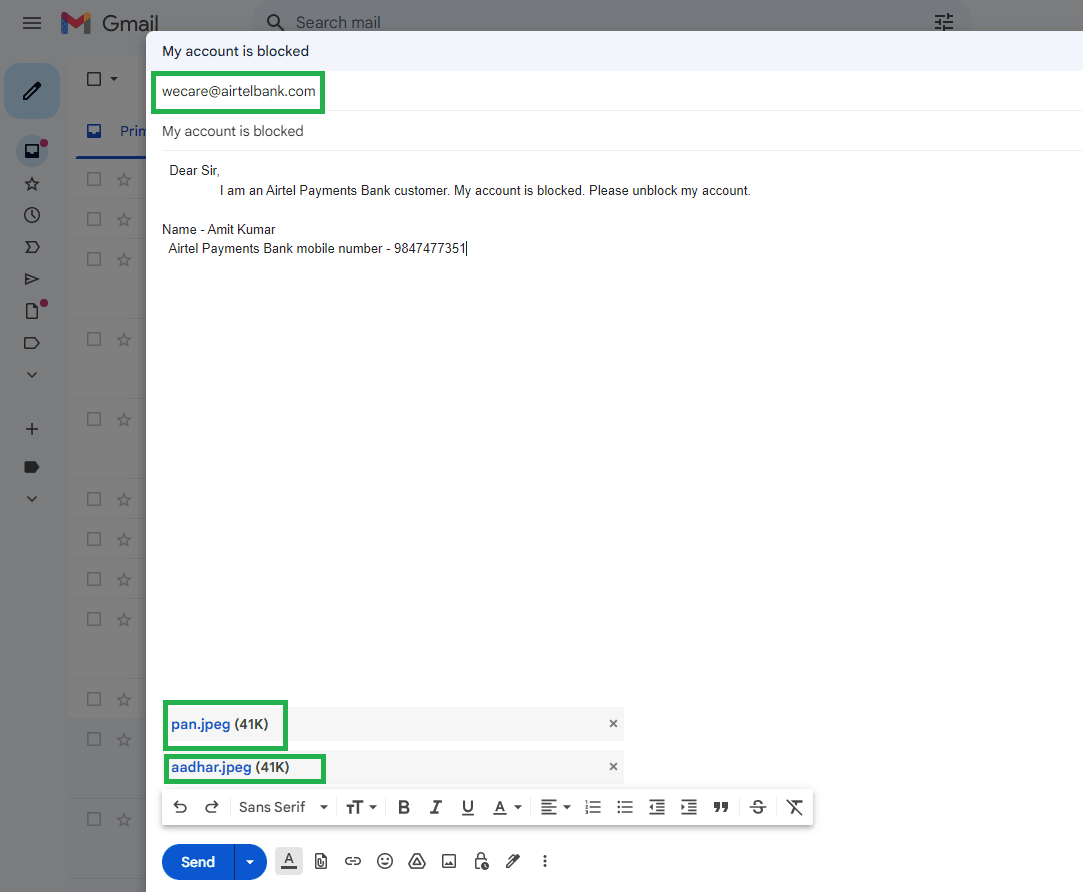 Open your Gmail on your mobile phone or computer and click on the "Plus icon" or the "Compose" tab at the bottom-right corner of your screen.
Enter the Gmail ID of Airtel Payments Bank, i.e., [email protected], in the "To" column.
Write "My account is blocked" in the "Subject" column.
You can write like this in the compose email column: "Dear Sir, I am an Airtel Payments Bank customer. My account is blocked. Please unblock my account", Name -……. (write your name), Airtel Payments Bank mobile number -……. (write your mobile number).
Click on the attachment symbol at the top of your mobile screen. Click on the "Attach File" option. Take screenshots of your Aadhaar Card and PAN Card.
Select these screenshots and click on the "Send" button.
After that, you will receive a message on your mobile phone that the Customer Service Team of the Airtel Payments Bank will shortly respond to your request to unblock the Airtel Payments Bank account and guide you through to resolve your concern. You can also call their customer care number 400 (Airtel Customers) or 8800688006 (Non-Airtel Customers) to unblock your Airtel Bank account.
That's it. By following the above-described straightforward process and accessible guidance, you can understand the process to unblock your Airtel Payments Bank account hassle-free.
To Wrap Up
As the entry of payment banks started including the ordinary and even marginal people from remote and rural areas to offer them banking services, the Reserve Bank of India (or RBI) has also started showing an enthusiastic interest so that even more Indians are financially included through various payment banks. This approach from RBI helps Indian financial inclusivity to reach the next level so that the benefits of banking services can be offered to even people from unserved or underserved remote areas and villages.
You should know that opening an account with the Airtel Payments Bank is a hassle-free and paperless process. Once you become a customer of the payments bank, you will automatically get a virtual debit card from the bank and personal accident insurance up to INR one lakh, free of cost. Moreover, there is not any minimum balance requirement in the bank accounts.