Paytm app is an RBI-approved Indian e-commerce payment system that provides a safe, secure, and reliable platform to various applications, websites, stores, and shops for users to make payments without hassle and instantly receive funds all over India through multiple digital tools, such as UPI, Net banking, Credit card, Debit card, Paytm wallet, etc. Millions of merchants nowadays use Paytm to accept funds from their customers on their websites or applications, or at their shops and retail stores.
Sometimes, while making a payment through the Paytm wallet, it doesn't complete successfully, but the transferred amount is deducted from your Paytm wallet. This error usually occurs when, after the deduction of money from your Paytm wallet, your bank does not provide Paytm with the correct status of the payment, such as a success or a failure of the payment within the stipulated time due to some network issues or something else.
When your payment through the Paytm wallet fails, but the amount deducted error takes place, a message will be displayed on your mobile screen under the "Transfer Pending" title inside the Paytm app, stating that the status of your payment is continuously being checked by Paytm. You are advised not to make multiple payments. Instead, it would help if you waited for some time till the status is updated to Paytm. Sometimes, your bank may take around 3 to 5 working days for confirmation of the final status of your payment.
If eventually your payment fails, your bank will automatically refund the deducted money to your Paytm wallet. Or, in the case where Paytm does not receive final success or failure status within the stipulated duration, they will tell your bank to refund the deducted amount instantly. However, in case your deducted money is still not refunded after the stipulated time, and you want it instantly refunded to you, this article is for you.
In this article post, we have discussed why a transaction is not completed successfully, whereas the amount is already deducted from your Paytm wallet. And how you can get a refund for the deducted amount. Stick around with us and carry on going through this article for more information on the above subjects. So, without wasting any time, we should quickly dive deeper into the details of the entire blog post to explore the critical and profound information.
Steps To Get Refund For Paytm Payment Failed, But The Amount Is Deducted
Suppose you are using the Paytm app to transfer money from your Paytm wallet, and you get a message on your registered mobile phone that your transaction is pending/failed, but your money under the transaction is already deducted. You want a refund for your deducted money. But you don't know how to get it refunded. Don't worry. Some easy steps will assist you to help you in this regard. Suppose your payment of Rs. 500 to somebody failed. Just follow these steps as instructed hereunder:
Step 1. Open the Paytm application on your mobile phone. Then, enter the necessary information to make the intended payment through your Paytm wallet.  Now, details of your payment will be displayed on your mobile screen: the name of the beneficiary, name of the Paytm wallet holder, the closing balance of the wallet showing that Rupees 200 has been deducted from it, time & date of transaction, and the wallet reference number.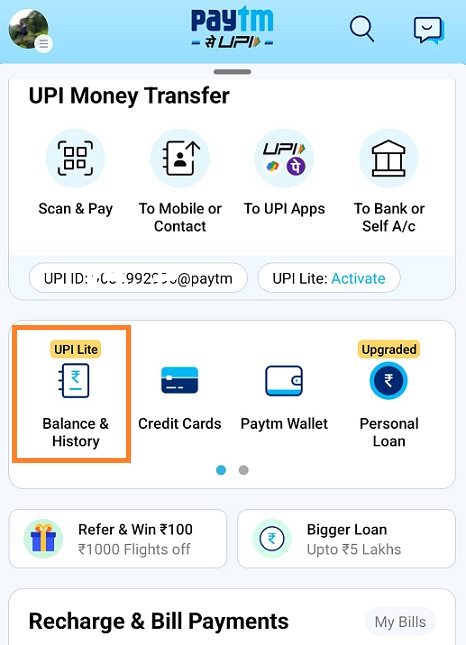 Now, if you don't receive a message within a few minutes on your mobile phone number that Rs. 500 has been successfully transferred to the intended beneficiary, click on the "Balance and history" option.
Step 2. After that, click on the "Help" option in front of the "Transfer Failed" title on the next screen.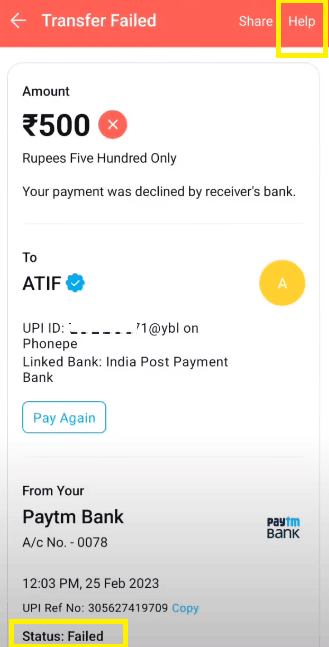 Step 3. Now, you will see the "Help & Support" title on the next screen. Here, you will see two options: "Issue in transferring money from wallet to bank" and "Debited from wallet but not credited to receiver?". Click on the second option to choose this option.
Next, you will receive a reply from Paytm that they have initiated your request for a fund transfer of Rs. 500. It may take three working days to get them the bank confirmation about the status of the payment. Therefore, you should wait till then. However, if the status of the Rs. 500 payment goes into a failure state, this amount will be automatically refunded to your Paytm wallet immediately.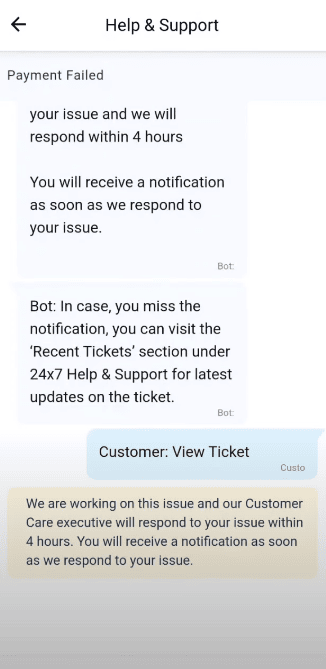 That's it. By following the above-described easy, step-wise, effortless process, you can quickly get a refund for a Paytm payment that failed, but the amount is deducted.
The Bottom Line
There can be several reasons why a payment through the Paytm wallet may fail, such as it may happen on account of some technical glitches or human errors. For these reasons, you should wait for the technical or other issues to be resolved and be careful to avoid human mistakes.
Your payment may also fail when you select one registered bank account on the merchant website at the time of initiating the payment but try to make the payment from a different (unregistered) bank account on the payment service provider app. This error is also known as a "Third Party Validation" failure. Please ensure to avoid the "Third Party Validation" failure error.
However, after your bank is given instructions from Paytm to refund the money deducted, your bank officials carry out a reconciliation process with different types of turnaround times of computing for execution of the addition of money back to your accounts.
We expect you will enjoy reading this article to learn detailed critical information on how to get a refund for a Paytm payment that failed but the amount deducted. And hopefully, you will be able to get a refund for the same yourself.