In this digital era, it is common that you use your SBI debit or credit cards for purchasing or paying utility bills. Doing so, you will earn reward points. So, as you earn reward points you definitely would like to redeem them.
Ways of redeeming your SbI Credit Card reward points
There are primarily two ways of redeeming your reward points. They are:
Method 1: Redemption can be made to gift vouchers by being at sbicard.com or by using the mobile app of SBI card.
Method 2: Redemption can also be made to cash if you wish. You can do so by writing to relevant authorities at https://www.sbicard.com/email, or you can call the helpline number if you wish.
The number that you need to call is 18601801290 or 390202 prefixed with the local STD code.
SbI Credit Card Reward points Redemption through website
In order to redeem your SBI debit/credit reward points using the website, you have to follow the steps mentioned below:
Step 1: You need to login to sbicard.com. You then need to click on 'Rewards' and then on 'Redeem Rewards'.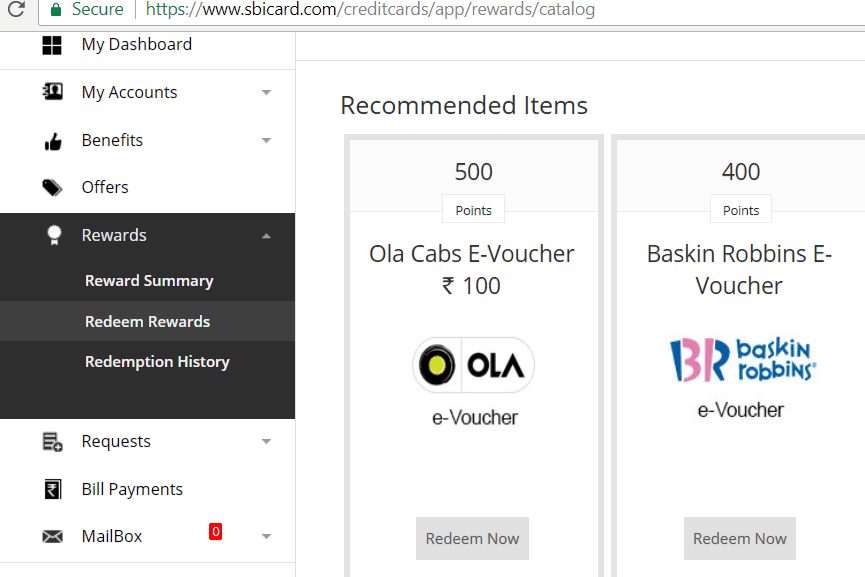 Step 2: You can go through the Rewards Catalogue and select the items that you wish to have. After your selection, you need to click on 'Redeem Now'.
Step 3: Now click the 'add to cart' button and click the 'place order'  the button.
SBI Reward Points Redemption through mobile app
If you wish to have your SBI credit card reward points redeemed, then you should try using the mobile app. The steps that you should follow are same as above through sbi card website.