If you have an account with HDFC Bank, you certainly would be accessing Net Banking services. Almost every bank in the Indian Banking industry introduced online banking services. With Internet Banking services, the account holders have easy access to their account as well as banking services.
You can easily make transactions and get updates about the account with a few clicks. You can access banking services anytime and anywhere with online banking services. What if you forgot your Login Password?
The traditional option is to visit the branch and request to retrieve the password or set a new password. Reset forgot HDFC Net Banking Login Password online! With the advanced option, you need not visit the branch.
You need to follow some steps to reset the forgotten password online without making any mistakes.
Method 1: Steps to Reset the password Online for HDFC Net banking if in case you Forgot
Step 1: Open the official Internet Banking site of HDFC Bank. Enter the User ID in the box provided. Click on the Continue Button.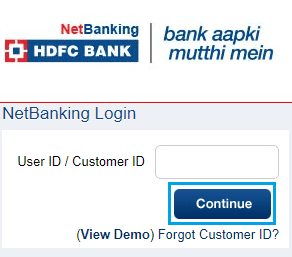 Step 2: You need to click on Forgot IPIN (Password). The link below the box for entering iPin Password.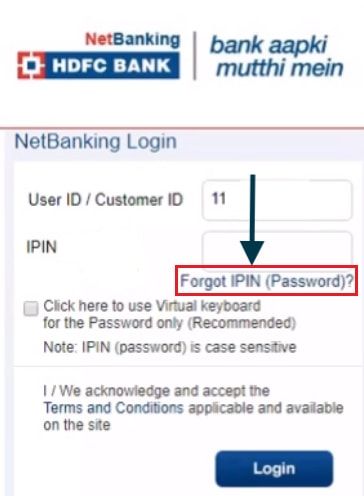 Step 3: Once again enter the Customer ID and click on GO button.

Step 4: Select one of the options featured on the screen. You may either select to generate OTP for your registered mobile number using your debit card details or you can select to generate OTP that would be sent to your registered mobile number and email ID.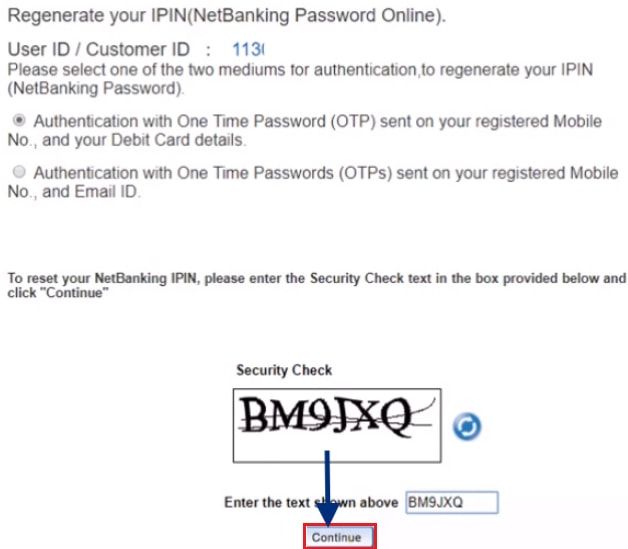 After selecting one of the two options, enter the text as shown in the image which you will find down the page. Click on Continue to proceed ahead.
Step 5: Now you need to enter the registered mobile number linked to the account and click on Continue.

Step 6: You will receive an OTP on your registered mobile number. Enter the OTP in the box and click on Continue.
Step 7: Click on the card number linked to your HDFC account. Now you need to enter the card details, i.e. ATM Pin, Expiry Date, and enter the New iPin login password you want to set.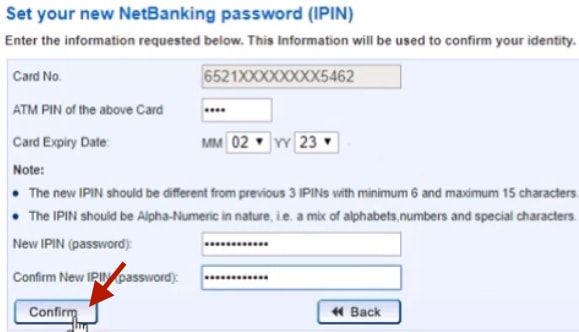 Important Note: Set a stronger password using alphabets, numbers, and special characters.
Don't set the password that you had previously set for your online banking account. Now click on Confirm button to end the process.
The screen will display a confirmation message for successfully resetting the new password. Now, you can log in to your Net Banking account with the newly set password without any issues.
Method 2: Reset HDFC Login Password by Calling On PhoneBanking Number
Find a nearby HDFC customer Care number. Call and make a request to regenerate your login password by verifying your details. A new login password will be delivered to your registered mailing address.
Method 3: Reset HDFC Login Password through the ATM
First Visit a nearby HDFC ATM and submit a request for a new login password using a Debit Card and Pin. A new IPIN will be sent to your registered mailing address within 7 Working Days.
Method 4: Reset HDFC Netbanking Login Password By Visiting Branch
You can also submit a request by visiting the nearest HDFC bank branch for a new password to be delivered to your registered address with a bank account.
Note: A request for delivery of a Regenerated login password to your address is charged at Rs. 100/- + GST.