LIC India is the largest Insurance Corporation globally, headquartered in Mumbai with other zonal offices in New Delhi, Kanpur, Kolkata, Patna, Chennai, Bhopal, and Hyderabad. However, LIC India also works out of an individual center with agents.
As of Feb 2020, there are 113 divisions under which 2000+ branches are operational across the whole country. This article will discuss the working hours of LIC, opening time, closing time, and lunchtime of LIC.
The Life Insurance Corporation of India (LIC India) was first fetched in India after its success in England in the year 1818. However, this supreme body started to work well only after the Indian Government merged over 230 insurance agencies and formed the LIC, under the Life Insurance Corporation act, 1956. From then, more people started investing in LIC.
The Government also set the LIC opening time and closing time for easy accessibility for common people. The main purpose of the LIC is to provide life insurances to any section of India.
Opening Time of LIC Office
The opening nine times of LIC is set at 10 in the morning in the metropolitan cities. This opening time is similar across all the offices of the corporation. On a working Saturday, the office opens at 10 am as well. Although, in some states, the LIC starts working by 10.30 am on all days.
The corporation can also change the opening time in case of some emergency or any other circumstances.
Lunch Time of LIC Office
Lunchtime is between 1 pm to 2 pm. LIC lunchtime does not have any rotational shifts like many other corporations. The office keeps shut during lunchtime. In some states, the time starts at 1.15 pm and will last until 2 in the afternoon.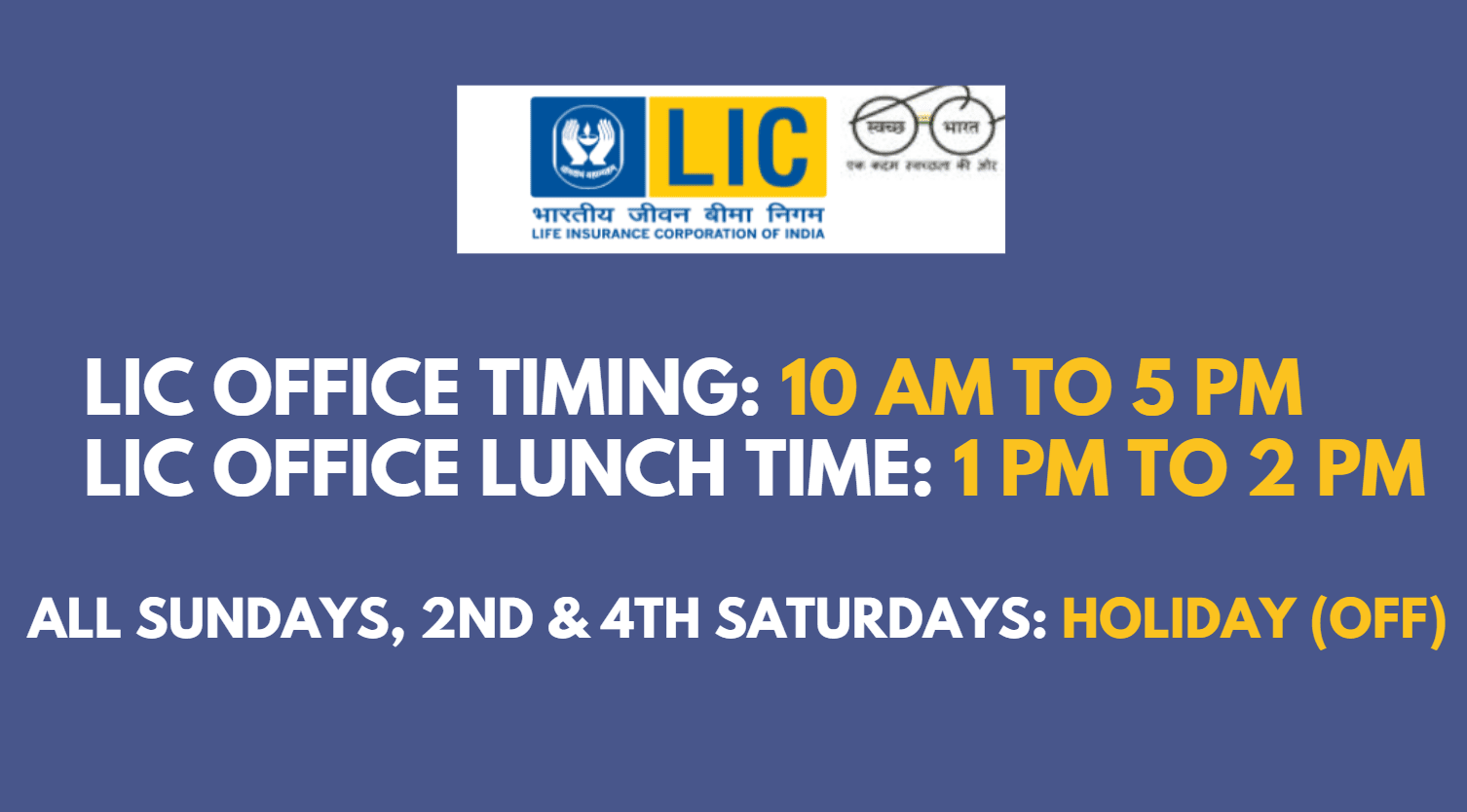 Closing Time of LIC Office
LIC closing time is by 5 pm on all weekdays. On a working Saturday, LIC closing time is by 5 pm. LIC closing time may vary in some states, and hence half an hour can be back and forth. But, LIC closing time does not extend. The administration fixes it.
All the official work should be done before the LIC closing time as the administrative officers are available between these hours only.
Working Days & Hours of LIC Office ( Monday to Friday)
| Monday To Friday | Time |
| --- | --- |
| LIC Office Opening Time | 10 am – 10.30 am |
| LIC Office Lunch Time | 1 pm – 2 pm |
| LIC Office Closing Time | 5 pm – 5.30 pm |
LIC Office Saturday Timings:
Day
Timing
1st, 3rd & 5th Saturday
LIC Office Opening Time: 10 am – 10.30 am
LIC Office Closing Time: 5 pm – 5.30 pm
2nd & 4th Saturdays
Holiday (off)
A new list of Holidays for India's Life Insurance Corporation has been provided during the year 2020. Offices of India's largest insurance organization will soon get off on 2nd and 4th Saturdays, in a month consisting of 5 Saturdays.
Services
Number & timings
Helpline Number
02268276827
Email
@licindia.com
Working Hours
Monday to Friday: 08.00 a.m. to 08.00 p.m.
Saturday : 10.00 a.m. to 06.00 p.m.
Generally, LIC offices remain open on all Saturdays until the lunch hour (Half working day). According to official sources, the Government has made these changes with the practice followed for public sector banks.