ICICI bank is one of the most prestigious and renowned private banks in India. With a customer base of millions, the bank is extremely trusted. Those who already have an existing bank account with ICICI never really complain and are very happy with the services they offer.
The bank is well known for its high discount rates to its customers. On some recent occasions, there has been noticed a particular complaint get registered by thousands of customers stating the bank has mischarged them on some circumstances.
It basically means ICICI has charged customers on some incidents which the customers claim as unknown, but there is a specific term given for that, which is POSDEC CHG. It stands for Point of Sale Decline Charges.
What does POSDEC CHG mean?
The point of sale decline charges of Rs. 28.75 have been charged for many customers on several occasions, even when no transaction has taken place from the account. Upon checking the statements from the bank, it got seen referred to as PPSDEC CHG. Customers have gone baffled over this unknown deduction that got charged.
Upon enquiring, the bank has explained the reason behind the removal. The amount of Rs. 28.75 is deducted from a customer's account when they try to make a transaction at a merchant's account by swiping the card, but the transaction fails due to insufficient balance on the account holder's card. Whenever anything like this happens, ICICI charges its customers an amount of Rs. 28.75.
What to do to avoid the POSDEC CHG from ICICI Bank?
An individual can avoid these charges through two simple steps-
It is getting updated about the account balance.
To carry the regular card that gets used daily.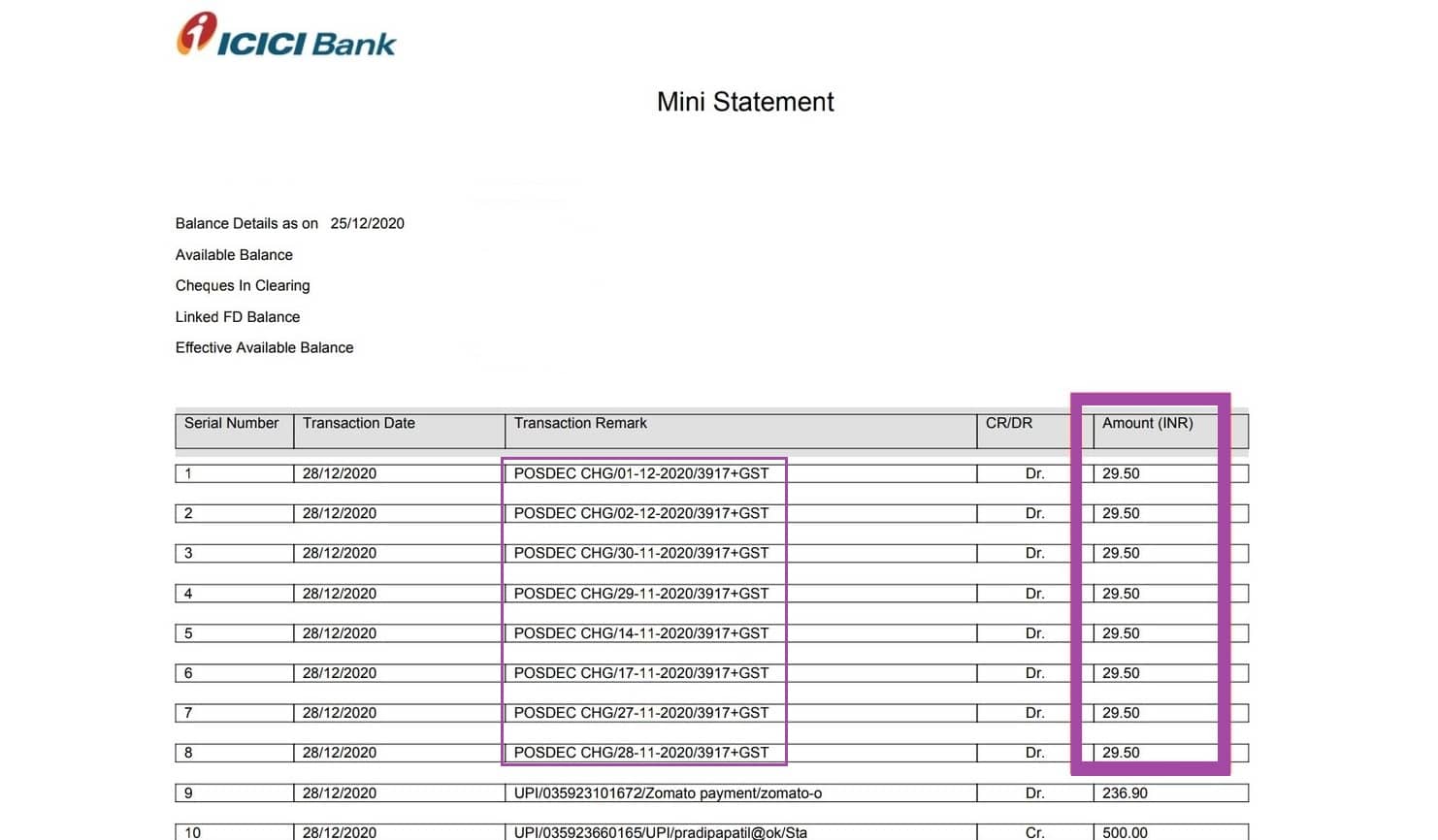 What is the effect of POSDEC CHG on Customers?
It is a concept that ICICI has adopted to decrease the number of failed transactions. But this has negatively impacted the customers. When someone visits a shop and tries to pay for the purchased products through the card, they are unaware of their account balance.
The merchants try to initiate the payment after failed unsuccessful attempts, and that is what causes the additional charge to get levied upon. Customers should be well versed beforehand, at the very time of creating an account about these hidden charges.
One can get explicit knowledge about POSDEC CHG charges if they type and search on the internet. Many links pop up where people get seen complaining about being charged multiple times in a month for POSDEC CHG.
Conclusion
On several occasions, customers get charged wrongly, and to reverse the payment, they need to get in touch with an ICICI customer service agent or visit the bank physically. It is a troublesome initiative the bank has undertaken and is not encouraged by the customers.
Being a reputed private bank, handling customer complaints, and working on them is also extremely important. These charges are additional and do not fall under the calculation of customers.