Share market is not a playground for everyone. As lucrative as it may seem, the fantasies vanish with a single wrong move. There are a few terms that must be known to a person dealing in a stock market. Amidst a few applications, Zerodha provides a few perks to its users. These perks come in the form of minute information which helps the user in making a few moves. However, before coming to that there are a few basics that must be known.
What Does a Stock Event Mean?
A stock event stands for a stock combination, stock split, payment of stock dividend, reclassification, Re recapitalization, or any other kind of transaction which is responsible for sharing of common stock. This will be changed into, or it will become exchangeable for a smaller or larger number of shares.
An extraordinary common stock event will happen when,
There is an issue of additional shares of common stock, readily available as a dividend or any other distribution on outstanding shares of common stock.
There is a subdivision of outstanding shares of common stock into a greater number of shares of common stock.
There is a reverse stock split of outstanding shares of common stock or any other combination where common stock is divided further into a smaller number of shares of the common stock.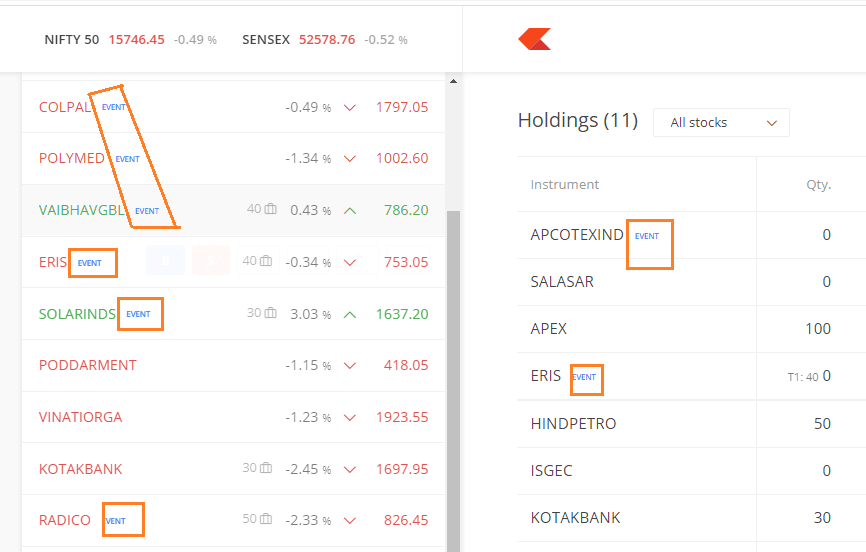 Check Details of Event for any stock in the Zerodha watchlist
A trader is always expected to be aware of a variety of updates and events taking place in the stock market and financial environment. These events can be managed easily by using the Zerodha watchlist. The event stands for results, and when there is an event that is about to happen, Zerodha sends a warning by using an event marker in the kite. By following the given steps a user can find the events tab in Zerodha.
There is an events tab given on the stock widget on Kite. The user can click on 'more' by drifting or hovering on the stock in the market watch. After this, the user needs to select 'fundamentals'. Thereafter he needs to click on the 'events' tab.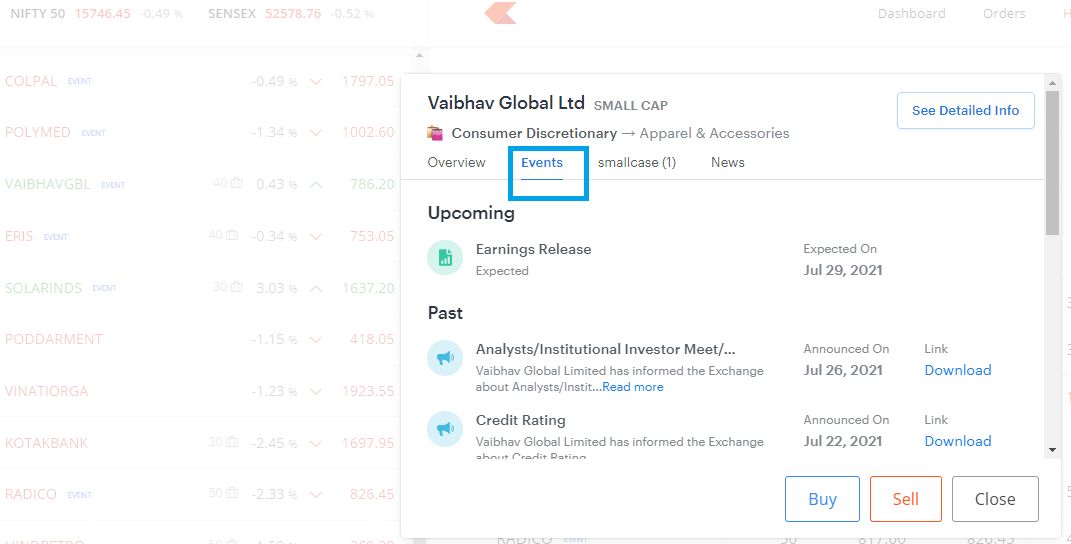 Many times the user starts trading the stock without knowing any specific event that may affect the price of the stock. These events may take place in the form of corporate actions, dividends, or any such announcements which can affect the price of the stock. These events can become responsible for affecting the overall trade. This is why; notice of any such event is important information that must be known to the buyer of the stock, to help him make a timely decision.
In the happening of any such event, Zerodha gets their users covered by taking them forward. There is a small event symbol that acts as an alert on the Zerodha market watch. It highlights any kind of announcements or corporate actions which are responsible for affecting the price of a stock before they are placed for trade. An event alert is available on the kite market watch for any event that is scheduled within the next three days.
Example:
We can learn this by using an example. Suppose a company went ex-dividend on the present day by INR 10.5, and because of this the stock price went down by that much amount and this has not taken place because of any market reasons. In such a case if the buyer decides to trade the company's shares on the present day, he would be able to know this valuable piece of information which may not have been known by him otherwise. This information will be available at that present moment only on the kite web and only after a few weeks, it will be available on kite mobile.
The company is also trying to make alerts available for indices that will be responsible for macro events such as inflation numbers, RBI policy, etc. In this way, the user is enabled to track all the specific events related to his stock within the next three trading days. They can also initiate a chat, use the sell or buy options, etc. without the list of Marketwatch. This all can take place directly from the search window. These petty tips can help the user in getting hold of their stocks and make use of the information well.