YONO SBI started on 24th November 2017, and since then, SBI customers have been so overwhelmed to be a part of it. Soon it became the face of the SBI's super service facility. YONO (You Only Need One) is a consolidated digital banking platform introduced through the State Bank of India. SBI started it to bring all the joint ventures and their beneficiaries through digital technology like YONO Mobile Application and YONO website.
SBI customers are now so relaxed about operating the YONO application that they can do their banking work easily, sitting on their couches. But somehow, when it comes to the login process, customers need to know the outcomes too. Logging in to any account shouldn't be a big deal, yet sometimes it can be messy. Here, we will talk about the SBI YONO login problem fixing.
Benefits of Having an SBI YONO Account
There are many benefits of having an account with SBI YONO. You can register your SBI savings account in the YONO app and start banking from it. YONO (You Only Need One) is a banking application that will make your struggle with minimal bank work easy, for which you used to have to visit the bank branch. Here we are sharing some of the benefits in little detail to give a brief.
You will get mPassbook up to 150 150 transactions with YONO SBI Lite.
You will even get a mini statement of your last 10 transactions.
Also, you'll get all the detail related to your savings account, like loan, deposit, PPF, SSA account, transaction details, interest rate, and more.
You can do third-party fund transfers within SBI accounts.
You can transfer cash within your existing bank accounts.
Mobile, DTH recharge, and bill payment will be easy for you.
You can manage your debit cards and debit card transaction limits as well.
Your IFSC code and account number, or mobile number and MMID, will help you make IMPS Fund Transfer.
You can open FD and RD accounts or close them at your convenience with the YONO app.
SBI YONO has lots of other facilities other than these. As a customer, you can get lots of benefits with this app. This app comes in Hindi and English languages. You can choose your preferred language. This app is perfect as it is configured with a 4-digit MPin.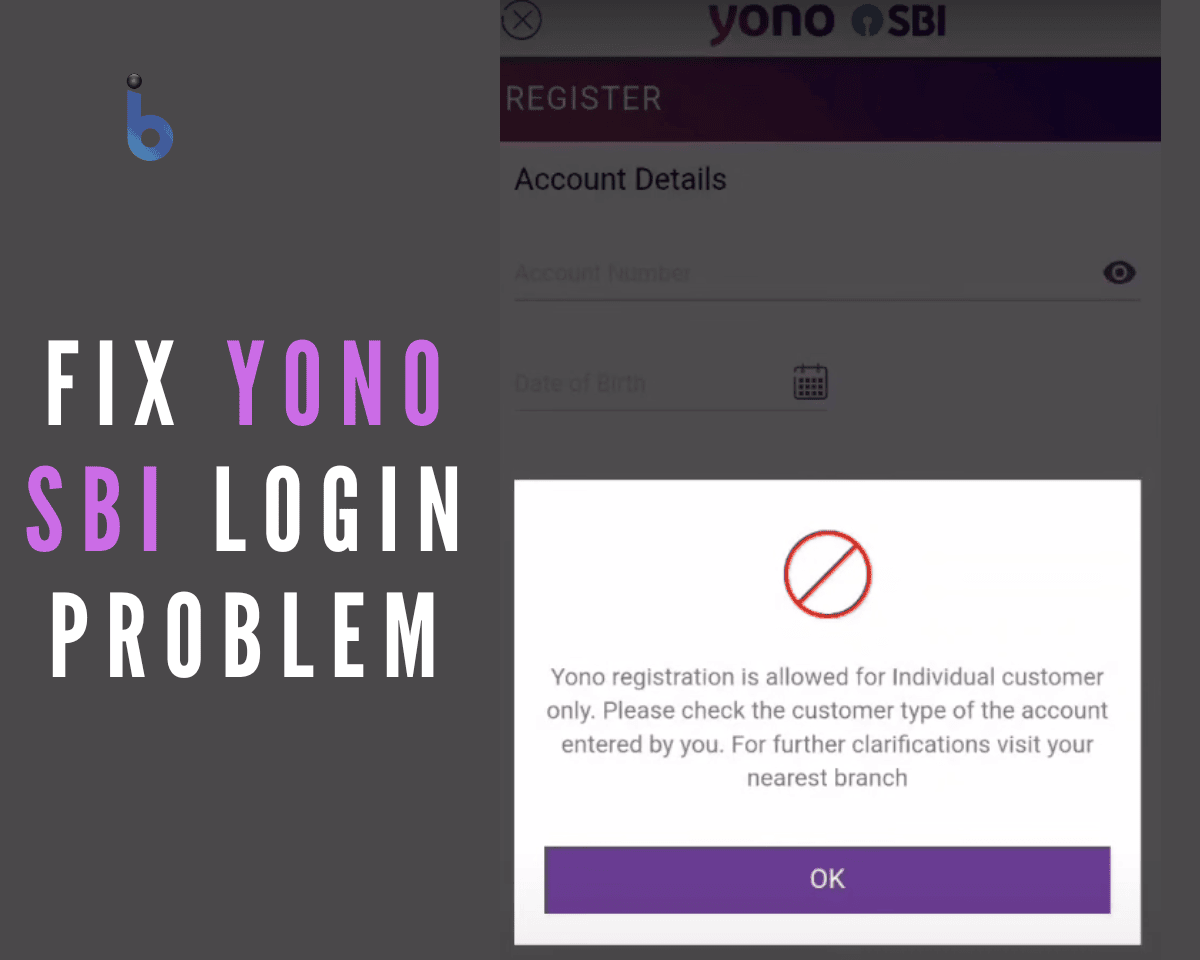 YONO SBI Login Problem Fixing Method
Since you have become acquainted with the benefits of having an SBI YONO account, you better learn these steps to fix your SBI YONO login problem. But before that, let's know what problems one can face at the time of log in. Usually, it occurs when you try to log into your YONO SBI online banking platform. Though the app is a reliable banking service, you may still undergo some occasional technical issues. Other than that, the problem can go from technical to forgotten Usernames and Passwords. You try to reset Yono username and password to fix the login problem. Now, let's begin with the other method.
With YONO SBI, a problem arises, which shows a message that says, "Your registration is allowed for individual customers only. Please check the customer type of the account entered by you." It happens when you have a different account type. Mostly, in this situation, you need to check if your account is a Zero Balance Account or a Jan Dhan Yojana Account. The YONO SBI app says only you can get to use the app if you open your account in the usual savings system.
Therefore, either you can check your account type through customer care or by visiting your nearest SBI branch. But to change your account type, you must visit the SBI branch where you opened your SBI account in the very first place. Once your account type changes, you can easily access your SBI YONO app.
Conclusion
These days SBI customers are facing this type of problem very frequently. Therefore, this is the only way you can solve the issue. Here the most predominant part is you have to do KYC with your bank account so that you can avail of your YONO SBI account. Your KYC will present a crucial help to avoid risk factors and to establish the customer's identity through all legal requirements. We are hoping this method will be helpful to you in solving your inquiry.